Forgotten: The Untold Story of D-Day's Black Heroes, at Home and at War (Paperback)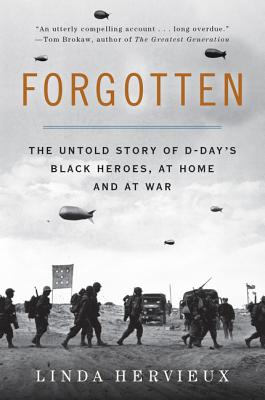 Staff Reviews
---
Jim's August 2019 pick, 1 of 5
The opening scene of the film Saving Private Ryan is one of the most powerful in cinema yet lacks one thing - anyone of color. I do not think that Steven Spielberg was making a statement that there were no soldiers of color involved on that day. Growing up, all I ever saw on the silver screen were armies of white soldiers fighting Hitler and the Nazis; however, Linda Hervieux demonstrates in Forgotten that this was pure Hollywood whitewashing of history. Soldiers of color not only stormed the beaches of Normandy, but they also had a particularly tough job to do - deploy and maintain barrage balloons.
I had always wondered what those mini-blimps were. This books explains their use as a military weapon and gives a concise history of ballooning as well. As the subtitle indicates, Hervieux also explores the use of black troops throughout American history but focuses mainly on a handful of men who fought in the 320th Barrage Balloon Battalion during WWII.
The book as a whole is fascinating. The author can be a little redundant, especially when explaining some Jim Crow practices here in the states, but overall, her chronicles of the men of the 320th glued me to the page. Herviweux makes the exploits of these brave men, who cared more for their country than it cared for them, come alive with rich details of their lives on the battlefields both in Europe and here at home. Most surprising is the treatment the men receive in England while training for D-Day. Let's just say that the Brits had a lot to teach us back then.
Forgotten is a worthy look at a facet of American history that has largely been left in the dust heap of time.
— From
Jim
Description
---
"An utterly compelling account of the African Americans who played a crucial and dangerous role in the invasion of Europe. The story of their heroic duty is long overdue." —Tom Brokaw, author of The Greatest Generation
The injustices of 1940s Jim Crow America are brought to life in this extraordinary blend of military and social history—a story that pays tribute to the valor of an all-Black battalion whose crucial contributions at D-Day have gone unrecognized to this day.
In the early hours of June 6, 1944, the 320th Barrage Balloon Battalion, a unit of African-American soldiers, landed on the beaches of France. Their orders were to man a curtain of armed balloons meant to deter enemy aircraft. One member of the 320th would be nominated for the Medal of Honor, an award he would never receive. The nation's highest decoration was not given to Black soldiers in World War II.
Drawing on newly uncovered military records and dozens of original interviews with surviving members of the 320th and their families, Linda Hervieux tells the story of these heroic men charged with an extraordinary mission, whose contributions to one of the most celebrated events in modern history have been overlooked. Members of the 320th—Wilson Monk, a jack-of-all-trades from Atlantic City; Henry Parham, the son of sharecroppers from rural Virginia; William Dabney, an eager 17-year-old from Roanoke, Virginia; Samuel Mattison, a charming romantic from Columbus, Ohio—and thousands of other African Americans were sent abroad to fight for liberties denied them at home. In England and Europe, these soldiers discovered freedom they had not known in a homeland that treated them as second-class citizens—experiences they carried back to America, fueling the budding civil rights movement.
In telling the story of the 320th Barrage Balloon Battalion, Hervieux offers a vivid account of the tension between racial politics and national service in wartime America, and a moving narrative of human bravery and perseverance in the face of injustice.
About the Author
---
Linda Hervieux is a journalist and photographer whose work has appeared in publications including The New York Times, the New York Daily News, and The Daily Beast. A native of Lowell, Massachusetts, she lives in Paris, France, with her husband. This is her first book. 
Praise For…
---
"Forgotten is an utterly compelling account of the African Americans who played a crucial and dangerous role in the invasion of Europe. The story of their heroic duty is long overdue." — Tom Brokaw, author of The Greatest Generation
"Thrilling… Forgotten manages to weave the intricate complexities of history into a clear, convincing text that is accessible to both the layperson and the history buff. Here is a stunning achievement that will add much to the historical scholarship of our country." — The Root
"Hard to believe this story hasn't been written before. Linda Hervieux's Forgotten is essential, fiercely dramatic, and ultimately inspiring. All Americans should read this World War II history, which doubles as a civil rights primer, to learn the true cost of freedom." — Douglas Brinkley, author of Cronkite
"Linda Hervieux's Forgotten is a magnificent achievement, an inspiring story. . . long overdue. . . . Mesmerizing. . . . Forgotten will surely appeal to both general readers and those with an abiding interest in World War II history." — Joseph Balkoski, author of Omaha Beach: D-Day, June 6, 1944
"Compelling… a welcome addition to our understanding of the war and the American military." — Washington Post
"A long-overdue, sympathetic treatment of the barrage balloon operators who fought valiantly on the beaches of France." — Kirkus Reviews