Bravelands #1: Broken Pride (Paperback)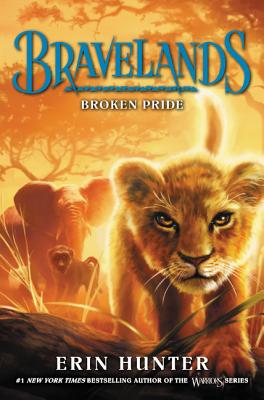 Other Books in Series
This is book number 1 in the Bravelands series.
Staff Reviews
---
Cheri's June 2017 pick, 1 of 2
Readers of her Warriors series will love this new series by Erin Hunter. Now, however, readers can submerge themselves in the African savannah, and learn about the wildlife there. Fearless is a lion cub who escapes after the rogue lion, Titan, takes over his pride. He is rescued by a baboon troupe. As a young lion, Fearless struggles between wanting to truly be a baboon and fit in with his best friends, Mud and Thorn, and his vow to take back his pride, avenge his father, and protect his mother from Titan. However, the baboon troupe is also experiencing troubles of its own that Fearless also has a stake in helping with. And lastly, we meet Sky, a young elephant with the ability to see the future and the past when holding the bones of other animals. All this helps to create a rich and exciting story for young readers.
— From
Cheri's staff picks, 2014-2018
Description
---
Heed the call of the wild with this brand-new, action-packed animal fantasy series from the #1 nationally bestselling author of Warriors. Enter the Bravelands…and discover the Erin Hunter series you've been waiting for.
A lion cast out from his pride.
An elephant who can read the bones of the dead.
A baboon rebelling against his destiny.
For generations, the animals of the African plains have followed a single rule: only kill to survive. But when an unthinkable act of betrayal shatters the peace, the fragile balance between predators and prey will rest in the paws of three unlikely heroes.
Set in an epic new world and told from three different animals' points of view, Bravelands will thrill readers who love Spirit Animals and Wings of Fire, as well as the legion of dedicated fans who've made Erin Hunter a bestselling phenomenon.
About the Author
---
Erin Hunter is inspired by a love of cats and a fascination with the ferocity of the natural world. In addition to having great respect for nature in all its forms, Erin enjoys creating rich mythical explanations for animal behavior. She is the author of the Warriors, Seekers, Survivors, Bravelands, and Bamboo Kingdom series. Erin lives in the UK.
Praise For…
---
"Deep characters, a complex plot, rich mythology, and a stunning setting. Wild and wonderful." — Kirkus Reviews (starred review)