The Betrayal of Anne Frank: A Cold Case Investigation (Paperback)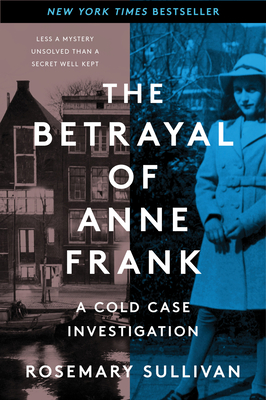 Description
---
A New York Times Bestseller
Less a mystery unsolved than a secret well kept...
Using new technology, recently discovered documents and sophisticated investigative techniques, an international team—led by an obsessed retired FBI agent—has finally solved the mystery that has haunted generations since World War II: Who betrayed Anne Frank and her family? And why?
Over thirty million people have read The Diary of a Young Girl, the journal teen-aged Anne Frank kept while living in an attic with her family and four other people in Amsterdam during World War II, until the Nazis arrested them and sent them to a concentration camp. But despite the many works—journalism, books, plays and novels—devoted to Anne's story, none has ever conclusively explained how these eight people managed to live in hiding undetected for over two years—and who or what finally brought the Nazis to their door.
With painstaking care, retired FBI agent Vincent Pankoke and a team of indefatigable investigators pored over tens of thousands of pages of documents—some never before seen—and interviewed scores of descendants of people familiar with the Franks. Utilizing methods developed by the FBI, the Cold Case Team painstakingly pieced together the months leading to the infamous arrest—and came to a shocking conclusion. 
The Betrayal of Anne Frank: A Cold Case Investigation is the riveting story of their mission. Rosemary Sullivan introduces us to the investigators, explains the behavior of both the captives and their captors and profiles a group of suspects. All the while, she vividly brings to life wartime Amsterdam: a place where no matter how wealthy, educated, or careful you were, you never knew whom you could trust. 
About the Author
---
ROSEMARY SULLIVAN, the author of fifteen books, is best known for her recent biography Stalin's Daughter.  Published in twenty-three countries, it won the Biographers International Organization Plutarch Award and was a finalist for the PEN /Bograd Weld Award for Biography and the National Books Critics Circle Award. Her book Villa Air-Bel was awarded the Canadian Society for Yad Vashem Award in Holocaust History. She is a professor emeritus at the university of Toronto and has lectured in Canada, the U.S., Europe, India, and Latin America.  
Praise For…
---
"Sullivan's narrative, full of twists and turns and dead-end leads, commands attention at every page, dramatic without being sensational." — Kirkus Reviews (starred review)
"Hums with living history, human warmth and indignation….Sullivan circles all of these possibilities like Agatha Christie with Zoom and a time machine." — New York Times
"The Betrayal of Anne Frank is a stunning piece of historical detective work, cleverly structured and grippingly written." — Telegraph (UK)