The Lehman Trilogy: A Novel (Paperback)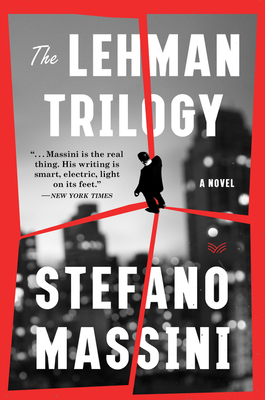 $24.99
This book is not in our store, but most are available for us to get in short order! Send us a message.
Description
---
Basis for the 2022 'Tony Award Best Play' winner
Magnificent in scope, internationally lauded, and transcendent, the novel in verse that inspired the sensational West End and Broadway play of the same name. The Lehman Trilogy follows the epic rise and fall of three generations of that infamous family and through them tells the story of American ambition and hubris. 
After leaving his native Bavaria, Henry Lehman arrives in America determined to make a better life. Sensing opportunity in the Deep South, he opens a textile shop in Alabama, laying the foundation for a dynasty that will come to dominate and define modern capitalism. Emanuel and his brother Mayer begin investing in anything and everything that will turn a profit, from cotton to coal to railroads to oil to airplanes—even at the expense of the very nation that forged them. 
Spanning three generations and 150 years, The Lehman Trilogy is a moving epic that dares to tell the story of modern capitalism through the saga of the Lehman brothers and their descendants. Surprising and exciting, brilliant and inventive, Stefano Massini's masterpiece—like Hamilton—is a story of immigration, ambition, and success; it is the story of America itself from a daring and original perspective.
Translated from the Italian by Richard Dixon 
About the Author
---
Stefano Massini (1975) is an internationally renowned novelist, essayist and playwright. His plays, including his celebrated The Lehman Trilogy, have been translated into twenty-four languages and staged by such directors as Luca Ronconi and the Oscar-winning Sam Mendes. Qualcosa sui Lehman has been among the most acclaimed novels published in Italy in recent years and won the Premio Selezione Campiello, the Premio Super Mondello, the Premio De Sica, the Prix Médicis Essai and the Prix Meilleur Livre Étranger. His other works include Dizionario inesistente (2018) and Ladies Football Club (2019).

Praise For…
---
Massini is the real thing. His writing is smart, electric, light on its feet. (…) "The Lehman Trilogy" lives on the page because of its human moments: the wooing of spouses; the scandals and feuds; the perilous attempts to climb the class ladder. — New York Times
"On stage, just three actors perform it; on the page, it's a panoramic circus, and ravishing, rollicking reading all the way."  — Booklist (starred review)
"A grand morality tale about God, greed, conquest and family."  — The Economist
"Written as a poetic and dramatic song, it dazzles with intelligence and humor."  — Le Figaro Littéraire