Bravelands: Curse of the Sandtongue #2: The Venom Spreads (Paperback)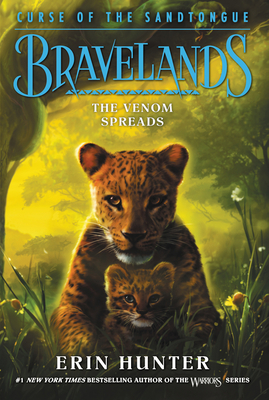 Description
---
The brand-new arc of Erin Hunter's bestselling Bravelands series continues in the latest thrilling adventure!
Friends and family are split as longtime allies turn on each other, and born foes form unlikely bonds. The very threat that led Bramble to leave the place he called home has ensnared the creatures who live on the mountain.
As the mysterious poison begins to affect more and more animals, Chase struggles to determine where her loyalties should lie. And down on the plains, Prance prays that the Great Spirit will send Thorn a solution to the shadowy menace.
But even the Great Father may not be able to save them this time. 
Full of epic adventure and thrilling intrigue, this new Bravelands adventure will thrill readers who love the Spirit Animals and Wings of Fire series, as well as the legion of dedicated fans who've made Erin Hunter a bestselling phenomenon.
About the Author
---
Erin Hunter is inspired by a love of cats and a fascination with the ferocity of the natural world. In addition to having great respect for nature in all its forms, Erin enjoys creating rich mythical explanations for animal behavior. She is the author of the Warriors, Seekers, Survivors, Bravelands, and Bamboo Kingdom series. Erin lives in the UK.