Glacier's Edge: A Novel (The Way of the Drow #2) (Hardcover)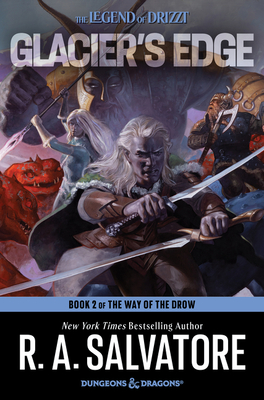 Description
---
From New York Times bestselling author R. A. Salvatore comes the follow-up to Starlight Enclave and thrilling second novel in his newest trilogy, The Way of the Drow, expanding the Forgotten Realms through the adventures of Drizzt, Catti-brie, Jarlaxle, Artemis Entreri, and Zaknefein…and a society of drow unlike one any elf from Menzoberranzan could possibly imagine.
There's a lot that Jarlaxle doesn't know: is he the lone survivor of the raid on the slaad fortress, can he even find a way to get out, and beyond his immediate predicament, could he possibly escape the ice caverns and get help for his friends?
However, what Jarlaxle does know is that if he plans to come back—if Catti-brie, Entreri, and Zaknafein are to have any hope of surviving—he's going to have to bring back far more firepower. An army of aevendrow seems unlikely, so he must go home and pull together a team with great skill and unimaginable power.
But how will he get home? Will such a collection of warriors and mages come to his aid? And even if he manages all that, will it be enough? For Jarlaxle has seen the slaadi's power and their god in a most personal and terrifying way.
Trapped in the ice while the world is on fire, Jarlaxle is in a race against time—and burdened with a magical secret—to save a peaceful city and his companions.
And he's running out of tricks in his bag of holding…
About the Author
---
Over three decades ago, R. A. Salvatore created the character of Drizzt Do'Urden, the dark elf who has withstood the test of time to stand today as an icon in the fantasy genre. With his work in the Forgotten Realms, the Crimson Shadow, the DemonWars Saga, and other series, Salvatore has sold more than thirty million books worldwide and has appeared on the New York Times bestseller list more than two dozen times. He considers writing to be his personal journey, but still, he's quite pleased that so many are walking the road beside him! R.A. lives in Massachusetts with his wife, Diane, and their two dogs, Dexter and Pikel. He still plays softball for his team, Clan Battlehammer, and enjoys his weekly DemonWars: Reformation RPG and Dungeons & Dragons 5e games. 
Praise For…
---
"Underlying this epic fantasy are insightful explorations of evil and happiness, filled with characters who have constantly defied society's expectations to stay true to themselves and their chosen family." — Booklist on Glacier's Edge
"Longtime fans of Drizzt Do'Urden will surely enjoy the novel's breakneck pacing, nonstop action, cast of familiar and beloved characters, and deep philosophical exploration throughout. This storyline, in particular, packs a thematic wallop that is both timely and timeless...readers should embrace Salvatore's newest adventure with Drizzt and company." — Kirkus Reviews (starred review) on Starlight Enclave
"Salvatore manages to wrangle the extensive backstory to make this an accessible entry point for first-timers, and the superior characterizations that marked Salvatore's prior books are again in evidence. His many devoted fans have reason to anticipate the sequel." — Publishers Weekly on Starlight Enclave
"The exhilarating conclusion to Salvatore's Generations trilogy (after Boundless) illustrates the power of family, both born and chosen … Amid epic sword and sorcery clashes, Salvatore makes a powerful case for love and compassion conquering even the strongest of evils. Fans will be sad to see this fantastic series end."  — Publishers Weekly (starred review) on Relentless
"The newest evolution of a narrative that's grown and developed for nearly three decades...a payoff for all that preceded it."   — NerdsonEarth.com on Relentless
"Rip-roaring. [...] Magnificantly detailed swordplay scenes and gruesome enemies continue to mark Salvatore as a top author of fantasy adventure."   — Publishers Weekly on Boundless