Daddy's Girl: A Rosato and Associates Novel (Rosato & Associates Series) (Paperback)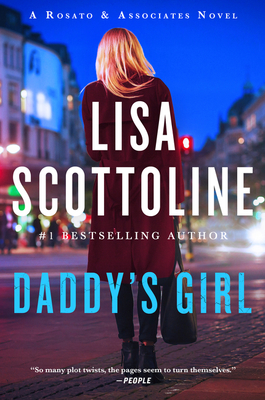 $16.99
This book is not in our store, but most are available for us to get in short order! Send us a message.
Description
---
From the New York Times bestselling author of Dirty Blonde comes a fast-paced thriller in which a young law professor must unravel a conspiracy to see justice done
Law professor Natalie Greco's life is going according to plan, with a boyfriend handpicked by her father and tenure status only a review board away. Then, during a visit to a prison with her colleague Angus, a riot explodes. Rushing to the aid of a fatally wounded prison guard, Nat is privy to his last words—words that, unknown to Nat, can unlock the key to a dangerous conspiracy.
Suddenly Nat, A Girl Who Always Plays By The Rules, finds threats around every curve: ruthless killers desperate to keep her from exposing their secret; police who are convinced she is responsible for a cold-blooded murder; and sexy Angus, whose mere presence makes her question her dedication to her long-term boyfriend.
With her life on the line, her career in the balance, and her boyfriend on hold, Nat has to go into hiding to buy enough time to figure out the hidden secrets behind one man's last words.
About the Author
---
Lisa Scottoline is a #1 bestselling and award-winning author of more than thirty-two novels. She also co-authors a bestselling non-fiction humor series with her daughter, Francesca Serritella. There are more than thirty million copies of Lisa's books in print in more than thirty-five countries. She lives in Pennsylvania with an array of disobedient but adorable pets.
Praise For…
---
"Breathless thriller…if a good rollercoaster is what you want, step up and have your ticket punched." — People
"In the tale's most absorbing pages, [the main character] takes it on the lam, showing all the resourcefulness of Scottoline's other Philadelphia lawyers in disguising herself, boosting a new set of wheels and evading pursuit en route to a clever and well-prepared surprise." — Kirkus Reviews
"This one finds the author in good form, combining suspense and character-building effectively." — Booklist
"A nonstop joyride all the way to the finish." — Library Journal
"Fast pacing, crisp dialogue, taut storyline, a bit of illicit romance—Daddy's Girl is Scottoline in top form all the way." — BookPage
"Chick lit for the Sue Grafton set." — Entertainment Weekly
"Scottoline's heroines are well-rounded women who aren't special just because of their profession....[Scottoline] delivers this particular ordering of chaos with page-turning success." — Philadelphia Inquirer
"First fashion-savvy law prof Natalie Greco gets locked inside a prison during a riot, then she's framed for murder. Scottoline's 14th features so many plot twists the pages seem to turn themselves." — People
"Anyone...who needs a good laugh should scuttle over to the nearest bookstore and pick up a copy of Scottoline's latest, Daddy's Girl." — Washington Post
"Lisa Scottoline is a master chef, and suspense and the law are her favorite ingredients. Daddy's Girl is the perfect mix, with a dash of romance added for flavor." — Cosmopolitan