Relations: An Anthology of African and Diaspora Voices (Hardcover)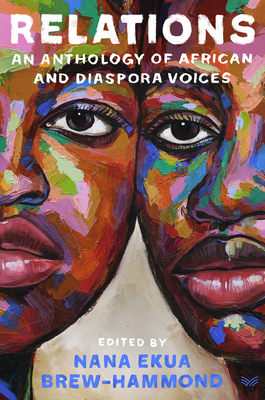 Description
---
Fresh and electrifying—stories, poems, and essays by African and diaspora writers, edited by author Nana Ekua Brew-Hammond.
Relations punctures the human illusion of separation. New and established storytellers reshape the narratives that divide and subjugate, revealing the truth of our shared humanity despite differences in language, identity, class, gender, and beyond. This vital anthology is Nana Ekua Brew-Hammond's striking vision of a meeting place of perspectives, centered in the African and diaspora experience.
In a post-Black Panther world, it is an urgent and welcome embrace of the diversity of Blackness. A refreshing collection of genre-spanning literature, it offers a vibrant meditation on being—inviting connection across real and imagined borders, and celebration of the most profound relations.
About the Author
---
Nana Ekua Brew-Hammond is the author of the children's picture book Blue: A History of the Color as Deep as the Sea and as Wide as the Sky, illustrated by Caldecott Honor Artist Daniel Minter; and the young adult novel Powder Necklace. Her short fiction for adult readers is included in the anthologies Accra Noir, Africa39, New Daughters of Africa, FIRSL, Everyday People, and Woman's Work. Her writing has also appeared in Now2, African Writing, Los Angeles Review of Books, and Sunday Salon. She lives in New York City.
Praise For…
---
"This is an anthology that sings, a wonderful look at the relationships and connections that sustain us, give us life, make us who we are. This smart, generous collection is a true gift." — Kirkus Reviews (starred review)
"The experience of reading this anthology is joyful, important, and highly recommended." — Booklist