By the Light of Burning Dreams: The Triumphs and Tragedies of the Second American Revolution (Large Print / Paperback)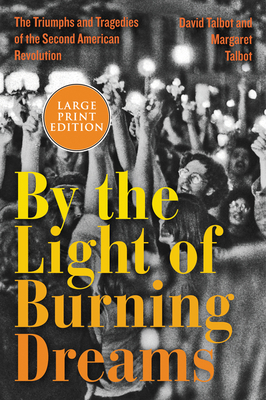 $30.99

Usually Ships in 1-5 Days
Description
---
Winner of the Northern California Book Award for General Nonfiction
New York Times bestselling author David Talbot and New Yorker journalist Margaret Talbot illuminate "America's second revolutionary generation" in this gripping history of one of the most dynamic eras of the twentieth century—brought to life through seven defining radical moments that offer vibrant parallels and lessons for today.
The political landscape of the 1960s and 1970s was perhaps one of the most tumultuous in this country's history, shaped by the fight for civil rights, women's liberation, Black power, and the end to the Vietnam War. In many ways, this second American revolution was a belated fulfillment of the betrayed promises of the first, striving to extend the full protections of the Bill of Rights to non-white, non-male, non-elite Americans excluded by the nation's founders.
Based on exclusive interviews, original documents, and archival research, By the Light of Burning Dreams explores critical moments in the lives of a diverse cast of iconoclastic leaders of the twentieth century radical movement: Bobby Seale of the Black Panthers; Heather Booth and the Jane Collective, the first underground feminist abortion clinic; Vietnam War peace activists Tom Hayden and Jane Fonda; Cesar Chavez, Dolores Huerta and the United Farm Workers; Craig Rodwell and the Gay Pride movement; Dennis Banks, Madonna Thunder Hawk, Russell Means and the warriors of Wounded Knee; and John Lennon and Yoko Ono's politics of stardom. Margaret and David Talbot reveal the epiphanies that galvanized these modern revolutionaries and created unexpected connections and alliances between individual movements and across race, class, and gender divides.  
America is still absorbing—and reacting against—the revolutionary forces of this tumultuous period. The change these leaders enacted demanded much of American society and the human imagination. By the Light of Burning Dreams is an immersive and compelling chronicle of seven lighting rods of change and the generation that engraved itself in American narrative—and set the stage for those today, fighting to bend forward the arc of history. 
By the Light of Burning Dreams includes a 16-page black-and-white photo insert.
About the Author
---
David Talbot is the author of the New York Times bestseller Brothers: The Hidden History of the Kennedy Years and the acclaimed national bestseller Season of the Witch: Enchantment, Terror, and Deliverance in the City of Love. He is the founder and former editor in chief of Salon, and was a senior editor at Mother Jones and the features editor at the San Francisco Examiner. He has written for The New Yorker, Rolling Stone, Time, The Guardian, and other major publications. Talbot lives in San Francisco, California.
Praise For…
---
"In these linked portraits of activists and radicals at a watershed moment in history, David and Margaret Talbot tell a profound story about idealism in action and the rousing, inspiring, often messy ways in which popular movements and charismatic individuals fight injustice and bring about revolutionary transformation. By turns sweeping and intimate, and built on fresh interviews and original reporting, By the Light of Burning Dreams feels like necessary reading in our own tumultuous moment: an urgent reminder that change can happen and a vivid illustration of how it does." — Patrick Radden Keefe, author of Say Nothing
"An intelligent and sympathetic reappraisal of the political upheavals of the '60s and' 70s. . . . An abundance of fresh material gives this book an intergenerational appeal. . . . Through sharp reporting and good storytelling, the authors enliven a journalistic genre that in less skilled hands might have gone flat." — Kirkus
"If you've read either of the Talbot siblings, you know they don't write anything dry. Simple saviors and canned profiles in courage are not for them. These essays bristle with energy and contention. . . . Whether covering the labor organizing of Cesar Chavez, the gay pride of Craig Rodwell or the celebrity activism of John Lennon and Yoko Ono, the Talbots are guided by dogged reporting and an instinct for finding and telling a story. Even if you know these revolutionaries, you'll find details here to surprise you. They might even make you want to go out and make a difference yourself." — San Francisco Chronicle
"The timing is perfect for By the Light of Burning Dreams: The Triumphs and Tragedies of the Second American Revolution, a fresh, deeply-reported examination of some of the most effective movement organizers to emerge in the 1960s….After a global pandemic dramatically increased already untenable inequity overlapped with the radical reassertion ― in the streets and online ― that America is built on fundamentally false pretenses when it comes to equality, the Talbots provide a memorable blueprint for how individuals can continue the work even when the TV crews move on."  — Scheer Post
"[The Talbots] survey the seismic sociocultural changes that transpired in the U.S. during the 1960s and 1970s—what they call the Second American Revolution—by identifying seven discrete yet often intertwining movements or events of consequence…. The authors clearly admire the courage, political savvy, and sheer physical effort required to create and then sustain such critical movements, but they're also unsparing in saying that mistakes were made…. As a result, the Talbots have created a coherent narrative of mid-century political activism, from which readers can see the through lines of modern-day success or failure, and proceed from there."  — Booklist, starred review
"By the Light of Burning Dreams crackles with the radical energy of the 1960s and 70s. It's a shot in the arm of bold idealism, an indispensable companion for today's revolutionaries that reminds us what can happen if we dare to believe in – and fight for – a better world." — Jessica Bruder, author of Nomadland
"Charismatic but flawed figures dominate this vibrant portrait of 1960s radical movements. . . . An exhilarating, inspiring outing."  — Publishers Weekly
"Wide-ranging yet accessible…. A loving but critical portrait of a generation whose effects are still felt today."  — Library Journal
"A moving chronology of the activism that burned bright in the decades of the '60s and '70s. Each movement is written about with a compassionate, yet practical view of their attributes and their shortcomings. The successes elicit joy, the setbacks provoking consternation, but the history provided in this treasure is illuminating and concludes with optimism. A+ History."  — Seattle Book Review
"Inspiring.... No hagiographers here; the Talbots point to the failures and imperfections in their characters, making their legacies human and real."  — The National Book Review
"David Talbot and Margaret Talbot take us back to that tumultuous time fifty years ago... [and] successively spotlight some of the most compelling personalities of the 1960s and 70s.... It's a painful story to read because it highlights how sadly incomplete that revolution proved to be. And it brings to mind the ferocity of the Right-Wing reaction that followed later in the 1970s and beyond, setting the stage for the sad state of the American scene today."  — Berkleyside
"Did the actions of radicals transform the nation in any fundamental way? Or did they blaze too quickly across the landscape?. ... David Talbot and Margaret Talbot, siblings and veteran journalists, have crafted a book of personal narratives rich with the kinds of details that might help answer such queries.... The book brims with vivid descriptions of how all these characters looked, dressed, got along with one another (or didn't), and how they came across in public. The Talbots sprinkle in factual nuggets that might surprise even former activists from those years or the historians who write about them (this reviewer belongs to both clusters)."  — The New Republic