Fatal Discord: Erasmus, Luther, and the Fight for the Western Mind (Paperback)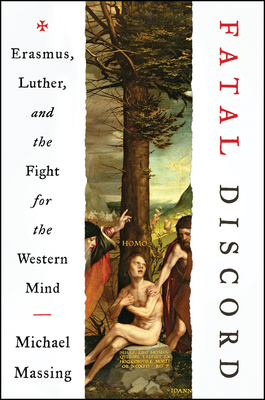 $24.99

Usually Ships in 1-5 Days
Description
---
A New York Times Notable Book
A deeply textured dual biography and fascinating intellectual history that examines two of the greatest minds of European history—Desiderius Erasmus and Martin Luther—whose heated rivalry gave rise to two enduring, fundamental, and often colliding traditions of philosophical and religious thought.
"A masterly work. Massing manages to juggle the complicated biographies and life work of both Erasmus and Luther while giving the reader a well-written, comprehensive background of pre-Reformation theology."— Publishers Weekly (starred review)
Erasmus of Rotterdam was the leading figure of the Northern Renaissance. At a time when Leonardo, Michelangelo, and Raphael were revolutionizing Western art and culture, Erasmus was helping to transform Europe's intellectual and religious life, developing a new design for living for a continent rebelling against the hierarchical constraints of the Roman Church. When in 1516 he came out with a revised edition of the New Testament based on the original Greek, he was hailed as the prophet of a new enlightened age. Today, however, Erasmus is largely forgotten, and the reason can be summed up in two words: Martin Luther. As a young friar in remote Wittenberg, Luther was initially a great admirer of Erasmus and his critique of the Catholic Church, but while Erasmus sought to reform that institution from within, Luther wanted a more radical transformation. Eventually, the differences between them flared into a bitter rivalry, with each trying to win over Europe to his vision.
In Fatal Discord, Michael Massing seeks to restore Erasmus to his proper place in the Western tradition. The conflict between him and Luther, he argues, forms a fault line in Western thinking—the moment when two enduring schools of thought, Christian humanism and evangelical Christianity, took shape. A seasoned journalist who has reported from many countries, Massing here travels back to the early sixteenth century to recover a long-neglected chapter of Western intellectual life, in which the introduction of new ways of reading the Bible set loose social and cultural forces that helped shatter the millennial unity of Christendom and whose echoes can still be heard today. Massing concludes that Europe has adopted a form of Erasmian humanism while America has been shaped by Luther-inspired individualism.
About the Author
---
Michael Massing is a former executive editor of the Columbia Journalism Review and a frequent contributor to The New York Review of Books. His work has also appeared in the New York Times, the Nation, the Atlantic, and the Los Angeles Times. He is the author of The Fix, a critical study of the U.S. war on drugs, and Now They Tell Us: The American Press and Iraq. He is a co-founder of the Committee to Protect Journalists and sits on its board. He received a bachelor's degree from Harvard College and a master's degree from the London School of Economics and Political Science. In 1992, he was named a MacArthur Fellow, and in 2010-2011 he was fellow at the Leon Levy Center for Biography at CUNY. A native of Baltimore, he lives in New York City.
Praise For…
---
"[2017] saw a profusion of books about Martin Luther to mark the 500th anniversary of his posting the 95 Theses. Massing widens the lens wondrously, bringing in Erasmus, the great humanist foe of Luther, and showing how their rivalry set the course for much of Western civilization. Reviewing the book, Rebecca Newberger Goldstein applauds this 'inspired approach': 'Massing, a journalist, has produced a sprawling narrative around the rift between the two men, laying out the sociological, political and economic factors that shaped both them and Europe's responses to them, and tracing their theological disputes back to the earliest days of Christianity,' she writes. 'Though a massive amount of material is marshaled, Massing's journalistic skills keep the story line crisply coherent.'" — New York Times Book Review
"Fatal Discord is a striking departure for Mr. Massing, a distinguished journalist whose work has appeared in outlets like the New York Review of Books and the Columbia Journalism Review. . . . Mr. Massing has read widely and intelligently, and he writes superbly. Fatal Discord is surely the only book on either Erasmus or Luther that general readers will ever require. It reads like a lively lecture series in that most beleaguered of university subjects, Western civilization." — Wall Street Journal
"Massing superbly accomplishes the mammoth task of writing a dual biography of Desiderus Erasmus (1466–1536) and Martin Luther (1483–1546) that places the pair within their historical context...this is a masterly work. Massing manages to juggle the complicated biographies and life work of both Erasmus and Luther while giving the reader a well-written, comprehensive background of pre-Reformation theology." — Publishers Weekly (starred review)
"In this riveting narrative, Massing recounts how the incendiary friar [Martin Luther] eventually quarrels with and finally repudiates his erstwhile leader, so sundering the church that Erasmus hopes to reform from within, and opening up an epoch-defining gap between Protestant evangelism and cosmopolitan humanism." — Booklist (starred review)
"In this dual biography, Massing deftly treats the lives of both [Erasmus and Luther], setting them in the context of the times… this engaging tale of the contentious relationship between two precursors of the modern world… provides much-needed historical background and reflection on a major period in church and world history." — Library Journal (starred review)
"A riveting dual biography [that] reveals the social, political, and religious tensions roiling 16th-century Europe. Massing focuses on the well-known rivalry between the Dutch humanist Desiderius Erasmus and the German reformer Martin Luther to create a majestic, deeply informed portrait of their tempestuous times… [Fatal Discord is] an impressive, powerful intellectual history." — Kirkus Reviews (starred review)
"Michael Massing, a former executive editor of the Columbia Journalism Review, thinks these theological differences fatefully divided Christianity in ways that reverberate now in American evangelicalism. In his new book Fatal Discord, he brilliantly chronicles how the rift between both men deepened." — Financial Times