McGraw-Hill's Conquering the New GRE Verbal and Writing (Paperback)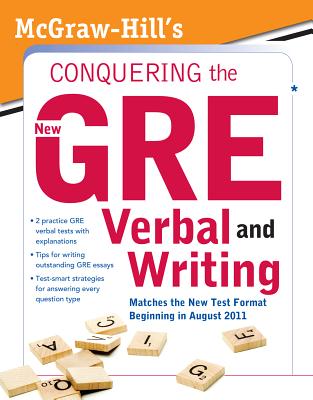 Description
---
Be ready for the verbal and writing sections of the GRE General Test--scheduled to be revised in August 2011
McGraw-Hill's Conquering GRE Verbal and Writing offers you intensive review for every kind of verbal question on the GRE, a well as in-depth essay-writing guidance for the Analytical Writing section. It is packed with examples, drills, and two complete sample GRE Verbal sections for practice. Also included is a comprehensive GRE vocabulary review, along with tips and strategies for sharpening reading skills.
Features:
A complete review of GRE vocabulary
Sample GRE verbal and analytical writing questions to build your test-taking confidence
The knowledge of GRE experts and textbook writers who have written or revised several major test-prep guides
Topics include: The GRE Verbal Reasoning Section; How Verbal Reasoning Is Scored; Action Plans; Vocabulary; Reading Comprehension; Sentence Structure Skills; GRE Verbal and Writing Question Formats; GRE Analogies; GRE Antonyms; GRE Sentence Completions; GRE Reading Comprehension; GRE Text Completions; The GRE Analytical Writing Assessment; GRE Verbal Reasoning Practice Tests; GRE Verbal Practice Test 1; GRE Verbal Practice Test 2
About the Author
---
Kathy A. Zahler is a widely published test-prep and textbook author. She is the author of McGraw-Hill's MAT as well as the bestselling Test Your Cultural Literacy.