Pierre: or, The Ambiguities (Paperback)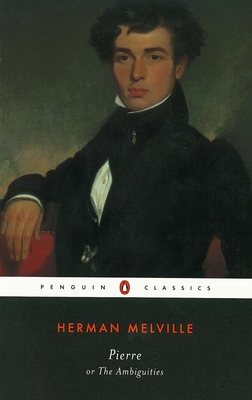 Description
---
'Ambiguities indeed! One long brain-muddling, soul-bewildering ambiguity (to borrow Mr. Melville's style), like Melchisedeck, without beginning or end-a labyrinth without a clue - an Irish bog without so much as a Jack o'the'lantern to guide the wanderer's footsteps - the dream of a distempered stomach, disordered by a hasty supper on half-cooked pork chops." So judged the New York Herald when Pierre was first published in 1852, with most contemporary reviewers joining in the general condemnation: 'a dead failure,' 'this crazy rigmarole,' and "a literary mare's nest." Latter-day critics have recognized in the story of Melville's idealistic young hero a corrosive satire of the sentimental-Gothic novel, and a revolutionary foray into modernist literary techniques.

For more than seventy years, Penguin has been the leading publisher of classic literature in the English-speaking world. With more than 1,700 titles, Penguin Classics represents a global bookshelf of the best works throughout history and across genres and disciplines. Readers trust the series to provide authoritative texts enhanced by introductions and notes by distinguished scholars and contemporary authors, as well as up-to-date translations by award-winning translators.
About the Author
---
Herman Melville
was born in August 1, 1819, in New York City, the son of a merchant. Only twelve when his father died bankrupt, young Herman tried work as a bank clerk, as a cabin-boy on a trip to Liverpool, and as an elementary schoolteacher, before shipping in January 1841 on the whaler Acushnet, bound for the Pacific. Deserting ship the following year in the Marquesas, he made his way to Tahiti and Honolulu, returning as ordinary seaman on the frigate United States to Boston, where he was discharged in October 1844. Books based on these adventures won him immediate success. By 1850 he was married, had acquired a farm near Pittsfield, Massachussetts (where he was the impetuous friend and neighbor of Nathaniel Hawthorne), and was hard at work on his masterpiece
Moby-Dick.
Literary success soon faded; his complexity increasingly alienated readers. After a visit to the Holy Land in January 1857, he turned from writing prose fiction to poetry. In 1863, during the Civil War, he moved back to New York City, where from 1866-1885 he was a deputy inspector in the Custom House, and where, in 1891, he died. A draft of a final prose work, Billy Budd, Sailor, was left unfinished and uncollated, packed tidily away by his widow, where it remained until its rediscovery and publication in 1924.
William C. Spengemann is the Hale Professor in Arts and Sciences and Professor of English Emeritus at Dartmouth College. He edited the Penguin Classics edition of Nineteenth-Century American Poetry.