The Fault in Our Stars (Paperback)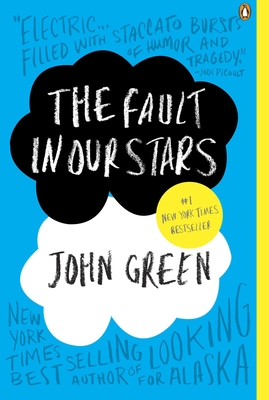 Staff Reviews
---
Ryan's February 2013 review
The Fault in our Stars - John Green
I've wanted to read The Fault in our Stars for months. Everything about it called to me: the bright turquoise cover, the heartwrenching storyline, and most especially the author. Finally, after months of saying, "I really want to read it, but I just haven't gotten to it yet..." I picked it up and I read the whole thing in one sitting. When I tell you that I couldn't put it down, I want you to understand how serious I am. I refused to stop reading until I finished the very last page and closed the book. (Figuratively, of course, as I was reading it on my Kobo Glo).
This book rocked me to the core. It may be categorized as a Young Adult novel, but trust me when I tell you that this truly is the best Novel (Young Adult or otherwise) I've read in a very long time.
John Green immediately catapulted to one of my favorite authors, and humans, of all time. He writes the teenage perspective perfectly - capturing the essence of adolescence and avoiding the childish sounding angst that most authors associate with teenagers.
John Green also brilliantly forms a relationship between the characters and the readers based in emotions as opposed to physical attraction. As a reader, you feel as though you've known these characters your whole life, which makes the heartbreak that much more real.
The Fault in our Stars is written beautifully and brilliantly. The writing is simple, and there are no extraneous words or ideas. Everything in the novel has a purpose, and works perfectly.
If you haven't yet picked up The Fault in our Stars, please do so. Whether you're a Young Adult or a Full Grown Adult, you will absolutely adore this book. Just don't forget to keep a box of tissues on hand. The main characters do meet in a Cancer Support Group, after all.
Excerpt:
Whenever you read a cancer booklet or website or whatever, they always list depression among the side effects of cancer. But, in fact, depression is not a side effect of cancer. Depression is a side effect of dying. (Cancer is also a side effect of dying. Almost everything is, really.) But my mom believed I required treatment, so she took me to see my Regular Doctor Jim, who agreed that I was veritably swimming in a paralyzing and totally clinical depression, and that therefore my meds should be adjusted and also I should attend a weekly Support Group.
This Support Group featured a rotating cast of characters in various states of tumor-driven unwellness. Why did the cast rotate? A side effect of dying.
— From
Ryan
Description
---
The beloved, #1 global bestseller by John Green, author of The Anthropocene Reviewed and Turtles All the Way Down

"John Green is one of the best writers alive." –E. Lockhart, #1 bestselling author of We Were Liars

"The greatest romance story of this decade.″ –Entertainment Weekly

#1 New York Times Bestseller • #1 Wall Street Journal Bestseller • #1 USA Today Bestseller • #1 International Bestseller

Despite the tumor-shrinking medical miracle that has bought her a few years, Hazel has never been anything but terminal, her final chapter inscribed upon diagnosis. But when a gorgeous plot twist named Augustus Waters suddenly appears at Cancer Kid Support Group, Hazel's story is about to be completely rewritten.

From John Green, #1 bestselling author of The Anthropocene Reviewed and Turtles All the Way Down, The Fault in Our Stars is insightful, bold, irreverent, and raw. It brilliantly explores the funny, thrilling, and tragic business of being alive and in love.
About the Author
---
John Green is the award-winning, #1 bestselling author of books including Looking for Alaska, The Fault in Our Stars, and Turtles All the Way Down. His books have received many accolades, including a Printz Medal, a Printz Honor, and an Edgar Award. John has twice been a finalist for the LA Times Book Prize and was selected by TIME magazine as one of the 100 Most Influential People in the World. He is also the writer and host of the critically acclaimed podcast The Anthropocene Reviewed. With his brother, Hank, John has co-created many online video projects, including Vlogbrothers and the educational channel Crash Course. He lives with his family in Indianapolis, Indiana. You can visit John online at johngreenbooks.com.
Praise For…
---
CRITICAL ACCLAIM FOR THE FAULT IN OUR STARS:
 
"Damn near genius . . . The Fault in Our Stars is a love story, one of the most genuine and moving ones in recent American fiction, but it's also an existential tragedy of tremendous intelligence and courage and sadness." —Lev Grossman, TIME Magazine
 
"This is a book that breaks your heart—not by wearing it down, but by making it bigger until it bursts."
—The Atlantic
 
"A story about two incandescent kids who will live a long time in the minds of the readers who come to know them."
—People
 
"Remarkable . . . A pitch-perfect, elegiac comedy."
—USA Today
 
"A smarter, edgier Love Story for the Net Generation."
—Family Circle
 
"Because we all need to feel first love again. . . . Sixteen-year-old Hazel faces terminal cancer with humor and pluck. But it isn't until she meets Augustus in a support group that she understands how to love or live fully."
—Oprah.com, a Best Book selection and one of "5 Books Every Woman Needs to Read Before Her Next Birthday"
 
"[Green's] voice is so compulsively readable that it defies categorization. You will be thankful for the little infinity you spend inside this book."
—NPR.org
 
"Hilarious and heartbreaking . . . reminds you that sometimes when life feels like it's ending, it's actually just beginning."
—Parenting magazine
 
"John Green deftly mixes the profound and the quotidian in this tough, touching valentine to the human spirit."
—The Washington Post
 
"[Green] shows us true love—two teenagers helping and accepting each other through the most humiliating physical and emotional ordeals—and it is far more romantic than any sunset on the beach."
—New York Times Book Review
 
"In its every aspect, this novel is a triumph."
—Booklist, starred review
 
 
"You know, even as you begin the tale of their young romance, that the end will be 100 kinds of awful, not so much a vale as a brutal canyon of tears. . . . Green's story of lovers who aren't so much star-crossed as star-cursed leans on literature's most durable assets: finely wrought language, beautifully drawn characters and a distinctive voice."
—Frank Bruni, The New York Times
 
"A novel of life and death and the people caught in between, The Fault in Our Stars is John Green at his best. You laugh, you cry, and then you come back for more."
—Markus Zusak, bestselling and Printz Honor–winning author of The Book Thief
 
"The Fault in Our Stars takes a spin on universal themes—Will I be loved? Will I be remembered? Will I leave a mark on this world?—by dramatically raising the stakes for the characters who are asking."
—Jodi Picoult, bestselling author of My Sister's Keeper and Sing You Home
 
"John Green is one of the best writers alive."
—E. Lockhart, National Book Award Finalist and Printz Honor–winning author of The Disreputable History of Frankie Landau-Banks and We Were Liars
 
Coverage from NPR