How I Became a Tree (Paperback)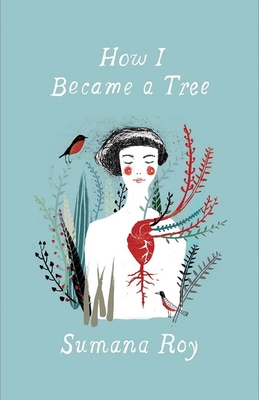 $16.00

Usually Ships in 1-5 Days
Description
---
An exquisite, lovingly crafted meditation on plants, trees, and our place in the natural world, in the tradition of Robin Wall Kimmerer's Braiding Sweetgrass and Annie Dillard's Pilgrim at Tinker Creek
 
"Sumana Roy has written—grown—a radiant and wondrous book."—Robert Macfarlane, author of The Old Ways: A Journey on Foot
 
"Beautiful. . . . Roy weaves together science, nature, personal narrative, literature, sociology, and more to keep the reader turning pages—and to turn us all into tree-lovers."—Kateri Kramer, The Rumpus
 
"I was tired of speed. I wanted to live to tree time." So writes Sumana Roy at the start of How I Became a Tree, her captivating, adventurous, and self-reflective vision of what it means to be human in the natural world.
 
Drawn to trees' wisdom, their nonviolent way of being, their ability to cope with loneliness and pain, Roy movingly explores the lessons that writers, painters, photographers, scientists, and spiritual figures have gleaned through their engagement with trees—from Rabindranath Tagore to Tomas Tranströmer, Ovid to Octavio Paz, William Shakespeare to Margaret Atwood. Her stunning meditations on forests, plant life, time, self, and the exhaustion of being human evoke the spacious, relaxed rhythms of the trees themselves.
 
Hailed upon its original publication in India as "a love song to plants and trees" and "an ode to all that is unnoticed, ill, neglected, and yet resilient," How I Became a Tree blends literary history, theology, philosophy, botany, and more, and ultimately prompts readers to slow down and to imagine a reenchanted world in which humans live more like trees.
About the Author
---
Sumana Roy is associate professor of English and creative writing at Ashoka University in Haryana, India. She is the author of Missing: A Novel, Out of Syllabus: Poems, and My Mother's Lover and Other Stories.
Praise For…
---
"With . . . tender attentiveness to the non-human, [this] narrative speaks of more compassionate and resilient modes of existence than those devised by the perennially agitated makers of history."—Pankaj Mishra, The Guardian, "Summer Reading"

"Beautiful. . . . Throughout the collection, Roy weaves together science, nature, personal narrative, literature, sociology, and more to keep the reader turning pages—and to turn us all into tree-lovers."—Kateri Kramer, The Rumpus

"Not just a meditation on trees but also an exploration of how they have functioned in literary history, theology, and this world of ours."—Emily Temple, Literary Hub

"The takeaway from How I Became a Tree might simply be: We would all do well by ourselves and for the world if we lived more like plants. . . . [Such] insights may appear, at first, as simply philosophical or even fantasy, but this is a book for looking deeper."—Jon M. Sweeney, Spirituality & Practice

A Publishers Weekly Holiday Gift Guide 2021 selection

A Spiritual & Practice Best Book of 2021

"Sumana Roy has written—grown—a radiant and wondrous book, which roots and branches in complex, provocative ways, helping us recognize trees for the 'strange strangers' they are, companion-citizens with which we think and remember, yes, but also alien beings that draw love, hate, indifference, and even lust from us humans."—Robert Macfarlane, author of The Old Ways: A Journey on Foot

"This is one of the most original, delightful, inspiring books I have read in a long time. It will enchant and move the reader with its unique imaginative mindset, its humorous touches, and its defiance of convention."—Mary Evelyn Tucker, Yale University

"A poetic, probing meditation on how trees are, to paraphrase Lévi-Strauss, 'good to think with.' Sumana Roy gives us a fresh and surprising look at a topic as old as the Epic of Gilgamesh, or to put it another way, almost as old as the oldest living trees."—Robert Moor, bestselling author of On Trails: An Exploration

"A genuinely exceptional work that is as poetic as it is scholarly—quirky, enlightening and enriching."—Chandak Sengoopta, Birbeck College, University of London

Praise for Sumana Roy:
 
"A one-of-its-kind meditation. . . . Deliciously engaging."—Supriya Sharma, Hindustan Times
 
"Sumana Roy's writing brims with rare originality."—Areeb Ahmad, The Medley
 
"An ode to all that is unnoticed, ill, neglected and yet resilient. . . . Roy's true spiritual ancestor . . . is Annie Dillard. . . . Both Roy and Dillard craft remarkable, poignant sentences. Both have the ability to make mundane situations lead up to profound, even apocalyptic consequences."—Rini Barman, Wire India
 
"Sumana Roy's book shimmers like silver poplar leaves."—Sylvia Straube, Frankfurter Rundschau
 
"A book like a jungle: from the wide sky to sticky leaves and unsightly thorns, everything is included."—Susanne Billig, Deutschlandfunk Kultur