Everyman (Vintage International) (Paperback)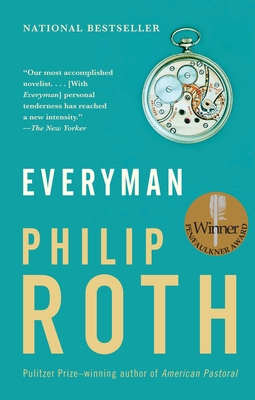 $14.95
It's Complicated - Contact Us for More Information
Description
---
WINNER OF THE PEN/FAULKNER AWARD • NATIONAL BESTSELLER • A candidly intimate yet universal story of loss, regret, and stoicism. The Pulitzer Prize–winning author of American Pastoral and "our most accomplished novelist" (The New Yorker) turns his attention to one man's lifelong skirmish with mortality.

The fate of Roth's everyman is traced from his first shocking confrontation with death on the idyllic beaches of his childhood summers, through the family trials and professional achievements of his vigorous adulthood, and into his old age, when he is rended by observing the deterioration of his contemporaries and stalked by his own physical woes. The terrain of this powerful novel is the human body. Its subject is the common experience that terrifies us all.
About the Author
---
PHILIP ROTH won the Pulitzer Prize for American Pastoral. In 1998 he received the National Medal of Arts at the White House and in 2002 the highest award of the American Academy of Arts and Letters, the Gold Medal in Fiction. He twice won the National Book Award and the National Book Critics Circle Award. He won the PEN/Faulkner Award three times. In 2005 The Plot Against America received the Society of American Historians' Prize for "the outstanding historical novel on an American theme for 2003–2004." Roth received PEN's two most prestigious awards: in 2006 the PEN/Nabokov Award and in 2007 the PEN/Bellow Award for achievement in American fiction. In 2011 he received the National Humanities Medal at the White House, and was later named the fourth recipient of the Man Booker International Prize. He died in 2018.
Praise For…
---
"Our most accomplished novelist.... [With Everyman] personal tenderness has reached a new intensity." —The New Yorker

"If descriptive amplitude went out with the nineteenth century, Philip Roth, who strides the whole time and territory of the word, has resuscitated it—in description revved with the power of narrative itself." —The New York Times Book Review

"Let's use a noun I've never used before: masterpiece." —Atlantic Monthly

"[Roth is] as essential to the experience of modern America–its literature, history, and moral reckoning–as any writer on the planet." —The Boston Globe