With Charity For All: Why Charities Are Failing and a Better Way to Give (Paperback)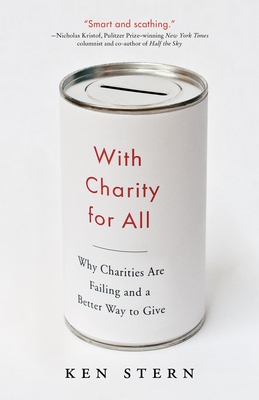 Description
---
Each year, the average American household donates almost $2700 to charity.  Yet, most donors know little about the American charitable sector and the nonprofit organizations they support.  In With Charity For All, former NPR CEO Ken Stern exposes a field that few know: 1.1 million organizations, 10% of the national workforce, and $1.5 trillion in annual revenues.  He chronicles the many flaws in the charity system, from tax-exempt charities such as bowl games,  roller derby leagues, and beer festivals, to charitable hospitals that pay their executives into the millions, to--worst of all--organizations that raise millions of dollars without ever cracking the problem they have pledged to solve.
 
With Charity For All provides an unflinching look at the philathropic sector but also offers an inspiring prescription for individual giving and widespread reform.
About the Author
---
Ken Stern is a media and nonprofit executive best known for helping to build National Public Radio into a global news and information power. He is currently the CEO of Palisades Media Ventures, a Washington D.C.-based public affairs company.

Praise For…
---
"Smart and scathing."
     —Nicholas Kristof, Pulitzer Prize–winning New York Times columnist and co-author of Half the Sky

"An eye-popping—and devastatingly detailed—critique."
     —San Francisco Chronicle

"Stern makes a strong case that the average American donor has become a sucker. . . . A good guide to what makes an effective charity."
     —Los Angeles Times

"Eye-opening. . . . Stern is calling for donors to . . . rethink the way they give in order to be the impetus for change."
     —The Washington Post

"Informative. . . . Stern covers an enormous amount of non-profit ground . . . Feisty."
     —Los Angeles Review of Books

"[With Charity for All is] more exasperated than mean, more provocative than shrill, and counterintuitive instead of purveying stale conventional wisdom. Stern's advice is consequential, because if followed it will alter the charitable realm."
     —USA Today

"[With Charity for All] will be particularly beneficial to those conservatives whose reflexive answer to every question about how to limit government is 'civil society'. . . .  [We] must therefore devote serious attention to the health of the charitable sector. . . . Ken Stern offers essential guidance on where to start."
     —The Wall Street Journal

 "Stern is an engaging storyteller, and his catalog of venality and graft in the charitable sector borders on farce. . . . His insistence on this fundamental question about the purpose of American charity is the great and original strength of this book."
     —Washington Monthly

"[A] devastatingly detailed critique. . . . With Charity for All makes a compelling case that philanthropic organizations are rife with theft—both grand and petty—grotesquely high salaries, waste and incompetence, and subject to virtually no oversight."
     —Tulsa World
 
"[Stern] fills the text with insightful, vivid examples. . . . A trove of useful insider wisdom."
     —Kirkus Reviews

"[A] provocative exposé. . . .  For anyone who has given time or money to not-for-profits, Stern's critique will prove both disturbing and thought-provoking."
     —Publishers Weekly