Ten Big Ones: A Stephanie Plum Novel (Stephanie Plum Novels #10) (Mass Market)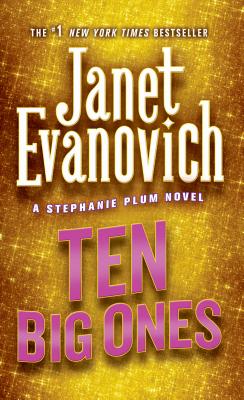 $10.99

Usually Ships in 1-5 Days
Other Books in Series
This is book number 10 in the Stephanie Plum Novels series.
Description
---
Janet Evanovich is the hottest author in America, and her Stephanie Plum novels have taken the nation by storm!

#1 New York Times
#1 Wall Street Journal
#1 Los Angeles Times
#1 Entertainment Weekly
#1 Publishers Weekly

She's accidentally destroyed a dozen cars. She's a target for every psycho and miscreant this side of the Jersey Turnpike. Her mother's convinced she'll end up dead . . . or worse, without a man. She's Stephanie Plum, and she kicks butt for a living (well, she thinks it sounds good to put it that way. . . .).

It begins as an innocent trip to the deli-mart, on a quest for nachos. But Stephanie Plum and her partner, Lula, are clearly in the wrong place at the wrong time. A robbery leads to an explosion, which leads to the destruction of yet another car. It would be just another day in the life of Stephanie Plum, except that she becomes the target of a gang---and of an even scarier, more dangerous force that comes to Trenton. With super bounty hunter Ranger acting more mysteriously than ever (and the tension with vice cop Joe Morelli getting hotter), she finds herself with a decision to make: how to protect herself and where to hide while on the hunt for a killer known as the Junkman. There's only one safe place, and it has Ranger's name all over it---if she can find it. And if the Junkman doesn't find her first. With Lula riding shotgun and Grandma Mazur on the loose, Stephanie Plum is racing against the clock in her most suspenseful novel yet. Ten Big Ones is page-turning entertainment, and Janet Evanovich is the best there is.
About the Author
---
Janet Evanovich is the author of the Stephanie Plum books, including One for the Money and Sizzling Sixteen, and the Diesel & Tucker series, including Wicked Appetite. Janet studied painting at Douglass College, but that art form never quite fit, and she soon moved on to writing stories. She didn't have instant success: she collected a big box of rejection letters. As she puts it, "When the box was full I burned the whole damn thing, crammed myself into pantyhose and went to work for a temp agency." But after a few months of secretarial work, she managed to sell her first novel for $2,000. She immediately quit her job and started working full-time as a writer. After a dozen romance novels, she switched to mystery, and created Stephanie Plum. The rest is history. Janet's favorite exercise is shopping, and her drug of choice is Cheeze Doodles.
Praise For…
---
"No less than her plotting, Evanovich's characterizations are models of screwball artistry. The intricate plot machinery of her comic capers is fueled by inventive twists." —The New York Times

"Stephanie Plum is a bounty hunter with a great sense of humor that balances out her attitude and worse luck...[Stephanie Plum] is like Dorothy Parker with a lousy job and a Jersey accent." —Time

"Funny, witty, and occasionally steamy...evolving comedy starring a sassy contemporary woman with a scene-stealing supporting cast." —Dallas Morning News

"Evanovich's series is as addictive as Fritos-and, 10 books in, not losing any of its salty crunch...colorful characters... Evanovich serves up consistently craveable goodies-and needless to say, they're always perfect for the beach." —People

"A perfect summer read, with lots of action and snappy repartee...you don't need to read the first nine to jump into Ten Big Ones...one of the best in the series." —The Oregonian (Portland, OR)

"[A] fabulous climax...as usual, [Evanovich's] characters will keep you laughing out loud." —Times Picayune (New Orleans)

"This 10th novel is a standout that zips along to its top-this finale." —Hartford Courant

"[Plum's] charms are many, and they're all on display here." —New York Daily News

"Chutzpah and sheer comic inventiveness...in addition to good fun, the Evanovich/Plum books serve as a nice antidote to everything in pop fiction today." —Washington Post

"If you prefer your protagonists with big hair and based in Jersey then Stephanie Plum is your crime solver of choice. Evanovich has a huge following...Stephanie and her sidekick, Lula, are the Lucy and Ethel of bounty hunting." —USA Today

"Evanovich knows how to keep the wheels on her plum-good series." —Orlando Sentinel

"A richly amusing, fast-paced mystery that is unequaled. Don't deny yourself the pleasure of Evanovich's Ten Big Ones...Stephanie Plum is a 21st-century Lucy Ricardo from Trenton, N.J. She has a real talent for getting herself into impossible situations then using her slightly-off-the-bubble creativity to get herself out of jams. She's gutsy, she's street-smart and she's first-class entertainment." —The Daily Oakland Press

"Evanovich is possibly the only mystery writer whose extreme humor can turn what should be serious moments into boisterously funny scenes. The boundaries of good taste are deliciously stretched as Evanovich makes comedy into a kind of art." —South Florida Sun-Sentinel

"The best thing about summer is that there's a new Stephanie Plum, ripe for the picking and guaranteed to be sweet, juicy, and very, very good for you. If you haven't read this series...you're missing something wonderful...just go out and get the first book, One for the Money, then once you're hooked, and you will be, go get the rest of them." —Kingston Observer

"If it's humor and action you seek in a mystery, you can't go wrong with Ten Big Ones...if you don't mind laughing out loud every other page, Evanovich's 10 Plum entries are the books for you." —World Herald (Omaha, NE)

"A whirlwind of antic adventures...the characters deliver plenty...since Evanovich utilizes numbers instead of the alphabet to identify Plum's adventures, this series could continue forever, and what fun that would be." —Acadiana LifeStyle

"Stephanie and Lula are the Abbott and Costello of law enforcement." —Commercial Appeal (Memphis, TN)