To the Nines: A Stephanie Plum Novel (Stephanie Plum Novels #9) (Mass Market)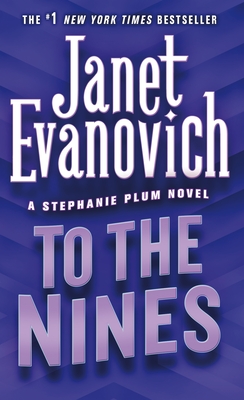 $10.99

Usually Ships in 1-5 Days
Other Books in Series
This is book number 9 in the Stephanie Plum Novels series.
Description
---
The #1 New York Times Bestselling Author
A Stephanie Plum Novel

Janet Evanovich's novels are the hottest bestsellers in America!
# 1 New York Times
# 1 Wall Street Journal
#1 Los Angeles Times
#1 Entertainment Weekly
#1 Publishers Weekly

Stephanie Plum's got rent to pay, people shooting at her, and psychos wanting her dead every day of the week (much to the dismay of her mother, her family, the men in her life, the guy who slices meat at the deli . . . oh, the list goes on). An ordinary person would cave under the pressure.

But hey, she's from Jersey.

Stephanie Plum may not be the best bounty hunter in beautiful downtown Trenton, but she's pretty darn good at turning bad situations her way . . . and she always gets her man. In To the Nines, her cousin Vinnie (who's also her boss) has posted bail on Samuel Singh, an illegal immigrant. When the elusive Mr. Singh goes missing, Stephanie is on the case. But what she uncovers is far more sinister than anyone imagines and leads to a group of killers who give new meaning to the word hunter.

In a race against time that takes her from the Jersey Turnpike to the Vegas Strip, Stephanie Plum is on the chase of her life. The unforgettable characters, nonstop action, high-stakes suspense, and sheer entertainment of To the Nines define Janet Evanovich as unique among today's writers.
About the Author
---
Janet Evanovich is the author of the Stephanie Plum books, including One for the Money and Sizzling Sixteen, and the Diesel & Tucker series, including Wicked Appetite. Janet studied painting at Douglass College, but that art form never quite fit, and she soon moved on to writing stories. She didn't have instant success: she collected a big box of rejection letters. As she puts it, "When the box was full I burned the whole damn thing, crammed myself into pantyhose and went to work for a temp agency." But after a few months of secretarial work, she managed to sell her first novel for $2,000. She immediately quit her job and started working full-time as a writer. After a dozen romance novels, she switched to mystery, and created Stephanie Plum. The rest is history. Janet's favorite exercise is shopping, and her drug of choice is Cheeze Doodles.
Praise For…
---
"Evanovich's many fans will be more than happy with their latest serving of Stephanie Plum who just happens to have more laughs, more sizzling sexual tension, and more nonstop zany adventure than anybody else around." —Publishers Weekly (starred review)

"Evanovich and Stephanie are at the top of their form here: laugh-out loud moments jostle with sticky, visceral terror...ever smarter, sexier, scarier." —Booklist (starred review)

"It didn't matter diddly if you haven't read Nos. 1 through 8 of the Plum saga. Start right here, right now. This is the best of the bunch...it's pure Evanovich." —The State (Columbia, SC)

"Evanovich comes up a winner with the funny, fast-paced To the Nines, which has more plot than some of its predecessors...[its]subplots don't detract from the main premise-keeping Stephanie Plum alive, well and more than ready for her next outing. Us too." —Orlando Sentinel

"To the Nines may be the edgiest of the Stephanie Plum books...Evanovich is brilliantly evocative...she has a genius for almost palpably recreating low-rent scenery like [the] description of the Indian man's industrial-park workplace...these miniatures...and the sizzling sex scenes strike such a wonderfully Hitchcock-like implicitness [and] are what make the Stephanie Plum books such a treat for sore eyes." —Denver Post

"The fun is right on target in the 10th Stephanie Plum adventure, To the Nines...Evanovich returns year after year with one of the genre's most recognizable and irresistible heroines, and in this year's addition, shows she has what it takes to stay on top." —Houston Chronicle

"Continues Evanovich's standards for over-the-top situations...an enjoyable read, with many laugh-out-loud situations...the 'apprehension' that begins To the Nines is the kind of lowbrow comedy that Evanovich has made into an art...longtime fans won't be disappointed." —Las Vegas Review Journal

"Few characters in modern mystery fiction are better loved than Janet Evanovich's...the Stephanie Plum novels are all about characters...and their strange and wonderful interactions. Longtime Evanovich readers cite humor and sense of family among the reasons for reading her books, and I concur wholeheartedly." —Bookpage

"The appeal of Janet Evanovich's popular creation is that she's not much better than the average Jersey girl would be at nabbing criminals...the charms of Evanovich's writing have less to do with intricate plotting than with the characters in Stephanie's working-class neighborhood and her glamour-free job apprehending bail jumpers." —Entertainment Weekly