The Twins (Paperback)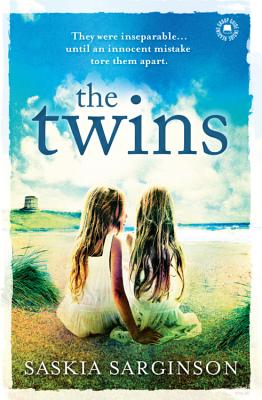 $19.99

Usually Ships in 1-5 Days
Description
---
They were inseparable until an innocent mistake tore them apart.

Growing up, Viola and Issy clung to each other in the wake of their mother's eccentricity, as she dragged them from a commune to a tiny Welsh village. They thought the three of them would be together forever.

But an innocent mistake one summer set them on drastically different paths. Now in their twenties, Issy is trying to hold together a life as a magazine art director, while Viola is slowly destroying herself, consumed with guilt over the events they unknowingly set into motion as children.

When it seems that Viola might never recover, Issy returns to the town they haven't seen in a decade, to face her own demons and see what answers, if any, she can find.

A deeply moving, gripping debut, this is a novel about the secrets we carry, and the bonds between twins.
About the Author
---
Saskia Sarginson was awarded a distinction in her MA in Creative Writing at Royal Holloway after a BA in English Literature from Cambridge University and a BA in Fashion Design & Communications. Before becoming a full-time author, Saskia's writing experience included being a health and beauty editor on women's magazines, a ghost writer for the BBC and HarperCollins, and copywriting and script editing. Saskia lives in south London with her four children.
Praise For…
---
"A perfect R&J summer read, a psychological thriller of sisters and a dreadful childhood incident, the details of which are drip fed to us throughout the book, building layers of complexity to the story at each revelation... Highly compulsive."—The Bookseller

"Beautifully done."—Publisher's Weekly

"[O]utstandingly good. Part-thriller, part-love story, I guarantee you will not be able to put it down."—The Sun (UK)

"Everybody has an opinion about twins and the bond between them. Well this novel has two sets of twins and will make you curious to know more. The competition, the struggle for power but also the loyalty between them are extraordinary... This novel reads like a modern fairy tale, I loved it."—Pages & Pages, Sydney

"Beautifully written with characters you'll learn to love."—Dymocks Rouse Hill, Sydney

"This debut novel by Saskia Sarginson reveals a stunning writer with deep insight into people, their thoughts and behaviour. It is a beautifully crafted and compelling story that won't disappoint."—NZ Women's Weekly

"The debut novel from British author Saskia Sarginson simply called The Twins, is anything but simple: it's a beautifully layered novel about childhood, the haunting nature of secrets and the unbreakable bond of twins...a compelling slow burn of a story with evocative writing. It's an accomplished first novel by Saskia Sarginson and it was with genuine pleasure I read she's already at work on her next novel - which I will definitely be adding to my wish list."—The Well Read Kitty

"This book got its hooks into us and wouldn't let go. Hypnotic, with real emotional punch."—Star, 4 star review (UK)

"Gripping."—Marie Claire

"Thumpingly good."—Good Housekeeping

"Intense...dark."—Daily Mail