Pour Me Another: 250 Ways to Find Your Favorite Drink (Hardcover)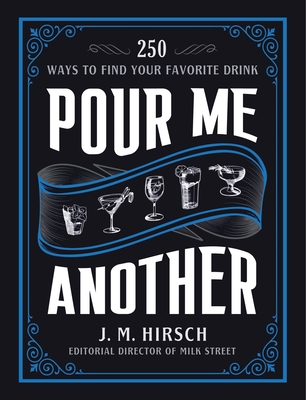 SIGNED COPIES WILL BE AVAILABLE. If you have personalization requests, please add them in the comments of your order.
Description
---
Choose your own cocktail adventure: Use the drinks you already love to explore a world of delicious new spirits, combinations, and flavors.
You know what you like to drink—but what's next?
 
Expert mixologist and James Beard Award-winning editorial director of Milk Street J.M. Hirsch has the answer in Pour Me Another, where every recipe helps you choose your next drink.
 
Consider the rum Mojito. If that's your go-to, you might not consider yourself a bourbon drinker. But a whiskey Mint Julep delivers many of the same refreshing, minty notes. And from there it's a short jump to a vodka Mint Fizz, which livens things up with lemon and almond syrup.
Or maybe you're a bourbon Old Fashioned drinker. Pour Me Another guides you to a gin Bijou, which brings in Manhattan-like notes. Then try a Vieux Carré, with herbal notes atop peppery rye. Soon you're sipping a Mexican Vieux Carré, which uses tequila for a similar rich and spicy effect.
If a Gin & Tonic is more your speed, head toward tropical territory with a gingery Lime in de Coconut. Like that one? Go for a Coconut-Lime Daiquiri next.
Everyone loves a Margarita, but have you tried the Manhattan-inspired La Rosita?
Discover the versatility of vodka with a cousin to the Martini, in the botanical Stupid Cupid.

No matter your taste or liquor of choice, Pour Me Another guides you to a new world of drinks you'll love. It's an essential handbook for cocktail lovers and home mixologists everywhere.
About the Author
---
J.M. Hirsch is a James Beard Award-winning food and travel writer. He is editorial director of Christopher Kimball's Milk Street, a Boston-based food media company with a 140,000-circulation print magazine, award-winning cookbooks and public television and radio shows that reach millions of viewers and listeners. His previous cookbooks include High Flavor, Low Labor  and Beating the Lunchbox Blues. He is the former national food editor for The Associated Press and lives in New Hampshire with his son, husband and two cats. 
Praise For…
---
"Milk Street editorial director J.M. Hirsch uses cocktails you already love as a starting point for embracing new and exciting combinations, with 250 recipes that will turn your home bar into a choose-your-own adventure experience."—Epicurious

"[A] smart approach to drinking… [that] will help you identify cocktails that you otherwise might not try, based on what you already know you like."—Forbes

"By encouraging readers to explore the modular nature of cocktails, Hirsch imagines the drinks cabinet as one big Lego set. The combinations are endless and it pays to be creative. That approach makes Pour Me Another ideal reading for the experimental home bartender."—Club Enologique

"If you're the person who saddles up to a bar and then completely blanks when it comes time to actually order, this cocktail cookbook is for you. Every recipe guides you to a similar, but different recipe idea to try next. The pathways are endless, but all roads lead to being drunk and happy."—letseatcake.com