Wolfish (Hardcover)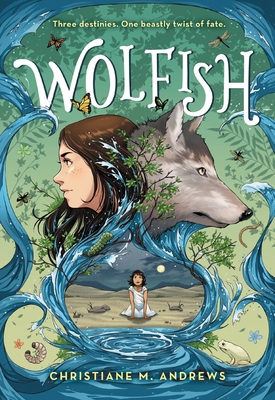 Description
---
For fans of Kelly Barnhill, Wolfish is an expansive, adventurous fantasy unlike anything you've ever read, inspired by the myth of twin boys Romulus and Remus. Shortlisted for the Ursula K. Le Guin Prize for Fiction!

Twelve-year-old Rae is content as the adopted daughter of shepherds, helping with the flock and reveling in the beauty of her family's hillside farm. But after a frightening encounter with a wolf—to whom she feels a sudden, peculiar connection—Rae realizes there is much more to her past, and her future, than she could have imagined.

Meanwhile, a young girl named Alba goes about her days as an oracle's apprentice, a duty that confines her to a distant, watery cave. But when she bestows a troubling prophecy on the rising boy-king, her words unintentionally begin a reign of terror, and send Alba on a desperate mission alongside Rae and the wolf.

Inspired by Roman mythology, this mysterious and uniquely magical adventure explores the intricate roles of nature and fate in our lives, the power of language to shape our world, and the boundless importance of love and kindness.
About the Author
---
Christiane M. Andrews is the author of the highly acclaimed Wolfish and Spindlefish and Stars. A longtime writing and literature instructor, she lives with her husband and son and a small clutch of animals on an old New Hampshire hilltop farm. She invites you to visit her online at cmandrews.com.
Praise For…
---
Praise for Wolfish

Shortlisted for the Ursula K. Le Guin Prize for Fiction

A Junior Library Guild Gold Standard Selection

* "A grand, gritty tale.... a deeply evocative, lyrical blend of fairy-tale and historical fantasy tinged in horror—and beauty. The book finds its emotional core in the touching depiction of Rae's life with her shepherd parents, as well as in the elegant and immaculately controlled prose, which keeps the pages turning even when the plot burns slow. Hand this to fans of Kelly Barnhill and those who appreciate a story as much as the manner of its telling."—Booklist, starred review

* "Beautifully written... The format of the book is lovely, with a fascinating cover and illustrated chapter pages. Teachers could use this as a read-aloud or as a class read during the study of medieval history. Give this title to readers of Catherine Murdock and Kate DiCamillo."—School Library Connection, starred review

"Andrews's narrator weaves a fable-like story of betrayal and love, revenge and destiny, in sure, poetic prose.... With a magical Romulus-and-Remus theme and some fairy-tale features, this leisurely tale is richly atmospheric and nicely surprising. Chapter-opening framed decorations (akin to medieval illuminations) by Yuta Onoda make the book an attractive object in itself and suit Andrews's writing perfectly—delicate and earthy at once, both realistic and magical."—The Horn Book

"Fans of Roman mythology will appreciate the nods to classical literature, but fiction readers will gravitate toward the twins and their connection, and they will find this a contemplative and affecting read about the profound loneliness that has shaped each of the four main characters."—The Bulletin

"Intricate worldbuilding and a leisurely pace couple with poetic prose to render a protagonist whose careful dialogue emphasizes the way in which words—both spoken and written—can shape the world."—Publishers Weekly

"Feels as if it was plucked from the mouths of bards and placed, words still forming, onto the page. It is a quiet, intimate fantasy made of the everyday magic of nature and humanity and bound up in lyrical prose, shaped like a stone by the river that holds it. This story flows, myth-like in its familiar majesty, tumbling across a wild countryside and sweeping in its scope. It evokes rumblings of various legends while remaining wholly unique, a tale of words about their importance and power."—The Book Seller (Grass Valley, CA)

Praise for Spindlefish and Stars

A 2020 Booklist Editors' Choice

A Kirkus Reviews Best Middle Grade Book of 2020

"Expertly written, full of beautiful imagery and elements of Greek mythology.... An engaging and inventive novel."—School Library Journal

* "Readers familiar with Greek myth will take special pleasure in the slantwise view Andrews conjures.... The tapestry metaphor also offers a longer, measured view of the unavoidability of pain and the beauty of kindness as well as commentary on the persistence of powerful stories through art."—The Bulletin, starred review

* "Bewitching, beautiful, and bewildering.... Immensely satisfying."—Booklist, starred review

"Both mysterious and evocative.... A dreamy, immersive story that raises questions about the power of art and the value of human suffering."—The Horn Book

* "An epic tale of abandonment, travel, secrets, family, and the meaning of art.... Exquisite in detail.... A tapestry, both humble and rich."—Kirkus Reviews, starred review

* "A lyrical debut exploring the nature of destiny and sacrifice.... The narrative voice...makes this enchanting story feel like an all-new myth built from classic material."—Publishers Weekly, starred review