A Line in the Sand: A Novel (Hardcover)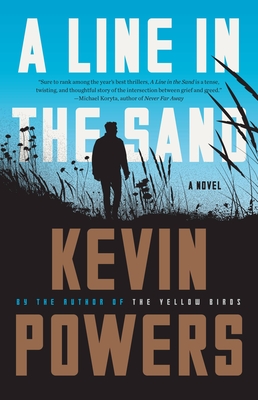 Description
---
In this "spellbinding and totally original thriller" (Philipp Meyer, author of The Son) a lonely veteran's gruesome discovery throws him right into the face of danger as a twisted investigation unravels the secrets of his dark past.
One early morning on a Norfolk beach in Virginia, a dead body is discovered by a man taking his daily swim—Arman Bajalan, formerly an interpreter in Iraq. After narrowly surviving an assassination attempt that killed his wife and child, Arman has been given lonely sanctuary in the US as a maintenance worker at the Sea Breeze Motel. Now, convinced that the body is connected to his past, he knows he is still not safe.
Seasoned detective Catherine Wheel and her newly minted partner have little to go on beyond a bus ticket in the dead man's pocket. It leads them to Sally Ewell, a local journalist as grief-stricken as Arman is by the Iraq War, who is investigating a corporation on the cusp of landing a multi-billion-dollar government defense contract.
As victims mount around Arman, taking the team down wrong turns and towards startling evidence, they find themselves in a race, committed to unraveling the truth and keeping Arman alive—even if it costs them absolutely everything.
About the Author
---
Kevin Powers is the author of The Yellow Birds, which won the PEN/Hemingway Award, the Guardian First Book Award, and was a National Book Award Finalist. He was born and raised in Richmond, Virginia, graduated from Virginia Commonwealth University, and holds an MFA from the University of Texas at Austin, where he was a Michener Fellow in Poetry. He served in the US Army in 2004 and 2005 in Mosul and Tal Afar, Iraq.
Praise For…
---
"A riveting powerhouse of a book, A Line in the Sand pits two small town cops—and a mysterious Iraqi interpreter whose secrets have already gotten a lot of people killed—against corruption and violence at the highest levels of government. A spellbinding and totally original thriller; Kevin Powers has reinvented himself as novelist yet again."—Philipp Meyer, author of The Son

"Sure to rank among the year's best thrillers, A Line in the Sand is a tense, twisting, and thoughtful story of the intersection between grief and greed— and the human lives crushed in the middle. Kevin Powers writes with uncommon grace, delivering the rare novel that is both propulsive and contemplative, calling to mind writers as varied as Tim O'Brien and Michael Connelly."—Michael Koryta, author of Never Far Away

"Powers has done it again. A Line in the Sand has it all: a kickass mystery with classic police procedural elements, originally drawn and memorable characters, but, most of all, a story with a huge heart and an underlying message that is sure to resonate widely. Enjoy the latest from a superb storyteller." 
 —David Baldacci, author of The 6:20 Man

"Kevin Powers walks-the-walk and talks-the-talk in this compelling, frighteningly knowledgeable thriller. Like a pebble in a pond, the murder of a man sets the characters in a full-tilt, nonstop fight for their lives in a rippling story that could only have been written by Powers—and write it he does." —Craig Johnson, author of the Longmire Series

"That the same man can give us The Yellow Birds, A Shout in the Ruins, and now A Line in the Sand is proof that Kevin Powers has got some serious range. This time, he's written a thriller, with a crime so big and characters so flawed, you'll be holding your breath the whole time….The book's got all the stuff you've always loved about Powers' writing: a deep and abiding understanding of what soldiers sacrifice, a thoughtful examination of the place he grew up, and prose so beautiful it'll make you weep."—Rachel Beanland, author of Florence Adler Swims Forever

Praise for The Yellow Birds—

"The Yellow Birds is brilliantly observed and deeply affecting…a harrowing story about the friendship of two young men trying to stay alive on the battlefield in Iraq, and a philosophical parable about the loss of innocence and the uses of memory…Extraordinary."—Michiko Kakutani, The New York Times

"A superb literary achievement."—Chris Cleave

"Harrowing, inexplicably beautiful, and utterly, urgently necessary."—Ann Patchett

"Powers has created a powerful work of art that captures the complexity and life altering realities of combat service…it way up on that high rare shelf alongside Ernest Hemingway and Tim O'Brien."—Anthony Swofford