Force: Animal Drawing: Animal Locomotion and Design Concepts for Animators (Force Drawing) (Paperback)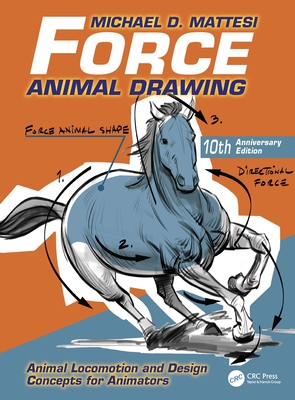 $48.95
This book is not in our store, but most are available for us to get in short order! Send us a message.
Description
---
This 10th Anniversary Edition of Force: Animal Drawing: Animal Locomotion and Design Concepts for Animators offers readers an enlarged and an enhanced selection of images that apply FORCE to animals. With larger images, readers can better appreciate and learn how to bring their own animal illustrations to life. New drawings and facts about the animals create a more comprehensive edition for your library. Readers will also adapt key industry techniques that will help personify animal animations as well as endowing their creations with human-like expressions and unique animal movement. content can be found at DrawingFORCE.com
Key Features:
- This full-color 10th Anniversary Edition makes FORCE even easier to understand through great diagrams and illustrations
- Color-coded page edges help you find more easily the animal you want to draw
- Learn about key specifications for each mammal such as their weight range, food they eat, and how fast they run
- Video content can be found at DrawingFORCE.com
Mike Mattesi has authored four FORCE books, published in numerous languages and utilized around the world to inspire and educate artists on the concept of FORCE. He has instructed FORCE Drawing for more than twenty-five years and inspired thousands of artists. Simultaneously, he has been contributing his skills as a professional artist on numerous award-winning projects in varied capacities and has collaborated with Pixar, Walt Disney Feature Animation, Walt Disney Consumer Products, Marvel Comics, Hasbro Toys, ABC, Microsoft, Electronic Arts, DreamWorks/PDI, Zynga, the School of Visual Arts, Beijing University, Art Center, Scuola Internazionale di Comics, San Jose State University, the Academy of Art University, Nickelodeon, LeapFrog, and many others. His students occupy all fields of the art industry and have themselves gained prestige for their abilities. Visit Michael at DrawingFORCE.com; connect with him on Facebook at DrawingFORCE.com with Mike Mattesi and at Instagram @michaelmattesi; or email him directly at mike@drawingFORCE.com.
Learn more about FORCE at: DrawingFORCE.com
About the Author
---
Michael Mattesi has authored four FORCE books, published in numerous languages, utilized around the world to inspire and educate artists on the concept of FORCE. He has instructed FORCE Drawing for over twenty years and inspired thousands of artists. Simultaneously, Michael has been contributing his skills as a professional artist on numerous award-winning projects in varied capacities and has collaborated with Pixar, Walt Disney Feature Animation, Walt Disney Consumer Products, Marvel Comics, Hasbro Toys, ABC, Microsoft, Electronic Arts, DreamWorks/PDI, Zynga, The School of Visual Arts, Beijing University, Art Center, Scuola Internazionale di Comics, San Jose State University, The Academy of Art University, Nickelodeon, LeapFrog and many others. Michael's students occupy all fields of the art industry and have themselves gained prestige for their abilities. Michael lives in northern California with his wife and two daughters. Visit him at: DrawingFORCE.com and connect with Michael on Facebook at: DrawingFORCE.com with Mike Mattesi or email him directly: mike@drawingforce.com