Second Place: A Novel (Hardcover)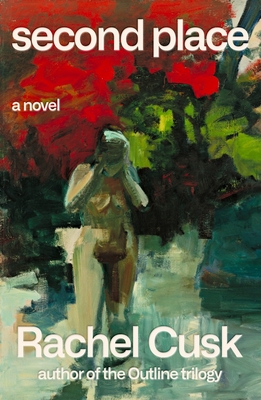 Description
---
A haunting fable of art, family, and fate from the author of the Outline trilogy.

A woman invites a famous artist to use her guesthouse in the remote coastal landscape where she lives with her family. Powerfully drawn to his paintings, she believes his vision might penetrate the mystery at the center of her life. But as a long, dry summer sets in, his provocative presence itself becomes an enigma—and disrupts the calm of her secluded household.

Second Place, Rachel Cusk's electrifying new novel, is a study of female fate and male privilege, the geometries of human relationships, and the moral questions that animate our lives. It reminds us of art's capacity to uplift—and to destroy.
About the Author
---
Rachel Cusk was born in Canada in 1967 and spent much of her childhood in Los Angeles before finishing her education at St Mary's Convent, Cambridge. She read English at New College, Oxford, and has travelled extensively in Spain and Central America. She is the author of six novels. The first, Saving Agnes (1993), won the Whitbread First Novel Award. A Life's Work: On Becoming a Mother (2001) is a personal exploration of motherhood. In The Lucky Ones (2003) she uses a series of five narratives, loosely linked by the experience of parenthood, to write of life's transformations, of what separates us from those we love and what binds us to those we no longer understand. In 2003, Rachel Cusk was nominated by Granta magazine as one of 20 'Best of Young British Novelists'. Her latest novel is Outline (2014).
Praise For…
---
Named a Most Anticipated Book of 2021 by: Buzzfeed, Vogue, O, Elle, The Guardian, The Sunday Times, BookPage, The Millions, Lit Hub, The Seattle Times, Esquire, New Statesman, Paperback Paris, The Week, Town and Country

"Cusk grapples with [D.H. Lawrence's] spirit in Second Place, her first novel since the Outline Trilogy, which is one of the great fictional achievements of the new millennium. Where those crystalline novels were largely plotless and had the chilly burn of dry ice, this fascinating book finds her moving in a messier new direction. . . [Cusk] writes with a knife-thrower's precision and showmanship."
- John Powers, NPR FRESH AIR

"Rachel Cusk, the author of the Outline series, is one of the most precise analysts of human behavior. In this quiet but thrilling novel, based on a real-life vignette, she focuses on a middle-aged woman—a writer, a mother, a spouse—who is desperate to be seen by a male artist whom she invites to stay as a summer houseguest. There is mayhem; surprising sweetness and brilliant observations tumble from every page."
—Jenny Singer, Glamour

"Whatever it is we want from [Rachel Cusk], Second Place delivers in spades. And with the dynamism of a truly great writer, the novel seems written just for the spring of 2021 but was actually inspired by the memoir of Mabel Dodge Luhan, a patron who played host to D.H. Lawrence in Taos, New Mexico, in 1932 . . . Cusk gives us three 'stages of women,' leaving hints of female truths I'll carry for the rest of my life, and no small amount of lush, threatening scenery."
—Julia Berick, The Paris Review

"Her genius is that in deliberately blurring a boundary of her own – that between a writer and her subject, between the expectation of autobiography so often attached to writing by women, and the carapace of pure invention so often unthinkably afforded to men – she tricks us into believing that her preoccupations and failings, her privileges and apparent assumptions, are not our own. By the time we realize what has happened, it is too late: our own surface has been disturbed, our own complacent compartment dismantled. It is a shock, but as the narrator of Second Place reminds us, 'shock is sometimes necessary, for without it we would drift into entropy.'"
—Sam Byers, The Guardian

"Second Place is a comedy of misrecognition. Six characters wind up together in a pair of houses located on a marsh, and the question of the novel is whether they can see each other for who they really are . . . Very potent comedy . . . One thing Cusk has done in Second Place is to restore some mystery to the idea of artistic genius in an era when we prefer to speak of 'craft' and 'process'."
—Christian Lorentzen, The Times Literary Supplement

"The Outline trilogy is a hard act to follow, but Second Place is an excellent next step . . . Essentially, it's a domestic novel combined with a novel of ideas in which Cusk continues her cerebral exploration of issues of freedom, how art can both save and destroy us, the rub between self-sacrifice and self-definition in motherhood, and the possibilities of domestic happiness . . . Beautiful prose."
—Heller McAlpin, NPR

"Second Place shows the freedoms of art to be ambiguous and often entirely arbitrary. They are the results not of visionary inspiration but of practice, patience and the dullness of repetition. 'The rigorously trained fingers of the concert pianist,' the narrator says in a moment of perceptiveness, 'are freer than the enslaved heart of the music-lover can ever be.'"
—Jon Day, Financial Times

"The novel's electric charge comes from the asymmetric relationship between L and M. L's artistic genius is connected, like Satan's, to his claims of absolute freedom . . . A sharp feeling of estrangement is crucial to Ms. Cusk's fictions. The writing, so heightened and epigrammatic, seems almost to mock the homespun fashions of traditional realist prose."
—Sam Sacks, The Wall Street Journal

"In this book more than ever, Cusk is astringent, unsugared. Straight vinegar. It's delicious and good for the gut . . . Cusk's open experimentation is refreshing, as is her belief that a writer must keep moving forward, forging a rough chain."
—Hillary Kelly, Los Angeles Times

"The book is an atmospheric, a mood piece, a drug . . . Instead of passivity, we get velocity; M flings herself desperately into her own drama . . . [Cusk's] sentences grow hypnotic. M is preoccupied by L, thinking incessantly about the painter who shies away from her admiration."
—Helen Shaw, New York

"A friend once described a Cusk novel—2014's Outline—as a glass of Sancerre: very dry, very cold, totally perfect. To (perilously) extend this metaphor let's call Cusk's new novel Second Place a weird wonderful glass of orange wine, unfiltered, even funky . . . Second Place is about how to survive the perils of middle age, how to find both security and freedom in equal measure, and how human longing shades, all too easily, into self-destruction."
—Vogue (Most Anticipated)

"Cusk, a virtuoso of our interior lives and the author of the renowned Outline Trilogy, here spins a captivating, compulsively readable tale—part confession, part allegory—that unflinchingly peers into the crevices of relationships."
—O, the Oprah Magazine (Most Anticipated)

"You know when you're reading a page of Rachel Cusk's fiction. Her narrators tug insistently if coolly at the central knots of being. They analyze every emotion as if it were freshly invented. Nothing is extraneous."
—Dwight Garner, The New York Times

"The plot is simple, but the way it unfolds is as nuanced as ever, narrated in M's second person to someone offstage. As with Cusk's Outline trilogy, it takes seriously the complex emotional geometries between ordinary people. Second Place is a deeply philosophical book about what happens when you confuse art with life."
—Vulture (Most Anticipated)

"The visionary writer of the Outline trilogy returns with a new novel about M, a middle-aged writer who invites a famed painter to the remote home she shares with her second husband, hoping that he might capture the marshy landscape on his canvas . . . Written in Cusk's unmistakable style, longtime fans will rejoice, while first-timers will surely become Cusk converts."
—Esquire (Best Books of Spring)

"Cusk's intelligent, sparkling return (after Kudos) centers on a woman in crisis . . . There is the erudition of the author's Outline trilogy here, but with a tightly contained dramatic narrative. It's a novel that feels timeless, while dealing with ferocious modern questions."
—Publishers' Weekly (starred review)

"Highly praised for her recent, decidedly nonlinear Outline Trilogy, Cusk here rediscovers the joys of plot . . . Brilliant prose and piercing insights convey a dark but compelling view of human nature."
—Kirkus (starred review)

"Once again, Cusk (the "Outline" trilogy) delivers a novel so thorny with ideas that every sentence merits a careful reading, yet crafted in language as ringingly clear as fine crystal . . . A gorgeously sculpted story of living and learning; for all readers."
—Library Journal (starred review)