The Colony: A Novel (Hardcover)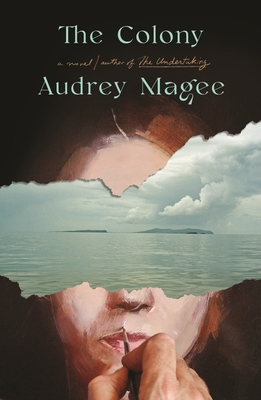 $28.00

Usually Ships in 1-5 Days
Description
---
LONGLISTED FOR THE BOOKER PRIZE

"Luminous." —Jonathan Myerson, The Guardian
"Vivid, thought-provoking." —Malcolm Forbes, Star Tribune

In 1979, as violence erupts all over Ireland, two outsiders travel to a small island off the west coast in search of their own answers, despite what it may cost the islanders.

It is the summer of 1979. An English painter travels to a small island off the west coast of Ireland. Mr. Lloyd takes the last leg by currach, though boats with engines are available and he doesn't much like the sea. He wants the authentic experience, to be changed by this place, to let its quiet and light fill him, give him room to create. He doesn't know that a Frenchman follows close behind. Jean-Pierre Masson has visited the island for many years, studying the language of those who make it their home. He is fiercely protective of their isolation, deems it essential to exploring his theories of language preservation and identity.

But the people who live on this rock—three miles long and half a mile wide—have their own views on what is being recorded, what is being taken, and what ought to be given in return. Over the summer, each of them—from great-grandmother Bean Uí Fhloinn, to widowed Mairéad, to fifteen-year-old James, who is determined to avoid the life of a fisherman—will wrestle with their values and desires. Meanwhile, all over Ireland, violence is erupting. And there is blame enough to go around.

An expertly woven portrait of character and place, a stirring investigation into yearning to find one's way, and an unflinchingly political critique of the long, seething cost of imperialism, Audrey Magee's The Colony is a novel that transports, that celebrates beauty and connection, and that reckons with the inevitable ruptures of independence.
About the Author
---
Audrey Magee is the author of The Undertaking, a novel short-listed for several prizes and honors, including the Women's Prize for Fiction, the Irish Book Award, and France's Festival du premier roman. She lives in Wicklow, Ireland.
Praise For…
---
Longlisted for the Booker Prize
A Best Book of the Year at The Times (London), The Irish Times, and The Globe and Mail
Shortlisted for the Orwell Prize for Political Fiction and the Irish Book Award

"The Colony is a novel of ideas . . . Magee builds her world with a rich particularity . . . [anchored] in the brutal political realities of Ireland during a fateful summer, while acting as a reminder of imperialism's broader legacy around the world."
—Kathryn Hughes, The New York Times Book Review

"There are layers on layers [in The Colony]—art, revolution, passion and cheating, who is lying to whom, and how much do we lie to ourselves . . . What price are we willing to pay for creativity and fame?"
—Nancy Brown, The Boston Globe

"A story about language and identity, about art, oppression, freedom and colonialism . . . A novel about big, important things."
—Lucy Scholes, Financial Times

"An exploration of art, language, and love."
—The Christian Science Monitor, "10 Best Books of May"

"Like a fable, The Colony is sealed up tight, all possible meanings accounted for. And, like history itself, it has a bitter lesson to teach . . . It makes an ultimately satisfying shape in the mind, and creates a mood that lingers discomfitingly after the final page is turned."
—Kevin Power, The Guardian

"What a relief it is to find a novel that treats the reader as a grown-up, that is fresh without chasing literary fashion, provocative but not shouty, and idiosyncratic but fully satisfying from the strange comedy of its opening pages to its decisive conclusion . . . [The Colony] contains multitudes—on families, on men and women, on rural communities—with much of it just visible on the surface, like the flicker of a smile or a shark in the water."
—John Self, The Times

"Inspired . . . Magee strikes an expert balance of imagination and lucidity . . . [The Colony] proves that the path to understanding is a meaningful one.
—Ciara Brennan, The Rumpus

"[A] panorama of lyrical beauty, effort, and complex connection . . . A finely wrought, multilayered tale with the lucidity of a parable."
—Kirkus Reviews (starred review)

"Lyrical and trenchant . . . It's a delicate balance, and one the author pulls off brilliantly."
—Publishers Weekly (starred review)

"A compelling exploration of the intersection of the personal and the political."
—Bryce Christensen, Booklist (starred review)

"[The Colony] demands close attention, but deserves it as a carefully written and serious work of art should."
—Allan Massie, The Scotsman

"A breathtaking and poignant story about language, art, and cultural identity."
—Olivia Rutligliano, CrimeReads

"Lyrical . . . Forceful."
—Amanda Ellison, BookBrowse

"The Colony is a brilliant novel, a subtle and thoughtfully calibrated commentary about the nature and balance of power between classes, cultures, genders. There is violence here, but, most impressively, Audrey Magee captures that more insidious cruelty—the kind masked as protection, as manners."
—Mary Beth Keane, author of Ask Again, Yes

"A careful interrogation, The Colony expertly explores the mutability of language and art, the triumphs and failures inherent to the process of creation and preservation."
—Raven Leilani, author of Luster

"A lyrical, rich, and emotionally powerful novel. The Colony comes alive like a brooding and beautiful canvas painted off the Irish coast."
—Dominic Smith, author of The Last Painting of Sara de Vos

"The Colony is a vivid and memorable book about art, land and language, love and sex, youth and age. Big ideas tread lightly through Audrey Magee's strong prose."
—Sarah Moss, author of The Fell

"So brilliant in its quiet tragedy, so revealing in its precision. It haunts me."
—Tsitsi Dangarembga, author of This Mournable Body

"The Colony is brimming with ideas about identity and soul; a canny, challenging, and never less than engrossing read."
—Lisa McInerney, author of The Rules of Revelation