Master and Commander (Aubrey/Maturin Novels #1) (Paperback)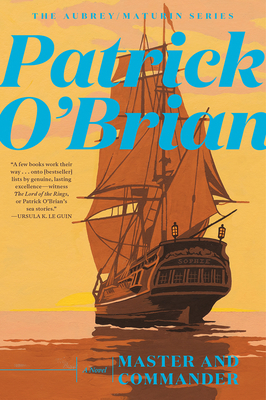 Other Books in Series
This is book number 1 in the Aubrey/Maturin Novels series.
Description
---
The classic first novel of the epic Aubrey/Maturin series, widely considered "the best historical novels ever written" (Richard Snow, New York Times).
Ardent, gregarious British naval officer Jack Aubrey is elated to be given his first appointment as commander: the fourteen-gun ship HMS Sophie. Meanwhile—after a heated first encounter that nearly comes to a duel—Aubrey and a brilliant but down-on-his-luck physician, Stephen Maturin, strike up an unlikely rapport. On a whim, Aubrey invites Maturin to join his crew as the Sophie's surgeon. And so begins the legendary friendship that anchors this beloved saga set against the thrilling backdrop of the Napoleonic Wars.
Through every ensuing adventure on which Aubrey and Maturin embark, from the witty parley of their lovers and enemies to the roar of broadsides as great ships close in battle around them, O'Brian "provides endlessly varying shocks and surprises—comic, grim, farcical and tragic.… [A] whole, solidly living world for the imagination to inhabit" (A. S. Byatt).
About the Author
---
One of our greatest contemporary novelists, Patrick O'Brian is the author of the twenty volumes of the best-selling Aubrey/Maturin series, as well as many other books, including Testimonies, The Golden Ocean, The Unknown Shore, and biographies of Joseph Banks and Picasso.
Praise For…
---
A few books work their way… onto [bestseller] lists by genuine, lasting excellence—witness The Lord of the Rings, or Patrick O'Brian's sea stories.

— Ursula K. Le Guin

I love these books.… [They offer] the same sense of lived experience as Hilary Mantel.… They will sweep you away and return you delighted, increased and stunned. If the phrase 'Napoleonic war fiction' fills you with anticipation, then you don't need me to convince you to read O'Brian. But for the rest of you.… [P]lease, just trust me.
— Nicola Griffith - NPR