The Surgeon's Mate (Aubrey/Maturin Novels #7) (Paperback)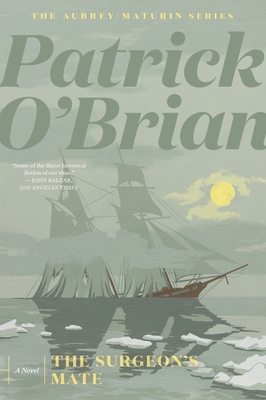 Other Books in Series
This is book number 7 in the Aubrey/Maturin Novels series.
Description
---
"It has been said that this series is some of the finest historical fiction of our time....Aubrey and Maturin have been described as better than Holmes and Watson, the equal of Quixote and Panza....All this is true. And the marvel is, it hardly says enough."—John Balzar, Los Angeles Times
British naval officer Jack Aubrey and surgeon Stephen Maturin, with his great love, Diana Villiers, speed home to England with news of their latest victory over the Americans. But Maturin is a marked man for the havoc he has wrought in the French intelligence network in the New World, and the trio run into trouble when they attract the menacing attention of two American privateers. The chase that follows through the fogs and shallows of the Grand Banks—and the highs and lows of the love affair between Maturin and Villiers—is as tense, stirring, and unexpected in its culmination as anything Patrick O'Brian has written in his epic series.
About the Author
---
One of our greatest contemporary novelists, Patrick O'Brian is the author of the twenty volumes of the best-selling Aubrey/Maturin series, as well as many other books, including Testimonies, The Golden Ocean, The Unknown Shore, and biographies of Joseph Banks and Picasso.
Praise For…
---
They're funny, they're exciting, they're informative. . . . There are legions of us who gladly ship out time and time again under Captain Aubrey.
— Charles McGrath - The New Yorker

It has been something of a shock to find myself . . . obsessed with Patrick O'Brian's Napoleonic-era historical novels. . . . What keeps me hooked are the evolving relationships between Jack and Stephen and the women they love. 
— Tamar Lewin - New York Times