Pierre: Or, The Ambiguities (Norton Critical Editions) (Paperback)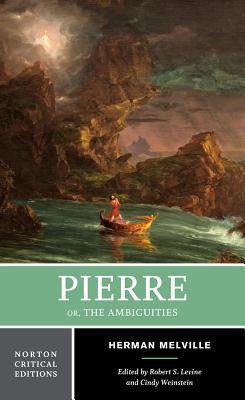 Description
---
When Pierre was published one year after Moby-Dick, expectations were high. Readers expected—and Melville delivered—adventure, humor, and brilliance. Magnificent and strange, Pierre is a richly allusive novel mirroring both antebellum America and Melville's own life.
This Norton Critical Edition includes:
· The Harper & Brothers 1852 first edition of the novel, accompanied by Robert S. Levine and Cindy Weinstein's editorial matter.
· Six illustrations.
· Contextual and source materials, including letters, responses to
Pierre
by Melville's contemporaries, and works by Daniel Webster, Thomas Cole, James Fenimore Cooper, Lydia Maria Child, and Nathaniel Hawthorne, among others, that give readers a sense of Pierre's time and place.
· Seven critical essays on Pierre's major themes by Sacvan Bercovitch, James Creech, Samuel Otter, Wyn Kelley, Cindy Weinstein, Jeffory A. Clymer, and Dominic Mastroianni.
· A Chronology and a Selected Bibliography.
About the Author
---
Robert S. Levine (Ph.D. Stanford; General Editor and Editor, 1820–1865) is Distinguished University Professor of English and Distinguished Scholar-Teacher at the University of Maryland, College Park. He is the author of Conspiracy and Romance: Studies in Brockden Brown, Cooper, Hawthorne, and Melville; Martin Delany, Frederick Douglass, and the Politics of Representative Identity; Dislocating Race and Nation: Episodes in Nineteenth-Century American Literary Nationalism; The Lives of Frederick Douglas; Race, Transnationalism, and Nineteenth-Century American Literary Studies; and (upcoming from Norton) The Failed Promise: Reconstruction, Frederick Douglass, and the Impeachment of Andrew Johnson. He has edited a number of books, including The New Cambridge Companion to Herman Melville and Norton Critical Editions of Hawthorne's The House of the Seven Gables and Melville's Pierre. Levine has received fellowships from the NEH and the Guggenheim Foundation. In 2014 the American Literature Section of the MLA awarded him the Hubbell Medal for Lifetime Achievement in American Literary Studies.

Cindy Weinstein is Vice Provost and Professor of English at California Institute of Technology. She is the author of Family, Kinship, and Sympathy in Nineteenth-Century American Literature and The Literature of Labor and the Labors of Literature and editor of The Cambridge Companion to Harriet Beecher Stowe. She is co-editor of American Literature's Aesthetic Dimensions and The Concise Companion to American Fiction, 1900-1950.