Surrender: 40 Songs, One Story (Hardcover)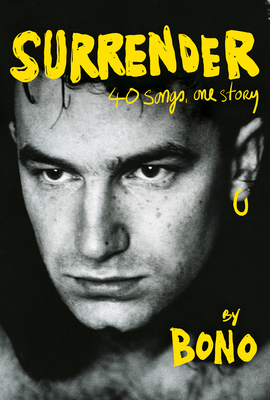 Staff Reviews
---
Jim's May 2023 pick (1 of 2)
NOTE: This review is based on the audiobook version, which you can get from our friends at Libro.fm!
"All of this can be yours. Just give me what I want, and no one gets hurt."
"Vertigo"
What Bono has always wanted is to make music. He has been doing so for close to fifty years as the front man for his band, U2. Surrender tells the story of those four mates from the north side of Dublin who joined talents to form one of the most influential forces in rock.
Philosopher, musician, storyteller, Bono covers all three as he takes the reader from his childhood on Cedarwood Road to stadium tours of the present day. In an age when religion seems to be waning, I was surprised to read that Bono's faith is as strong as ever, which is probably why he is such a driven humanitarian.
The audiobook features Bono's resonant narration, which is great, especially when he impersonates various people whose paths he crossed (Frank Sinatra, Bill Clinton, Barack Obama, and Nelson Mandela, to name a few). Since he is a musician, it's only natural that each chapter begins with snippets of songs. There are also sounds effects throughout to accent particular moments.
If you are a fan of U2, Surrender is a must; however, if you are new to the band, you, too, should read this book (see what I did there?).
— From
Jim
Description
---
NEW YORK TIMES BEST SELLER • Bono—artist, activist, and the lead singer of Irish rock band U2—has written a memoir: honest and irreverent, intimate and profound, Surrender is the story of the remarkable life he's lived, the challenges he's faced, and the friends and family who have shaped and sustained him. • A VOGUE BEST BOOK OF THE YEAR

"A brilliant, very funny, very revealing autobiography-through-music. Maybe the best book ever written about being a rockstar." —Caitlin Moran, award-winning journalist
 
"When I started to write this book, I was hoping to draw in detail what I'd previously only sketched in songs. The people, places, and possibilities in my life. Surrender is a word freighted with meaning for me. Growing up in Ireland in the seventies with my fists up (musically speaking), it was not a natural concept. A word I only circled until I gathered my thoughts for the book. I am still grappling with this most humbling of commands. In the band, in my marriage, in my faith, in my life as an activist. Surrender is the story of one pilgrim's lack of progress ... With a fair amount of fun along the way." —Bono
 
 As one of the music world's most iconic artists and the cofounder of the organizations ONE and (RED), Bono's career has been written about extensively. But in Surrender, it's Bono who picks up the pen, writing for the first time about his remarkable life and those he has shared it with. In his unique voice, Bono takes us from his early days growing up in Dublin, including the sudden loss of his mother when he was fourteen, to U2's unlikely journey to become one of the world's most influential rock bands, to his more than twenty years of activism dedicated to the fight against AIDS and extreme poverty. Writing with candor, self-reflection, and humor, Bono opens the aperture on his life—and the family, friends, and faith that have sustained, challenged, and shaped him.
 
Surrender's subtitle, 40 Songs, One Story, is a nod to the book's forty chapters, which are each named after a U2 song. Bono has also created forty original drawings for Surrender, which appear throughout the book.
About the Author
---
The lead singer of U2, Bono was born Paul David Hewson in Dublin. He met The Edge, Larry Mullen Jr., and Adam Clayton at school, and in 1978, U2 was formed. The band released their first album, Boy, on Island Records in 1980 and to date have released a total of fourteen studio albums that have sold 157 million copies worldwide. Heralded by Rolling Stone as "a live act simply without peer," the band's record-breaking 360° Tour (2009–2011) remains the highest-grossing concert band tour of all time. U2 have won numerous awards, including twenty-two Grammys, more than any other duo or group, as well as an Academy Award nomination and the Amnesty International Ambassador of Conscience Award. In 2005, U2 was inducted into the Rock & Roll Hall of Fame.
 
Alongside his role in U2, Bono is a ground-breaking activist. A leader in Jubilee 2000's Drop the Debt campaign, he next took on the fight against HIV/AIDS and extreme poverty, co-founding sister organizations ONE and (RED). ONE is a movement of millions of people dedicated to the fight against extreme poverty and preventable disease. With ONE, Bono has lobbied heads of state and legislatures all around the world, helping to ensure the passage of programs, such as the U.S. PEPFAR AIDS program, that have helped to save tens of millions of lives over the past twenty years. (RED)—which partners with companies to raise public awareness about, and corporate contributions for, the AIDS crisis—has to date generated more than $700 million for the Global Fund to treat and prevent AIDS in Africa. Since 2020, ONE and (RED) have also been fighting COVID-19 and its impact on the developing world. 
 
In 2016, Bono co-founded the Rise Fund, a global impact fund investing in entrepreneurial companies driving positive social and environmental change in alignment with the UN's Sustainable Development Goals.
 
Bono has received a number of awards for his music and activism, including the Freedom of the City of Dublin (with U2), Chile's Pablo Neruda Medal of Honor, the Légion d'honneur from the French government, an honorary British knighthood, the Fulbright Prize for International Understanding, and TIME magazine's Person of the Year (along with Bill and Melinda Gates). He lives in Dublin with his wife Ali Hewson.
Praise For…
---
A VOGUE BEST BOOK OF THE YEAR

"Honest and direct . . . [Surrender] is defined largely by humility. This is an introspective story written by a man whose spirit is never far removed from the sadness and grief of his childhood; the hunger, literal and figurative, of a teen wannabe rocker; and the gratitude of one who worked his butt off and made it to the top . . . This is the rare rock star memoir written by a rock star who, you get the impression, could have been a writer . . . Bono has a gift for making even the unattainable seem relatable . . . He's humble, even self-effacing. He might be fun to have a beer with. He is very much of this Earth, even if on occasion he might seem to float above the water." —The L.A. Times

"Compelling . . . Surrender is more introspective than salacious or score-settling, and proof that the tunesmith who wrote it also speaks fluent prose." —The Washington Post

"Surrender soars whenever the spotlight comes on. Bono is never more powerful, on the page or the stage, than when he strives for the transcendence that only music can offer . . . [Bono] is open and honest, with language that can be witty and distinctive, addressing his competitive relationship with his father or growing up against the backdrop of Ireland's political violence." —The New York Times

"Lovely and thoughtfully written . . . An earthy, self-deprecating, often funny appraisal of the sometimes contradictory paths Bono has traveled." —Vulture

"This is Bono at his best: thoughtful, reflective, revealing a wisdom that his rock-star persona covers up . . . At the root of it all you don't doubt his decency or integrity." ―The Times (UK)

"A rattling good yarn . . . characteristically expansive, but it whizzes by  . . . Bono has storytelling verve and a genuine desire for self-examination and is enthusiastic about praising others, often at his own expense . . . [A] generous, energetic book." ―The Guardian (UK)

"Bono's memoir bares his soul . . . Has any rock superstar written a more revealing biography? He deftly balances the comical and profound and packs anecdotes with cameos by the rich and famous, from Frank Sinatra to Pope John Paul II." ―Daily Telegraph (UK)

"Beautifully evoked, a mixture of Joycean exuberance and Chandleresque irony . . . most revealing are the intimate personal experiences that shaped him and his chaotic creative process. Punctuating it all is the music. Each chapter uses a U2 song to pull us down memory lane." ―The Sunday Times (UK)

"Bono's honesty will win over his harshest critics . . . the U2 frontman's memoir is a triumph . . . Honest, witty, informative and beautifully written. Surrender will surely join the ranks of the great rock memoirs." ―Irish Independent (UK)

"Sometimes confessional, many times humorous, and always clever and entertaining, Bono has delivered a fascinating autobiography of a major force in popular music and world affairs for all readers." —Library Journal [starred review]

"Bono's first book will generate enormous interest . . . That the singer-songwriter writes well for the page should not come as a surprise, but his drawings might. Fans of Bono and U2 will adore this rich and expansive memoir, while music lovers of all persuasions will find much to enjoy here, too." —Booklist [starred review]

"A powerful and candid debut memoir . . . With remarkable frankness, he details what makes a great song; domestic life with his wife, Ali, and their four children; how the band almost fell apart during the 1990 recording of Achtung Baby; why he always wears glasses; and his experience of the conflict between unionists and nationalists in Northern Ireland . . . Self-aware and poignantly reflective, this is a must-read." —Publishers Weekly [starred review]