Turtles All the Way Down (Paperback)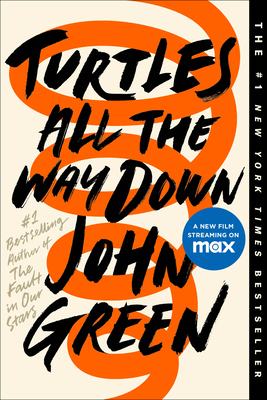 Staff Reviews
---
Jim's November pick, 3 of 3
I have only read one other John Green book - The Fault in Our Stars - which was meh. I think that it was a victim of its own hype. Turtles All the Way Down carries with it high expectations, too, since it is Green's first book after the worldwide success of tFioS. Thankfully, this book rises to the occasion.
In some ways Turtles reminds me of Jack Gantos's Joey Pigza Swallowed the Key, which showed the reader what it's like to be someone with ADD. Green expertly lets us into the mind of Aza Holmes. a sixteen-year-old teen with OCD. Green, who also suffers from OCD, used his own history to fill out Aza'a story. If he goes through half of what his heroine does, his life must be torture.
Besides Aza's personal struggles and the affect they have on her friendships and a burgeoning relationship with a neighborhood boy, Turtles also has a mystery that Aza and her gal pal Daisy try to solve. The sleuthing is, at best, a distraction. Green's story is strongest when he explores Aza's OCD demons, which are truly hellish.
Strap yourself in for one bumpy yet satisfying ride.
— From
Jim's staff picks, 2016-2018
Description
---
The critically acclaimed, instant #1 bestseller by John Green, author of The Anthropocene Reviewed and The Fault in Our Stars

"A tender story about learning to cope when the world feels out of control." —People

"A sometimes heartbreaking, always illuminating, glimpse into how it feels to live with mental illness." – NPR

John Green, the award-winning, international bestselling author of The Anthropocene Reviewed, returns with a story of shattering, unflinching clarity in this brilliant novel of love, resilience, and the power of lifelong friendship.

Aza Holmes never intended to pursue the disappearance of fugitive billionaire Russell Pickett, but there's a hundred-thousand-dollar reward at stake and her Best and Most Fearless Friend, Daisy, is eager to investigate. So together, they navigate the short distance and broad divides that separate them from Pickett's son Davis.

Aza is trying. She is trying to be a good daughter, a good friend, a good student, and maybe even a good detective, while also living within the ever-tightening spiral of her own thoughts.
About the Author
---
John Green is the award-winning, #1 bestselling author of books including Looking for Alaska, The Fault in Our Stars, and Turtles All the Way Down. His books have received many accolades, including a Printz Medal, a Printz Honor, and an Edgar Award. John has twice been a finalist for the LA Times Book Prize and was selected by TIME magazine as one of the 100 Most Influential People in the World. He is also the writer and host of the critically acclaimed podcast The Anthropocene Reviewed. With his brother, Hank, John has co-created many online video projects, including Vlogbrothers and the educational channel Crash Course. He lives with his family in Indianapolis, Indiana. You can visit John online at johngreenbooks.com.
Praise For…
---
"So surprising and moving and true that I became completely unstrung." –New York Times

#1 New York Times Bestseller • #1 Wall Street Journal Bestseller • #1 International Bestseller • Featured on 60 Minutes, Fresh Air, Studio 360, Good Morning America, The TODAY Show

A New York Times Notable Book • A New York Times Critics' Top Book of the Year • An NPR Best Book of the Year • A TIME Best Book of the Year • A Wall Street Journal Best Book of the Year • A Boston Globe Best Book of the Year • An Entertainment Weekly Best Book of the Year • A Seventeen Best Book of the Year • A Southern Living Best Book of the Year • A Publishers Weekly Best Book of the Year • A Booklist Editors' Choice Selection • A BookPage Best Book of the Year • An SLJ Best Book of the Year • An A.V. Club Best Book of the Year • A Bustle Best Book of the Year • A BuzzFeed Best Book of the Year • A Pop Sugar Best Book of the Year • A Vulture Best Book of the Year 

"Green finds the language to describe the indescribable. . . . A must-read for those struggling with mental illness, or for their friends and family." —San Francisco Chronicle

"A powerful tale for teens (and adults) about anxiety, love and friendship." —The Los Angeles Times

"Wrenching and Revelatory." —The New York Times

"Tender, wise, and hopeful." —The Wall Street Journal

"A new modern classic." —The Guardian

"A thoughtful look at mental illness and a debilitating obsessive-compulsive disorder that doesn't ask but makes you feel the constant struggles of its main character.'" —USA Today

"Turtles delivers a lesson that we so desperately need right now: Yes, it is okay not to be okay…. John Green has crafted a dynamic novel that is deeply honest, sometimes painful, and always thoughtful." —Mashable

"Green does more than write about; he endeavours to write inside…. No matter where you are on the spiral—and we're all somewhere—Green's novel makes the trip, either up or down, a less solitary experience." —The Globe and Mail

"This novel is by far [Green's] most difficult to read. It's also his most astonishing. . . . So surprising and moving and true that I became completely unstrung. . . . One needn't be suffering like Aza to identify with it. One need only be human." —Jennifer Senior, The New York Times

"Green's most authentic and most ambitious work to date." —Bustle

"An existential teenage scream." —Vox

"Funny, clever, and populated with endearing characters." —Entertainment Weekly

"An incredibly powerful tale of the pain of mental illness, the pressures of youth, and coming of age when you feel like you're coming undone." —Shelf Awareness

★ "A richly rewarding read…the most mature of Green's work to date and deserving of all the accolades that are sure to come its way." —Booklist

★ "In an age where troubling events happen almost weekly, this deeply empathetic novel about learning to live with demons and love one's imperfect self is timely and important." —Publishers Weekly

★ "A deeply resonant and powerful novel that will inform and enlighten readers even as it breaks their hearts. A must-buy." —School Library Journal
 
Praise for John Green

- 50 million books in print worldwide -
 
#1 New York Times Bestseller
#1 Wall Street Journal Bestseller
#1 USA Today Bestseller
#1 International Bestseller

★ Michael L. Printz Award Winner
★ Michael L. Printz Honor Winner
★ Los Angeles Times Book Prize Finalist
★ TIME 100 Most Influential People
★ Forbes Celebrity 100
★ NPR's 100 Best-Ever Teen Novels
★ TIME Magazine's 100 Best Young Adult Books of All Time

Critical acclaim for The Fault in Our Stars:
 
"Damn near genius . . . The Fault in Our Stars is a love story, one of the most genuine and moving ones in recent American fiction, but it's also an existential tragedy of tremendous intelligence and courage and sadness." —Lev Grossman, TIME Magazine
 
"This is a book that breaks your heart—not by wearing it down, but by making it bigger until it bursts." —The Atlantic
 
"Remarkable . . . A pitch-perfect, elegiac comedy." —USA Today

"[Green's] voice is so compulsively readable that it defies categorization. You will be thankful for the little infinity you spend inside this book." —NPR.org

"John Green deftly mixes the profound and the quotidian in this tough, touching valentine to the human spirit." —The Washington Post 
 
"[Green] shows us true love—two teenagers helping and accepting each other through the most humiliating physical and emotional ordeals—and it is far more romantic than any sunset on the beach." —New York Times Book Review