Glory: A Novel (Hardcover)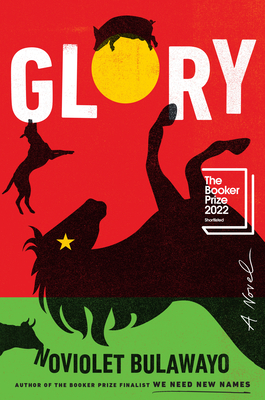 $27.00
This book is not in our store, but most are available for us to get in short order! Send us a message.
Description
---
2022 BOOKER PRIZE FINALIST

"Manifoldly clever…brilliant… 'Glory' is its own vivid world, drawn from its own folklore. This is a satire with sharper teeth, angrier, and also very, very funny." —Violet Kupersmith, The New York Times Book Review

"Genius."—#1 New York Times bestselling author Jason Reynolds

From the award-winning author of the Booker-prize finalist We Need New Names, an exhilarating novel about the fall of an oppressive regime, and the chaos and opportunity that rise in its wake.

NoViolet Bulawayo's bold new novel follows the fall of the Old Horse, the long-serving leader of a fictional country, and the drama that follows for a rumbustious nation of animals on the path to true liberation. Inspired by the unexpected fall by coup in November 2017 of Robert G. Mugabe, Zimbabwe's president of nearly four decades, Glory shows a country's imploding, narrated by a chorus of animal voices that unveil the ruthlessness required to uphold the illusion of absolute power and the imagination and bulletproof optimism to overthrow it completely. By immersing readers in the daily lives of a population in upheaval, Bulawayo reveals the dazzling life force and irresistible wit that lie barely concealed beneath the surface of seemingly bleak circumstances.

And at the center of this tumult is Destiny, a young goat who returns to Jidada to bear witness to revolution—and to recount the unofficial history and the potential legacy of the females who have quietly pulled the strings here. The animal kingdom—its connection to our primal responses and its resonance in the mythology, folktales, and fairy tales that define cultures the world over—unmasks the surreality of contemporary global politics to help us understand our world more clearly, even as Bulawayo plucks us right out of it.

Although Zimbabwe is the immediate inspiration for this thrilling story, Glory was written in a time of global clamor, with resistance movements across the world challenging different forms of oppression. Thus it often feels like Bulawayo captures several places in one blockbuster allegory, crystallizing a turning point in history with the texture and nuance that only the greatest fiction can.
About the Author
---
NoViolet Bulawayo is the author of We Need New Names, which was a finalist for the Booker Prize and won the PEN/Hemingway Award, the Art Seidenbaum Award for First Fiction, the Hurston/Wright Legacy Award for fiction, and the Etisalat Prize for Literature. Bulawayo grew up in Zimbabwe, and now lives in the United States.

Praise For…
---
PRAISE FOR GLORY

"Manifoldly clever…brilliant... 'Glory' is its own vivid world, drawn from its own folklore. This is a satire with sharper teeth, angrier, and also very, very funny."
—Violet Kupersmith, The New York Times Book Review

"A crackling political satire." 
—The New York Times

"Genius."
—#1 New York Times bestselling author Jason Reynolds

"Few writers possess a literary voice as inimitable as Bulawayo's…[The] dazzling voices of this novel will draw you deep into its ambitious and mystifying heart."
—Vulture

"An absurd yet captivating examination of themes such as toxic masculinity, hero worship, and performative change."
—TIME

"Bulawayo's storytelling gifts…are prodigious…Any satire worth its weight in talking animals is really a warning — to the powers that be, the complicit and anyone who thinks nothing so terrible could ever happen to them…By almost any measure, 'Glory' weighs a ton."
—Washington Post

"Bulawayo's chronicle of the new government's corruption and the old one's brutality dramatizes Zimbabwean history while also illuminating the challenges of many developing nations."
—The New Yorker

"Glory goes beyond its immediate inspiration in how, despite the Zimbabwean particulars, it expresses a people's frustration, terror, resilience, uprising, and hope in a way that can be applied to a multitude of nations and political realities around the globe. Hope is not an easy thing…but, like Glory, it is indeed glorious in its power."
—NPR

"[One of the] most anticipated books of 2022." 
—Oprah Daily

"'Glory' demonstrates what it is impossible to teach: there are no rules. Everything, even inconsistency, serves story. NoViolet Bulawayo joins writers like Ursula K Le Guin, Mohsin Hamid, and Colum McCann to revolutionize the possibilities of fiction. 'Glory' will give writers permission to break free from rigid etiquette and use the storytelling habits of the world, and the concerns of that world as their mise en scène. For that alone Bulawayo deserves all the available accolades."
—The Boston Globe

"Inspired by Robert Mugabe's fall from power in 2017 and George Orwell's classic fable Animal Farm, Bulawayo satirizes the dysfunctional politics that curse so many African nations in this long-awaited sophomore effort after her 2013 Booker finalist debut, We Need New Names."
—Buzzfeed

"With ingenuity and skill, Bulawayo masterfully controls her story."
—San Francisco Chronical

"Imaginative, sweeping, hard-hitting, eye-opening, and unabashedly political, Glory is an important read."
—Washington Independent Review of Books

"Throughout, Bulawayo keenly displays the perspectives of political players and the civilians who bear the brunt of their violence. With satire that feels necessary and urgent, Bulawayo brings clarity to a murky political morass."
—Publishers Weekly

"Conjure[s] a mood of an epic folktale." 
—Kirkus Reviews

"Glory is like nothing we've read before. It's a strange, creative, experimental book that will take the reading world by storm, a satire grounded in hope."
—Book Riot

"With its entirely nonhuman cast of horses, goats, donkeys, dogs, cats and cattle and its merciless focus on politics, NoViolet Bulawayo's novel Glory is bound to evoke George Orwell's Animal Farm for many readers. But this is no reboot. Beyond those broad similarities, Bulawayo's story is her own."
—Tampa Bay Times

"A surreal venture that lays the struggles of social upheaval bare."
—Leanne Butkovic, Thrillist

"Inspired by the fall of Robert Mugabe, [Glory] promises an incisive parable for our times."
—Tom Beer

"Bulawayo's writing is a performance. Colorful, poetic, comedic. Like a masquerade, her writing dances in a blend of contrasts. Her animal characters have no problem piling on their adjectives and stacking variations of the same imagery to create delightful sonic and visual patterns."
—Brittle Paper


PRAISE FOR NOVIOLET BULAWAYO

"A deeply felt and fiercely written debut novel . . . The voice Ms. Bulawayo has fashioned for [Darling] is utterly distinctive - by turns unsparing and lyrical, unsentimental and poetic, spiky and meditative."
—Michiko Kakutani, The New York Times

"A gifted writer."
—New York Times Book Review
 
"NoViolet Bulawayo does not shrink away from anything… [She] writes with poignant clarity and hard-hitting imagery."
—New York Daily News

"The Booker Prize–shortlisted author of We Need New Names returns with a novel inspired by the fall of Zimbabwean president Robert Mugabe in 2017. Described as an 'anthropomorphic allegory' in the tradition of Animal Farm, Bulawayo's tale of dictatorship and oppression explores the exaltation and downfall of a would-be savior."
—Oprah Daily

"[Bulawayo's] prose is warm and clear and unfussy…Her hard, funny first novel is a triumph."
—Entertainment Weekly
 
"Her gift as a visual storyteller should propel her to a bright future."
—USA Today
 
"Bulawayo's meditations on displacement and belonging have already garnered widespread critical praise and comparisons to the likes of Zadie Smith and J. M. Coetzee… Bulawayo mixes imagination and reality, combining an intuitive attention to detail with startling, visceral imagery... This book is a provocative, haunting debut from an author to watch."
—Elle