What If?: Serious Scientific Answers to Absurd Hypothetical Questions (Hardcover)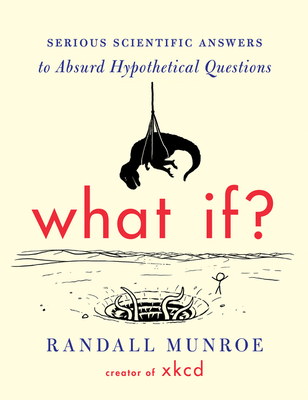 Staff Reviews
---
Tracy and Paul's joint September 2014 pick
what if? Serious Scientific Answers to Absurd Hypothetical Questions, by Randall Munroe
What if a former NASA roboticist found a way to talk about scientific facts and principles by answering crazy, silly questions and illustrating the responses with stick-figure cartoons? And what if he was so good at this that thousands of devoted fans couldn't help but laugh out loud as they read his creatively constructed, scientific answers?
Creator of the popular website xkcd, Randall Munroe brings intelligence and wit to the printed page with what if? Serious Scientific Answers to Absurd Hypothetical Questions. Appropriate for everyone from tweens to adults, what if? will have you following friends and family around the house so you can read them excerpts from the book. You'll learn how much Force power Yoda can really output, and "what would happen if you tried to hit a baseball pitched at 90 percent the speed of light." (Nothing good.) You'll wonder why the science classes you took in school were nothing like this. And you'll consider emailing xkcd to ask when Munroe's next book is coming out.
— From
Paul Wenzel
Description
---
In the New York Times best-selling book from the creator of the wildly popular webcomic xkcd, Randall Munroe gives hilarious and informative answers to important questions you probably never thought to ask.

Fans of xkcd ask Munroe a lot of strange questions. What if you tried to hit a baseball pitched at 90 percent the speed of light? How fast can you hit a speed bump while driving and live? If there was a robot apocalypse, how long would humanity last? What if everyone only had one soulmate? What would happen if the moon went away?

In pursuit of answers, Munroe ran computer simulations, pored over stacks of declassified military research memos, solved differential equations, and consulted with nuclear reactor operators. His responses are masterpieces of clarity and hilarity, complemented by signature xkcd comics. (They often predict the complete annihilation of humankind, or at least a really big explosion.)

Far more than a book for geeks, What If? explains the laws of science in operation in a way that every intelligent reader will enjoy and feel much smarter for having read.
About the Author
---
Randall Munroe is the author of the #1 New York Times bestsellers What If? and Thing Explainer, the science question-and-answer blog What If, and the popular webcomic xkcd.  A former NASA roboticist, he left the agency in 2006 to draw comics on the Internet full-time, supporting himself through the sale of xkcd t-shirts, prints, posters, and books. He likes candlelight dinners and long walks on the beach. Very long walks. Lots of people say they like long walks on the beach, but then they get out on the beach and after just an hour or two, they say they're getting tired. Bring a tent. He lives in Massachusetts.
Praise For…
---
"What If? maintains a delightfully free-wheeling tone throughout, especially  when complicated calculations lead to whimsical results...Despite all the hard facts and gigantic numbers, it never feels like a textbook—and you don't have to be a rocket scientist to enjoy it. A" —Entertainment Weekly "Catchy and approachable...There's plenty of scientific rigor behind his elaborate explanations but he punctuates them with sly humor and winningly primitive cartoon diagrams...A cut above so many popular science and technology books." --NPR.org "Consistently fascinating and entertaining...Munroe leavens the hard science with whimsical touches...An illuminating handbook of methods of reasoning." --Wall Street Journal "It's fun to watch as Munroe tackles each question and examines every possible complication with nerdy and methodical aplomb, his distinctive scribblings providing clever running commentary of peanut-gallery jokes as his train of thought (sometimes) happily derails. The delightfully demented 'What If?' is the most fun you can have with math and science, short of becoming your own evil genius...We feel the tug of Munroe's playful yet existentially-tinged worldview, and all that geek logic and number-crunching becomes unexpectedly poignant." --Boston Globe "Munroe has hit on a wonderful form of science and engineering communication that can do so much—extolling the value of analytical thinking, examining data, and doing back-of-the-envelope calculations—while entertaining readers at the same time… an incredibly fun book with quirky, hand-drawn pictures." —American Scientist "[What If?] has solved my annual birthday-present and holiday-gift dilemmas for a large group of people...What makes Munroe's work so fantastic is a combination of two elements: his commitment to trying to answer even the weirdest question with solid science, and his undeniable sense of humor." —Huffington Post "Munroe takes inane, useless and often quite pointless questions asked by real humans (mostly sent to him through his website), and turns them into beautiful expositions on the impossible that illuminate the furthest reaches, almost to the limits, of the modern sciences..The answers are all illustrated with XKCD's trademark stick figures...and these are eminently approachable." —Newsweek "What If? Serious Scientific Answers to Absurd Hypothetical Questions includes old favorites, new inquiries and the mix of expert research and accessible wit that has made Munroe a favorite among both geeks and laymen."—TIME "Loaded with the same dry wit and blank-faced stick figures that populate xkcd, What If? is that rare book that will have you laughing as you learn just how a mass extinction might unfold." --Discover "Wide-ranging and strangely poignant...This book is tons of fun...Munroe's spiffy essays do tend to resemble the sort of lectures that cool professors give on the first day of class...It's quality entertainment." --Washington Independent Review of Books "Munroe's brilliant What-If? column—which features scientifically rigorous, utterly absurd answers to ridiculous hypotheticals—has been on the bestseller lists since it was announced in March. Today, it hits shelves and: It. Is. A. Triumph." —BoingBoing "What If? is a fast, engrossing read…The charm of What If? lies in the ease Munroe has jumping past intensely interesting conclusions and onto his next thought, tangent, or consequence. It's as if Munroe is a unseen stage technician pulling back the curtain — the answers were always there, we just needed someone who knew how to show us. Even he seems surprised at what he finds." – Nerdist —
Coverage from NPR