The Raven Boys (The Raven Cycle, Book 1) (CD-Audio)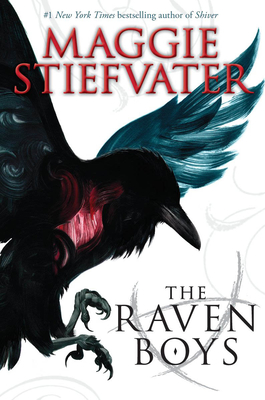 $79.99
OUT OF PRINT: Email or call for price
Other Books in Series
This is book number 1 in the The Raven Cycle series.
Fall '12 Kids List
---
"Blue has grown up in a house full of women psychics who have foretold certain death for her first love. She unwillingly becomes friends with a gaggle of boys, the Raven Boys, from the very expensive private school in town. They're on the search for a mythical king who is said to grant a wish to whoever finds him. Will Blue's ability to intensify the magic around them help on their quest or put them in danger? The Raven Boys will pull you into their thrilling journey."
— Hannah Johnson-Breimeier, Next Chapter Bookshop, Mequon, WI
Description
---
An all-new series from the masterful, #1 New York Times bestselling author Maggie Stiefvater!FORMAT: UNABRIDGED 10 CDsLegend holds that Glendower, a vanished Welsh king, sleeps beneath the hills until he's needed. The first person to find him will be granted a wish - either by seeing him open his eyes, or by cutting out his heart.Gansey has it all - family money, a car, time for extracurriculars and friends - but he's always loved the tales of sleeping kings. He thinks he's found one too, or at least the area where one might be: in the town of Henrietta, VA. And the best way to be there is to attend prestigious Aglionby Academy for Boys. Blue is the daughter of the town psychic in Henrietta, Virginia, but is too practical to believe in things like spirits or true love. Her policy is to stay away from Aglionby boys...but it may be that one in particular can change her mind about magic, and maybe even love.
About the Author
---
Maggie Stiefvater is the #1 New York Times bestselling author of the novels Shiver, Linger, Forever, and Sinner. Her novel The Scorpio Races was named a Michael L. Printz Honor Book by the American Library Association. The first book in The Raven Cycle, The Raven Boys, was a Publishers Weekly Best Book of the Year and the second book, The Dream Thieves, was an ALA Best Book for Young Adults. The third book, Blue Lily, Lily Blue, received five starred reviews. The final book, The Raven King, received four. She is also the author of All the Crooked Saints and Call Down the Hawk. She is also an artist and musician. She lives in Virginia with her husband and their two children. You can visit her online at maggiestiefvater.com.
Praise For…
---
Praise for The Raven Boys
*"It's a tour de force of characterization, and while there is no lack of event or mystery, it is the way Stiefvater's people live in the reader's imagination that makes this such a memorable read." -Publishers Weekly, starred review
*"[A] story very few writers could dream up and only Stiefvater could make so palpably real. Simultaneously complex and simple, compulsively readable, marvelously wrought...The magic is entirely pragmatic; the impossible, extraordinarily true." -Kirkus, starred review
*"[T]he book is marvelous, for not only is it filled with marvels, it is also a marvel of imagination and, more prosaically, structure. Rich, too, in characterization, this fantasy/mystery rises to the level of serious literature, leaving readers hungering for more." -Booklist, starred review
"In a young-adult market crowded with copycats, it's refreshing to find a book that blazes a path as unique as Maggie Stiefvater's The Raven Boys. The first title in the "Raven Cycle" quartet is a dizzying paranormal romance tinged with murder and Welsh mythology." -Los Angeles Times
"This first in a planned four-novel series draws readers into a world where time enfolds hauntingly, and magic informs reality." -The Washington Post
Praise for The Scorpio Races
2012 Michael L. Printz Honor BookNew York Times Notable Children's BookPublishers Weekly Best Book of the YearSchool Library Journal Best Books of the YearA Horn Book Fanfare BookA Kirkus Reviews Best Teen BookAn Amazon.com Best Young Adult BookALA Notable Children's Book (Fiction)Los Angeles Times Book Prize nominee
"Stiefvater...not only steps out of the young adult fantasy box with The Scorpio Races but crushes it with pounding hooves...If The Scorpio Races seems like nothing you've ever read, that's because it is." -The New York Times Book Review
"Stiefvater has established herself as one of the finest YA novelists writing today." -Entertainment Weekly
"Tense, atmospheric, and utterly original." -People Magazine
*"A study of courage and loyalty tested...utterly compelling." -Publishers Weekly, starred review
*"An intoxicating ride." -Horn Book, starred review
*"Masterful. Like nothing else out there now." -Kirkus Reviews, starred review
*"A book with cross-appeal to lovers of fantasy, horse stories, romance, and action adventure, this seems to have a shot at being a YA blockbuster." -Booklist, starred review
*"Marvelous." -School Library Journal, starred review
Praise for The Raven Boys
*"It's a tour de force of characterization, and while there is no lack of event or mystery, it is the way Stiefvater's people live in the reader's imagination that makes this such a memorable read." -Publishers Weekly, starred review
*"[A] story very few writers could dream up and only Stiefvater could make so palpably real. Simultaneously complex and simple, compulsively readable, marvelously wrought...The magic is entirely pragmatic; the impossible, extraordinarily true." -Kirkus, starred review
*"[T]he book is marvelous, for not only is it filled with marvels, it is also a marvel of imagination and, more prosaically, structure. Rich, too, in characterization, this fantasy/mystery rises to the level of serious literature, leaving readers hungering for more." -Booklist, starred review
"In a young-adult market crowded with copycats, it's refreshing to find a book that blazes a path as unique as Maggie Stiefvater's The Raven Boys. The first title in the "Raven Cycle" quartet is a dizzying paranormal romance tinged with murder and Welsh mythology." -Los Angeles Times
"This first in a planned four-novel series draws readers into a world where time enfolds hauntingly, and magic informs reality." -The Washington Post
Praise for The Scorpio Races
2012 Michael L. Printz Honor BookNew York Times Notable Children's BookPublishers Weekly Best Book of the YearSchool Library Journal Best Books of the YearA Horn Book Fanfare BookA Kirkus Reviews Best Teen BookAn Amazon.com Best Young Adult BookALA Notable Children's Book (Fiction)Los Angeles Times Book Prize nominee
"Stiefvater...not only steps out of the young adult fantasy box with The Scorpio Races but crushes it with pounding hooves...If The Scorpio Races seems like nothing you've ever read, that's because it is." -The New York Times Book Review
"Stiefvater has established herself as one of the finest YA novelists writing today." -Entertainment Weekly
"Tense, atmospheric, and utterly original." -People Magazine
*"A study of courage and loyalty tested...utterly compelling." -Publishers Weekly, starred review
*"An intoxicating ride." -Horn Book, starred review
*"Masterful. Like nothing else out there now." -Kirkus Reviews, starred review
*"A book with cross-appeal to lovers of fantasy, horse stories, romance, and action adventure, this seems to have a shot at being a YA blockbuster." -Booklist, starred review
*"Marvelous." -School Library Journal, starred review