The Return (Paperback)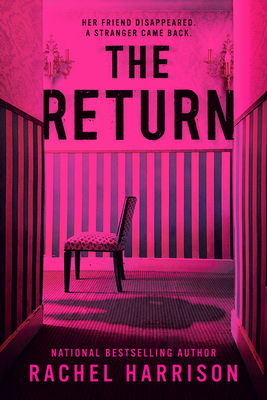 Staff Reviews
---
Ryan's March 2020 pick
In this extraordinarily frightening horror novel, a young woman goes missing for a year and then mysteriously returns with no memory of what happened. Except the person who returns is...not quite right.
Her group of best friends are determined to welcome her back as if nothing has happened, and take her on a weekend getaway to a remote hotel where every room has a ridiculous theme and the drinks are flowing.
As they try to glue their core friendship back together, it becomes clear to one of them, and to the reader, that something is terrifyingly amiss.
Page upon page of increasing dread, spine chilling prose, and the juxtaposition of horrific imagery against an oversaturated upbeat girls weekend at a kitschy location makes for one of the most genuinely scary books I've read in years. Very few horror novels actually make me consider leaving the lights on at night once I've finished them, but I was jumping at every shadow for a while after setting this book down.
Not only is THE RETURN utterly unnerving, it's also exceptionally well-written with maddeningly oblivious characters determined to ignore every sign of doom and terror tapping them on the shoulder.
I. Loved. This. Book.
Listen to Ryan's interview with Rachel Harrison!
— From
Ryan
Description
---
A group of friends reunite after one of them has returned from a mysterious two-year disappearance in this edgy and haunting debut.

Julie is missing, and no one believes she will ever return—except Elise. Elise knows Julie better than anyone, and feels it in her bones that her best friend is out there and that one day Julie will come back. She's right. Two years to the day that Julie went missing, she reappears with no memory of where she's been or what happened to her. 

Along with Molly and Mae, their two close friends from college, the women decide to reunite at a remote inn. But the second Elise sees Julie, she knows something is wrong—she's emaciated, with sallow skin and odd appetites. And as the weekend unfurls, it becomes impossible to deny that the Julie who vanished two years ago is not the same Julie who came back. But then who—or what—is she?
About the Author
---
Rachel Harrison was born and raised in the weird state of New Jersey. She received her bachelor's in Writing for Film & Television from Emerson College. After graduating, she worked on TV game shows, in publishing, and for a big bank. She lives in Rochester, NY with her husband and their cat/overlord. This is her first novel.
Praise For…
---
"Marvelous. The storytelling is quick, well plotted and engrossing." - The New York Times

"Hair-raising horror and pure entertainment...The tension and nuance of Harrison's complicated female friendships add depth to an already delicious, chilling debut."--Publishers Weekly (starred review) 

"The Return is supernatural horror at its very best! Sharp dialogue, complex relationships and mind-bending action will have readers locking their doors and checking under their beds. Rachel Harrison has reinvented this genre and will surely be hailed as a pioneer among her peers."—Wendy Walker, National Bestselling Author of The Night Before
 
"Combining suspense and horror with razor-sharp insights into the nature of female friendships, Rachel Harrison's The Return is a creepy, nerve-wracking, page-turning addition to the emerging field of horror thrillers."—Alma Katsu, Author of The Deep and The Hunger

"By turns scary and funny, horrifying and real, The Return is impossible to put down. It takes an honest, scathing look at female friendship while at the same time pulling the reader into a perfect nightmare of a story."--Simone St. James, USA Today bestselling author of The Sun Down Motel
 
"The Return is moving and terrifying in equal measure. A brilliant rumination on friendship, pain, and the myriad of unsuccessful ways we all try to run from our past and fill the holes in our hearts. Harrison's keen prose won't let you go. Be warned, you'll double check the locks on your doors before you try to sleep."—Mallory O'Meara, National bestselling author of The Lady from the Black Lagoon
 
"A sharp, refreshing book about the mortifying ordeal of being known. This is a book that understands how terrifying a lasting friendship can truly be; Harrison brilliantly highlights the way friendships can tether a person to their worst memories, their worst selves, and their worst nightmares."—Sarah Gailey, National bestselling author of Magic for Liars 

"Harrison's The Return expertly treads the fine line between thriller and horror. It's as deliciously creepy as opening up a box of candy-coated spiders—and eating them all in one sitting."--Christina Dalcher, author of Vox