Daphne: A Novel (Paperback)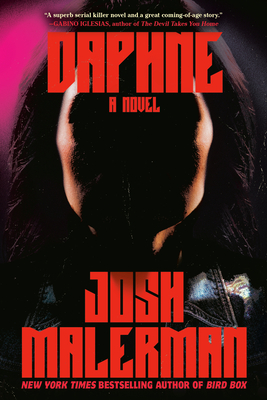 Staff Reviews
---
Ryan's September 2022 Pick
Whatever you do, don't think about Daphne.
From the brilliant, twisted mind of Josh Malerman (Bird Box, Goblin, Pearl) comes a terrifying new villain: Daphne.
Daphne may have been killed decades ago, but that doesn't mean she's gone.
Daphne is one of the most terrifying villains I've had the pleasure of reading. The only way to stay safe from Daphne? Don't think about her. Don't think about the 7-foot tall, denim clad, KISS-makeup wearing dead woman with hands large enough to palm a basketball or crush a skull. Don't think about her blue skin. Don't think about how she smells like smoke and whiskey. Don't think about how thinking about her will get you killed. Don't think about Daphne.
This slasher novel is deliciously cinematic, spiraling with anxiety and dread and terror, building upon itself and consuming your every thought with the one thing you should never let yourself think about: Daphne.
Daphne is a spine-chilling, hair-raising, grisly slam dunk of a novel. Keep the lights on while reading this one, and whatever you do, don't think about Daphne.
(I can't stop thinking about Daphne).
— From
Ryan
Description
---
Horror has a new name: Daphne. A brutal, enigmatic woman stalks a high school basketball team in a reimagining of the slasher genre by the New York Times bestselling author of Bird Box.

"A superb serial killer novel and a great coming-of-age story."—Gabino Iglesias, author of The Devil Takes You Home

ONE OF THE BEST BOOKS OF THE YEAR: Paste

It's the last summer for Kit Lamb: The last summer before college. The last summer with her high school basketball team, and with Dana, her best friend. The last summer before her life begins.

But the night before the big game, one of the players tells a ghost story about Daphne, a girl who went to their school many years ago and died under mysterious circumstances. Some say she was murdered, others that she died by her own hand. And some say that Daphne is a murderer herself. They also say that Daphne is still out there, obsessed with revenge, and will appear to kill again anytime someone thinks about her.

After Kit hears the story, her teammates vanish, one by one, and Kit begins to suspect that the stories about Daphne are real . . . and to fear that her own mind is conjuring the killer. Now it's a race against time as Kit searches for the truth behind the legend and learns to face her own fears—before the summer of her lifetime becomes the last summer of her life.

Mixing a nostalgic coming-of-age story and an instantly iconic female villain with an innovative new vision of classic horror, Daphne is an unforgettable thriller as only Josh Malerman could imagine it.
About the Author
---
Josh Malerman is a New York Times bestselling author and one of two singer-songwriters for the rock band The High Strung. His debut novel, Bird Box, is the inspiration for the hit Netflix film of the same name. His other novels include Unbury Carol, Inspection, A House at the Bottom of a Lake, and Malorie, the sequel to Bird Box. Malerman lives in Michigan with his fiancée, the artist-musician Allison Laakko.
Praise For…
---
"Daphne is a superb serial killer novel and a great coming-of-age story. Josh Malerman delivers one of his best novels yet, and one of the most memorable villains in recent history. This is the literary equivalent of a defibrillator, and the shock will leave you feeling alive and wanting more."—Gabino Iglesias, author of The Devil Takes You Home

"Daphne is somehow both a terrifying serial killer story and a beautiful meditation on the psychic gulf between adolescence and adulthood. It left me sniffing for smoke and jumping at shadows."—Delilah S. Dawson, New York Times bestselling author of The Violence

"This terrifying little book will get you just like Daphne does—first with curiosity, then fascination, and before you know it, you're sucked in deep, and it's too late. You'll be triple-checking the locks and sleeping with all the lights in the house on bright, too afraid to close your eyes."—Peng Shepherd, USA Today bestselling author of The Cartographers

"Welcome to Samhattan, Michigan, a place where Kit's ever-looming anxiety of senior year and the threat of a monstrous ghost stalking her teammates are equally real and terrifying. Daphne is both a new spin on the slasher genre and a deeply rewarding novel about the nature of the horrors inside us."—Gwenda Bond, New York Times bestselling author of Stranger Things: Suspicious Minds

"A swift and fierce novel about collective forgetting, repression, anxiety, and fear—and above all a seemingly unstoppable villain . . . Sleek and scary, it looms larger and larger with every page."—Brian Evenson, author of The Glassy, Burning Floor of Hell

"If you don't start your summer with a copy of this—crinkled spine, worn pages, crammed in the back pocket of your jeans—you're doing it all wrong. Daphne will scare the bejesus out of you. This is Malerman at his best."—J. D. Barker, New York Times bestselling author of A Caller's Game

"Key author Malerman delivers another winner.  . . . A thought-provoking and honest conversation about anxiety wrapped around a Freddy Krueger-esque slasher . . . For fans of cursed small towns like in Thomas Olde Heuvelt's Hex, or other fresh takes on the teen slasher like Jessica Guess's Cirque Berserk."—Library Journal

"Malerman, whose first published novel, 2014's Bird Box, immediately established him as a horror voice to be reckoned with, outdoes himself here. A palpable feeling of evil permeates the book; like Kit, we are in a constant state of unease, wondering what is about to happen and whether Daphne really has returned, all these years later, to wreak havoc on the community. Genius at work."—Booklist (starred review)