Black River Orchard (Hardcover)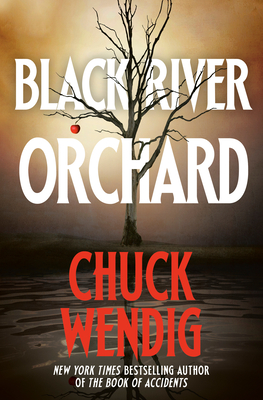 Staff Reviews
---
Ryan's September 2023 pick (4 of 4)
Evil Apples. Need I say more?
Okay, fine, I'll say a little bit more.
The Ruby Slipper (Harrowsblack) Apple. Have you tried it yet? It's so dark it's almost black, and it will cure all of your ailments and make you better and stronger in every way and improve your life beyond measure, and look! Everyone you know is eating this apple, they can't get enough. Go on, just take a bite, it'll all be fine...
Chuck Wendig's fairytale-esque horror novel about evil apples is deliciously terrifying. I am desperately craving an apple right now, but also I'm uncertain if I will ever eat an apple again.
If you like your fairy tales with a heaping portion of body horror, a dash of obsession, and a spoonful of eldritch monsters, this is the novel for you.
Go on, take a bite.
— From
Ryan
Description
---
NATIONAL BESTSELLER • A small town is transformed when seven strange trees begin bearing magical apples in this masterpiece of horror from the author of Wanderers and The Book of Accidents.

"This masterful outing should continue to earn Wendig comparisons to Stephen King."—Publishers Weekly (starred review)

AN NPR BEST BOOK OF THE YEAR

It's autumn in the town of Harrow, but something besides the season is changing there.

Because in that town there is an orchard, and in that orchard, seven most unusual trees. And from those trees grows a new sort of apple: strange, beautiful, with skin so red it's nearly black.

Take a bite of one of these apples, and you will desire only to devour another. And another. You will become stronger. More vital. More yourself, you will believe. But then your appetite for the apples and their peculiar gifts will keep growing—and become darker.

This is what happens when the townsfolk discover the secret of the orchard. Soon it seems that everyone is consumed by an obsession with the magic of the apples . . . and what's the harm, if it is making them all happier, more confident, more powerful?

Even if something else is buried in the orchard besides the seeds of these extraordinary trees: a bloody history whose roots reach back to the very origins of the town.

But now the leaves are falling. The days grow darker. It's harvest time, and the town will soon reap what it has sown.
About the Author
---
Chuck Wendig is the New York Times bestselling author of Wanderers, The Book of Accidents, Wayward, and more than two dozen other books for adults and young adults. A finalist for the Astounding Award and an alumnus of the Sundance Screenwriters Lab, he has also written for comics, games, film, and television. He's known for his popular blog, terribleminds, and books about writing such as Damn Fine Story. He lives in Bucks County, Pennsylvania, with his family.
Praise For…
---
"Chuck Wendig is one of my very favorite storytellers. Black River Orchard is a deep, dark, luscious tale that creeps up on you and doesn't let go."—Erin Morgenstern, author of The Night Circus

"An epic saga that is at once a propulsive horror novel and a parable, a thriller and a cautionary tale, Black River Orchard is the immensely talented Chuck Wendig at his finest."—Lisa Unger, New York Times bestselling author of Secluded Cabin Sleeps Six

"A gripping story of love and legacies gone rotten, deeply rooted in the landscape and as twisty and gnarled as an ancient apple tree."—T. Kingfisher, USA Today bestselling author of What Moves the Dead

"This will undoubtedly be heralded as one of the finest horror novels of the twenty-first century."—Eric LaRocca, author of Things Have Gotten Worse Since We Last Spoke

"Enchanting, exquisite and dark, Chuck Wendig masterfully weaves a new horrifying fairy tale in Black River Orchard."—Cynthia Pelayo, Bram Stoker Award winner of Crime Scene

"Creepy and insidious, Black River Orchard whets your appetite and then turns you inside out."—Hailey Piper, Bram Stoker Award–winning author of Queen of Teeth

"Black River Orchard should come with a warning label: You'll never bite into another apple without remembering this dark, demented, and genuinely frightening novel."—Jason Rekulak, author of Hidden Pictures

"Dark. Visceral. Creepy. Smart. Deep. So red it's dark brown. Chuck Wendig's Black River Orchard slithers and shines, its dangerous belly full of dark magic and accusations. I've been a fan of Wendig for years, and this is his best novel yet."—Gabino Iglesias, Stoker Award-winning author of The Devil Takes You Home

"An essential for horror readers, and buy it for new horror readers—it will convert them instantly."—V. Castro, author of The Haunting of Alejandra

"Plucks your heartstrings and preys on your fears at the same time . . . High-stakes horror meets peak emotional investment means Total. Reader. Devastation."—Sadie Hartmann, author of 101 Horror Books to Read Before You're Murdered

"A fresh and unexpected horror feat, expertly drawing from the ancient, endless wells of our greatest fears."—Premee Mohamed, Nebula Award–winning author of Beneath the Rising