How to Sell a Haunted House (Hardcover)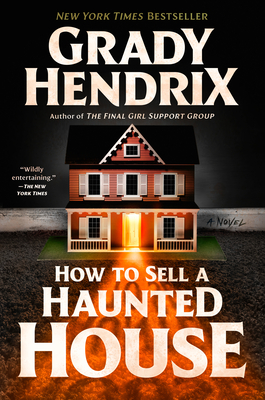 Staff Reviews
---
Ryan's January 2023 pick (1 of 3)
I want to preface this by saying I do not often reread books, because as a bookseller, I simply have too much to read. So with that in mind, let me tell you that I have read How To Sell A Haunted House twice already, with plans to read it at least twice more this year. It may only be January, but this is already shaping up to be my favorite book of the year.
Have you ever wished the Chucky movies were scarier? Do you love reading about family trauma and family drama? Are you a fan of Haunted Dolls? Are you freaked out by puppets? Wow, do I have a book for you.
I don't want to give too much away, but I will say this: Pupkin is one of the most unsettling characters I've had the pleasure of reading, and Grady Hendrix got a full-body reaction out of me with ONE WORD in this book. Like Horrorstör, this is a book that is so much scarier than you think it's going to be, but it also tackles some really nuanced issues like grief and familial relationships and guilt.
This book made me scream AND cry, and I haven't been able to stop thinking about it since the first time I read it. It's terrifying, it's beautiful, it's powerful, it's so deeply disturbing, I loved every second of it.
Grady Hendrix has absolutely outdone himself with this one. I love How To Sell A Haunted House and I can't wait for you all to read it.
— From
Ryan
February 2023 Indie Next List
---
"Imagine returning to the hometown you couldn't wait to leave, then staying in a haunted house while you're there. Now imagine horror, humor, and entirely believable characters. Grady Hendrix does it best. I'm crazy about this book!"
— Robert Hawthorn, Gallery Bookshop & Bookwinkle's Children's Books, Mendocino, CA
Description
---
AN INSTANT NEW YORK TIMES BESTSELLER

"Wildly entertaining."-The New York Times

"Ingenious."-The Washington Post

New York Times bestselling author Grady Hendrix takes on the haunted house in a thrilling new novel that explores the way your past—and your family—can haunt you like nothing else.
 
When Louise finds out her parents have died, she dreads going home. She doesn't want to leave her daughter with her ex and fly to Charleston. She doesn't want to deal with her family home, stuffed to the rafters with the remnants of her father's academic career and her mother's lifelong obsession with puppets and dolls. She doesn't want to learn how to live without the two people who knew and loved her best in the world.
 
Most of all, she doesn't want to deal with her brother, Mark, who never left their hometown, gets fired from one job after another, and resents her success. Unfortunately, she'll need his help to get the house ready for sale because it'll take more than some new paint on the walls and clearing out a lifetime of memories to get this place on the market.
 
But some houses don't want to be sold, and their home has other plans for both of them…
 
Like his novels The Southern Book Club's Guide to Slaying Vampires and The Final Girl Support Group, How to Sell a Haunted House is classic Hendrix: equal parts heartfelt and terrifying—a gripping new read from "the horror master" (USA Today).
About the Author
---
Grady Hendrix is an award-winning novelist and screenwriter living in New York City. He is the author of Horrorstör, My Best Friend's Exorcism (which is being adapted into a feature film by Amazon Studios), We Sold Our Souls, and the New York Times bestseller The Southern Book Club's Guide to Slaying Vampires (currently being adapted into a TV series). Grady also authored the Bram Stoker Award–winning nonfiction book Paperbacks from Hell, a history of the horror paperback boom of the seventies and eighties, and his latest non-fiction book is These Fists Break Bricks: How Kung Fu Movies Swept America and Changed the World.
Praise For…
---
"Grady Hendrix's horror novels are a gateway drug to the genre...By weaving violence, family trauma and humor, Hendrix creates a texture that engages the reader emotionally and viscerally…[a] gripping, wildly entertaining exploration of childhood horrors."
—The New York Times

"A delight...Hendrix, with relentless efficiency—and a bit of humor—forces us to confront our fears."
—The Washington Post

"A madcap funhouse of a novel. Zigzags from hilarious to horrifying to heartbreaking and back again in the blink of an eye. I loved it!"
—Riley Sager, New York Times bestselling author of The House Across the Lake

"Classic Grady Hendrix: an authentically frightening, genuinely funny reconfiguration of what a haunted house can be." 
—Esquire

"[A] campy, cinematic ride." 
—People

"Hendrix is a contemporary horror master, and the combination of profound storytelling and unapologetic, campy gore he delivers here will surely have horror fans reading with a gleeful smile on their faces." 
—NPR

"This book is a missile designed to obliterate you emotionally and absolutely annihilate you with terror. And let me tell you, Grady Hendrix does not miss."
—Mallory O'Meara, National bestselling author of The Lady from the Black Lagoon

"It's tempting to point out the balance of horror and humor here, and the commingling of the two really is something else, but the true power behind How to Sell a Haunted House is in its emotionality, the sister-brother dynamic, the family matters. It's life and death in the childhood home, and Hendrix has masterfully rendered the journey from one end to the other."
—Josh Malerman, New York Times bestselling author of Bird Box and Daphne

"May be Grady Hendrix's best novel yet, and that's saying a lot! Highly recommended."
—Mick Garris, writer and director (The Stand, The Shining miniseries)

"A searing look at grief, trauma, and how the things that haunt us aren't always supernatural."
—Rolling Stone

"Another Southern Gothic Horror Comedy classic from Grady Hendrix…This clever, creepy, rollicking book will tug at your horror and heart strings."
—Paul Tremblay, National bestselling author of The Cabin at the End of the World and The Pallbearers Club

"A pulse-pounding exercise in pure horror drive that never loses sight of its emotional core, and that makes it quintessential Hendrix." 
—Paste Magazine

"Skillfully balances complete creep outs and moments of outright hilarity. The down-home charm of the Charleston family is on point, and the scares are fun and frequent, while the author almost painfully captures sibling dynamics. Readers will be completely sucked in by Hendrix's adept prose."
—Library Journal (starred review)

"Hendrix's book sets the high watermark for horror."
—Booklist (starred review)

"Grady Hendrix tap dances the line between horror and heart. It's terrifying, darkly funny and empathetic with a left turn, a left hook when you're least expecting it. I loved it."
—Lauren Beukes, Author of The Shining Girls

"A spirited nightmare story about death, but also, what comes after: grief, guilt, family secrets, and estate administration. Oh, also, did I mention the evil puppets?"
—Chuck Wendig, New York Times bestselling author of The Book of Accidents

"After reading this, you might keep a weather eye on that doll propped over in the corner. And you probably also don't want to be trusting Grady Hendrix with a few hundred pages of your head anymore."
—Stephen Graham Jones, New York Times bestselling author of My Heart is a Chainsaw 
       
"With his trademark charm and ingenuity, Hendrix upends the haunted house story."
—Alma Katsu, Author of The Fervor and The Hunger