A Passage North: A Novel (Hardcover)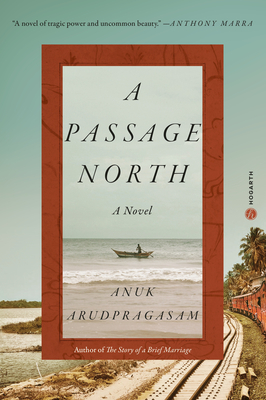 $27.00
This book is not in our store, but most are available for us to get in short order! Send us a message.
Description
---
SHORTLISTED FOR THE BOOKER PRIZE • A young man journeys into Sri Lanka's war-torn north in this searing novel of longing, loss, and the legacy of war from the author of The Story of a Brief Marriage.
 
"A novel of tragic power and uncommon beauty."—Anthony Marra
"One of the most individual minds of their generation."—Financial Times

SHORTLISTED FOR THE DYLAN THOMAS PRIZE • ONE OF THE BEST BOOKS OF THE YEAR—Time, NPR

A Passage North begins with a message from out of the blue: a telephone call informing Krishan that his grandmother's caretaker, Rani, has died under unexpected circumstances—found at the bottom of a well in her village in the north, her neck broken by the fall. The news arrives on the heels of an email from Anjum, an impassioned yet aloof activist Krishnan fell in love with years before while living in Delhi, stirring old memories and desires from a world he left behind. 
 
As Krishan makes the long journey by train from Colombo into the war-torn Northern Province for Rani's funeral, so begins an astonishing passage into the innermost reaches of a country. At once a powerful meditation on absence and longing, as well as an unsparing account of the legacy of Sri Lanka's thirty-year civil war, this procession to a pyre "at the end of the earth" lays bare the imprints of an island's past, the unattainable distances between who we are and what we seek.
 
Written with precision and grace, Anuk Arudpragasam's masterful novel is an attempt to come to terms with life in the wake of devastation, and a poignant memorial for those lost and those still living.
About the Author
---
Anuk Arudpragasam was born in Colombo, Sri Lanka. He studied philosophy in the United States, receiving a doctorate at Columbia University. His first novel, The Story of a Brief Marriage, was translated into seven languages, won the DSC Prize for South Asian Literature, and was shortlisted for the Dylan Thomas Prize. He currently divides his time between India and Sri Lanka.
Praise For…
---
"In sentences of unusual beauty and clarity, Arudpragasam observes even the most mundane of actions . . . with an attention so absolute it feels devotional. He is equally gifted at atmospheric, sensory description that transports the reader to Sri Lanka and India and at examining the emotions—elation, fear, impatience, satisfaction, shame—that simmer below the surface of our everyday lives."—The New York Times Book Review

"It can take just two novels to establish a writer as one of the most individual minds of their generation. With his new novel, a revelatory exploration of the aftermath of war, Arudpragasam cements his reputation. [An] extraordinary and often illuminating novel."—Financial Times
 
"A tender elegy . . . [a] wholehearted and necessary act of preservation by its author."—NPR
 
"[A] profound meditation on suffering . . . survivor's guilt and war's aftermath. In dense, hypnotic prose, Arudpragasam explores the desire for independence that enflamed the decades-long civil war, the violence that ensued and the emotional scars that refuse to heal."—The Guardian

"Sumptuous . . . reminiscent of Michael Ondaatje's Anil's Ghost."—Oprah Daily
 
"Mesmerizing, political, intimate, unafraid—this is a superb novel, a novel that pays such close, intelligent attention to the world we all live in."—Sunjeev Sahota, author of The Year of the Runaways

"Written with scrupulous attention to nuance and detail, A Passage North captures the rich interior of its protagonist's mind but also contemporary Sri Lanka itself, war-scarred, traumatized. At its center is an exquisite form of noticing, a way of rendering consciousness and handling time that connects Arudpragasam to the great novelists of the past."—Colm Tóibín, author of Brooklyn and The Testament of Mary

"Anuk Arudpragasam's first book already showed what a fine novelist he was and this second novel provides proof, if any were needed, that he is a major writer, vastly accomplished."—Amitava Kumar, author of Immigrant, Montana

"It's difficult to think of comparisons for Arudpragasam's work among current English-language writers; one senses, reading his two extraordinary novels, a new mastery coming into being."—Garth Greenwell, author of Cleanness and What Belongs to You

"This is a novel as both an elegy and a love song, not only for a place, but for the souls, living and dead, who are bound to that place—what an unforgettable and perfect reading experience."—Paul Yoon, author of Snow Hunters and Run Me to Earth

"A luminously intelligent, psychologically intricate novel."—Kirkus Reviews (starred review)