Goblin: A Novel in Six Novellas (Paperback)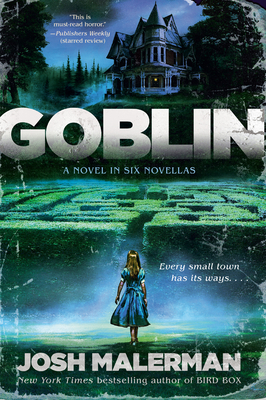 Staff Reviews
---
Ryan's October 2021 pick, 6 of 8
I have no chill over how much I love this book.
GOBLIN is a novel told in six novellas that all take place in the creepy town of Goblin, Michigan. Each novella follows a person in Goblin, either a resident or a visitor, and each story features the perils of obsession in some form. These stories are so creepy and unsettling. There's: A Man in Slices, Kamp, Happy Birthday, Hunter!, Presto, A Mix-Up at the Zoo, and The Hedges. I was going to tell you which one was my favorite but I can't choose! I love them all. They all take place during the same rainy night in Goblin, (it's always raining in Goblin) and they're all so creepy. I adore Josh Malerman, and I love this book. Everyone, go read it right now!
Listen to Ryan's interview with Josh Malerman!
— From
Ryan
Description
---
From the New York Times bestselling author of Bird Box and Malorie comes a chilling story that revolves around a mysterious small town, revealing its sinister secrets one by one.

NAMED ONE OF THE BEST BOOKS OF THE YEAR BY THE WALL STREET JOURNAL • "Must-read horror."—Publishers Weekly (starred review)

Goblin seems like any other ordinary small town. But with the master storyteller Josh Malerman as your tour guide, you'll discover the secrets that hide behind its closed doors. These six novellas tell the story of a place where the rain is always falling, nighttime is always near, and your darkest fears and desires await. Welcome to Goblin. . . .

A Man in Slices: A man proves his "legendary love" to his girlfriend with a sacrifice even more daring than Vincent van Gogh's—and sends her more than his heart.

Kamp: Walter Kamp is afraid of everything, but most afraid of being scared to death. As he sets traps around his home to catch the ghosts that haunt him, he learns that nothing is more terrifying than fear itself.

Happy Birthday, Hunter!: A famed big-game hunter is determined to capture—and kill—the ultimate prey: the mythic Great Owl who lives in Goblin's dark forests. But this mysterious creature is not the only secret the woods are keeping.

Presto: All Peter wants is to be like his hero, Roman Emperor, the greatest magician in the world. When the famous magician comes to Goblin, Peter discovers that not all magic is just an illusion.

A Mix-Up at the Zoo: The new zookeeper feels a mysterious kinship with the animals in his care . . . and finds that his work is freeing dark forces inside him.

The Hedges: When his wife dies, a man builds a hedge maze so elaborate no one ever solves it—until a little girl resolves to be the first to find the mysteries that wait at its heart.
About the Author
---
Josh Malerman is a New York Times bestselling author and one of two singer-songwriters for the rock band The High Strung. His debut novel, Bird Box, is the inspiration for the hit Netflix film of the same name. His other novels include Unbury Carol, Inspection, A House at the Bottom of a Lake, and Malorie, the sequel to Bird Box. Malerman lives in Michigan with his fiancée, the artist-musician Allison Laakko.
Praise For…
---
"Goblin seems like any other ordinary small town. But with the master storyteller Josh Malerman as your tour guide, you'll discover the secrets that hide behind its closed doors. These six novellas tell the story of a place where the rain is always falling, nighttime is always near, and your darkest fears and desires await. Welcome to Goblin."—Tor online
 
"The mythology of Goblin's history is richly drawn within these stories, and connects them with a style that keeps the reader turning pages. Malerman has created a town which may even be darker than King's, Grant's, and Bradbury's nightmares. Goblin is all Malerman and should be listed on every horror reader's itinerary of places to visit, with the lights turned low and the night breeze creeping into the room."—Monster Librarian

"[A] masterpiece . . . This book, comprised of a sextet of short novellas, takes the small town motif and shreds it, molding it into something which fills the reader with uneasy pleasure from cover to cover. . . . Malerman has created a town which may even be darker than King, Grant, and Bradbury's nightmares. Goblin is all Malerman and should be listed on every horror reader's itinerary of places to visit, with the lights turned low and the night breeze creeping into the room."—Cemetery Dance Online

"Goblin is a mesmerizing, terrifying tightrope walk."—Clive Barker

"Malerman has created a Derry for a new generation."—Sarah Pinborough

"Goblin is another triumph from Josh Malerman."—Christopher Golden

"A chilling collection of tales about a place that's likely to linger in the imagination."—Library Journal

"Malerman (Bird Box) tantalizes readers with this enigmatic linked collection of horror novellas. . . . The dark, fantastic tone will put readers in mind of Ray Bradbury's Something Wicked This Way Comes. This is must-read horror."—Publishers Weekly (starred review)