Payback's a Witch (The Witches of Thistle Grove #1) (Paperback)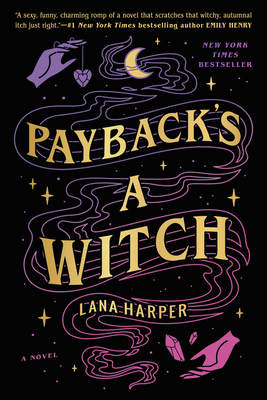 Other Books in Series
This is book number 1 in the The Witches of Thistle Grove series.
Staff Reviews
---
Elisabeth's October 2021 pick
Get in, loser, we're going hexing.

In this recipe we'll discuss how to simmer a sapphic romantic comedy involving witches and REVENGE into a delightful fall treat.

Fill a large paperback cauldron with a once-in-a-generation competition between four families and set it to boil. Wrap an arrogant playboy in selfish decisions and let him roast in the coals of wronging three women. You'll use his mortification as a delicious garnish.

Unpot three powerful modern witches in their prime and add to the brew. If you don't have organic generations of magical families quietly ruling your tourist trap town from the shadows, storebought is fine.

The first witch with a grudge should be steeped in old humiliation and resentment that has simmered for nine years, with a big handful of avoidance and inferiority complex.

Add a second witch, the older girl you crushed on in high school (but who also scared you a little), and season the pot with unexpected sexual tension. Bring these two witches to a frothy boil, but do not allow them to spill over.

The third wronged witch will provide the bright and steady woodsy overtones of loyal friendship and emotional stability to your revenge brew.

Stir with a lightning rod for jealousy and family infighting.

Hoist petards (multiple).
Eye of newt rounds out your dish, or substitute with enchanted singing sunflowers for a vegan option.

There were no dragons. (Except the animatronic stage prop that was briefly animated by a spell.)

— From
Elisabeth
October 2021 Indie Next List
---
"Queer witches plotting revenge against the rich boy that played them — need I say more? A laugh-out-loud funny story of heartbreak, nostalgia, and new beginnings wrapped up in spooky fall magic."
— Emma Reilly, A Likely Story, Sykesville, MD
Description
---
Chilling Adventures of Sabrina meets The L Word in this fresh, sizzling New York Times bestselling rom-com by Lana Harper.

Emmy Harlow is a witch but not a very powerful one—in part because she hasn't been home to the magical town of Thistle Grove in years. Her self-imposed exile has a lot to do with a complicated family history and a desire to forge her own way in the world, and only the very tiniest bit to do with Gareth Blackmoore, heir to the most powerful magical family in town and casual breaker of hearts and destroyer of dreams.

But when a spellcasting tournament that her family serves as arbiters for approaches, it turns out the pull of tradition (or the truly impressive parental guilt trip that comes with it) is strong enough to bring Emmy back. She's determined to do her familial duty; spend some quality time with her best friend, Linden Thorn; and get back to her real life in Chicago.

On her first night home, Emmy runs into Talia Avramov—an all-around badass adept in the darker magical arts—who is fresh off a bad breakup . . . with Gareth Blackmoore. Talia had let herself be charmed, only to discover that Gareth was also seeing Linden—unbeknownst to either of them. And now she and Linden want revenge. Only one question stands: Is Emmy in?

But most concerning of all: Why can't she stop thinking about the terrifyingly competent, devastatingly gorgeous, wickedly charming Talia Avramov?
About the Author
---
Lana is the author of four YA novels about modern-day witches and historical murderesses. Born in Serbia, she grew up in Hungary, Romania, and Bulgaria before moving to the US, where she studied psychology and literature at Yale University, law at Boston University, and publishing at Emerson College. She recently moved to Chicago with her family.
Praise For…
---
"The sexy Sapphic modern Gothic I didn't know I needed…fresh, sharp, and often frankly hilarious…a perfect winter read, highly recommended for one of the longest nights of the year."—The New York Times Book Review

"Payback's a Witch is the book I've been waiting for all my life. A sexy, funny, charming romp of novel that scratches that witchy, autumnal itch just right. I read this story in one breathless, giggling sitting, and at the first fall nip in the air, I know I'll be reading it again. One of my favorite reads in years."—Emily Henry, New York Times bestselling author of Beach Read

"Payback's a Witch is like the first Halloween wind through the corn: brisk, breezy, and altogether refreshing.  This is a sweet, charming read, absolutely designed to be enjoyed on a crisp fall evening. I want to go to Thistle Grove. My greatest regret about this book is that it isn't a five-season TV show that I can already sit down and just binge."—Seanan McGuire, New York Times bestselling author

"A sexy, charming, and completely magical romance full of sparkling dialogue and loveable characters. Emmy's quest to find out where she belongs is so relatable, with some spells and supernatural elements included to spice things up. And Emmy's hometown, Thistle Grove, is so enchanting that I found myself wishing I could plan a visit! Reading Payback's a Witch is like curling up with a big mug of cider on a perfect autumn day."—Kerry Winfrey, author of Very Sincerely Yours

"No tricks, all treat! Lana Harper's debut Payback's a Witch is a compulsively fun read."—Jacqueline Carey, New York Times bestselling author of the Kushiel's Legacy series

"Harper makes her adult debut with a queer rom-com that bewitches from the very first page...This magical joyride manages to feel both vibrantly current and timelessly mystical while avoiding the typical queer rom-com stereotypes. Combining John Tucker Must Die with a helping of an adult Harry Potter and the Goblet of Fire and a dash of Charmed, this addictive concoction begs for adaptation."—Publishers Weekly, starred review

"Lana Harper's adult debut is a charming rom-com that's the perfect Halloween read."—BookBub

"Harper's adult debut is gorgeous in every way. It's hilariously funny, deeply moving, powerfully uplifting and so glue-you-to-the-page engrossing that this reviewer literally did not put it down for the final hundred pages. The love story between Talia and Emmy develops beautifully, but the true romance is with the town and the community. The bonds of both family and friendship shine from start to finish, and Harper balances the different clans and captures how, together, they make Thistle Grove the magical place that it is."—BookPage, starred review

"With relatable characters, a fun storyline, and some angsty romance, Payback's A Witch will enchant you from the very first page...Charming, sweet, and magical, Payback's A Witch is the perfect book to enjoy on a cosy autumn night."—The Nerd Daily

"It's basically John Tucker Must Die meets The Craft, with an extra serving of queer relationships. The book is as fun as it sounds."—The Lesbrary

"This supernatural romance is hilarious, moving and glue-you-to-the-page engrossing, and it has one of the most enviably cozy small-town settings you'll ever find."—BookPage

"Do you want to get punched in the face with Halloween vibes? This is the book for you. It's like Halloweentown or Hocus Pocus, but as a bisexual F/F adult romance."—BookRiot