Child of Light (Viridian Deep #1) (Hardcover)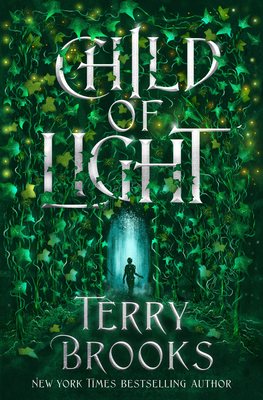 $28.00
This book is not in our store, but most are available for us to get in short order! Send us a message.
Other Books in Series
This is book number 1 in the Viridian Deep series.
Description
---
NATIONAL BESTSELLER • The electrifying first novel of an all-new fantasy series from the legendary author behind the Shannara saga, about a human girl struggling to find her place in a magical world she's never known

"Enticing . . . Brooks's fans will be thrilled to have a new series to savor."—Publishers Weekly

At nineteen, Auris Afton Grieg has led an . . . unusual life. Since the age of fourteen, she has been trapped in a Goblin prison. Why? She does not know. She has no memories of her past beyond the vaguest of impressions. All she knows is that she is about to age out of the children's prison, and rumors say that the adult version is far, far worse. So she and some friends stage a desperate escape into the surrounding wastelands. And it is here that Auris's journey of discovery begins, for she is rescued by a handsome yet alien stranger.

Harrow claims to be Fae—a member of a magical race that Auris had thought to be no more than legend. Odder still, he seems to think that she is Fae as well, although the two look nothing alike. But strangest of all, when he brings her to his wondrous homeland, she begins to suspect that he is right. Yet how could a woman who looks entirely Human be a magical being herself?

Told with a fresh, energetic voice, this fantasy puzzle box is Terry Brooks as you have never seen him before, as one young woman slowly unlocks truths about herself and her world—and, in doing so, begins to heal both.
About the Author
---
Terry Brooks has thrilled readers for decades with his powers of imagination and storytelling. He is the author of more than thirty books, most of which have been New York Times bestsellers. He lives with his wife, Judine, in the Pacific Northwest.
Praise For…
---
"Child of Light is enchantingly feral. Precise in his prose, clever in his worldbuilding, Brooks stretches new muscles to explore a young woman's quest for identity. The pace is rapid as a river, but this one twists hard and runs deep."—Pierce Brown, #1 New York Times bestselling author

"A fresh world, a new voice, but the same high quality Brooks always delivers . . . You'll be glad you joined the expedition."—Robin Hobb, New York Times bestselling author of Assassin's Fate

"With a unique setting that is a heady dystopic blend of mysticism and the future, Child of Light is an otherworldly adventure from the fertile mind of one of the most beloved storytellers of our generation."—Wesley Chu, #1 New York Times bestselling author of The War Arts Saga

"With Child of Light, Terry Brooks continues to enchant both longtime fans and generations of new readers."—Peter V. Brett, New York Times bestselling author of The Desert Prince

"Terry Brooks unleashed is a wonderful thing. In Child of Light, he's teasing us with a world that is both fairy tale and deadly serious, and keeping us off guard the entire time, unsure of how to take . . . anyone and anything. It's not really a 'mystery,' but it is, and even with the startling reveals, there's so much left to explore and discover. I want to go back to Viridian Deep and I know that I will."—R. A. Salvatore, author of the Legend of Drizzt series and the world of DemonWars

"An enticing new mystery. . . . Auris is a tough but enchanting protagonist, and the page-turning mystery of her magical origins form the novel's heart. Brooks's fans will be thrilled to have a new series to savor."—Publishers Weekly

"Compelling . . . a fast-paced plot packed with secrets makes this an enjoyable read in a slightly old-fashioned high-fantasy style."—Kirkus Reviews