The Hacienda (Hardcover)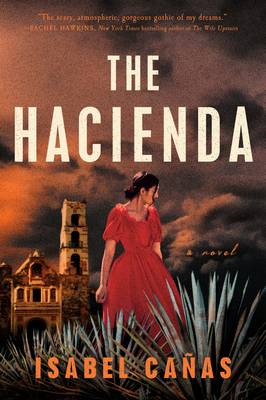 Staff Reviews
---
Ryan's October 2022 pick (6 of 7)
If you haven't read The Hacienda by Isabel Cañas yet, and you like haunted house books, you like stories where the dread and unease creeps up around you like vines, you like books that burrow into your subconscious and keep you up at night checking the shadowy corners of your home….then you are in for a phenomenal time, and frankly I'm jealous because I wish I could read it again for the first time.
The Hacienda is beautiful in it's terror. The prose slinks up your spine, keeping you tense and rapt. The Hacienda captures you in its malevolent gaze and holds you there until the very end. This book is gorgeous and scary and kept me up at night, which if you know me, is saying a lot.
Do yourself a favor and pick up a copy of The Hacienda and thank me later.
— From
Ryan
Description
---
Mexican Gothic meets Rebecca in this debut supernatural suspense novel, set in the aftermath of the Mexican War of Independence, about a remote house, a sinister haunting, and the woman pulled into their clutches...

During the overthrow of the Mexican government, Beatriz's father was executed and her home destroyed. When handsome Don Rodolfo Solórzano proposes, Beatriz ignores the rumors surrounding his first wife's sudden demise, choosing instead to seize the security that his estate in the countryside provides. She will have her own home again, no matter the cost.
 
But Hacienda San Isidro is not the sanctuary she imagined.

When Rodolfo returns to work in the capital, visions and voices invade Beatriz's sleep. The weight of invisible eyes follows her every move. Rodolfo's sister, Juana, scoffs at Beatriz's fears—but why does she refuse to enter the house at night? Why does the cook burn copal incense at the edge of the kitchen and mark the doorway with strange symbols? What really happened to the first Doña Solórzano?

Beatriz only knows two things for certain: Something is wrong with the hacienda. And no one there will save her.

Desperate for help, she clings to the young priest, Padre Andrés, as an ally. No ordinary priest, Andrés will have to rely on his skills as a witch to fight off the malevolent presence haunting the hacienda and protect the woman for whom he feels a powerful, forbidden attraction. But even he might not be enough to battle the darkness.

Far from a refuge, San Isidro may be Beatriz's doom.
About the Author
---
Isabel Cañas is a Mexican-American speculative fiction writer. After having lived in Mexico, Scotland, Egypt, and Turkey, among other places, she has settled (for now) in New York City. She holds a doctorate in Near Eastern Languages and Civilizations and writes fiction inspired by her research and her heritage.
Praise For…
---
"A thing of uncanny, chilling beauty. Hauntings, exorcisms, incantations, forbidden love — The Hacienda transports one to a world where love triumphs over demons."
—The New York Times

"[R]omantic, frightening, claustrophobic, and entirely satisfying."
—Vulture

"A tale of romance, dread, and supernatural menace."
—Harper's Bazaar

"[A] gothic tale of doomed love and vengeful spirits."
—The Washington Post

"[A] chilling Mexican gothic horror, full of suspense that will have you tethered to each page." 
—NPR

"This Gothic thriller is *impossible* to put down."
—Cosmopolitan

"Looking for supernatural suspense, forbidden love and a history lesson set in the aftermath of the Mexican War of Independence? Pick up The Hacienda."
—Parade

"Don't read this gothic horror right before bedtime, especially if you're prone to nightmares."
—Good Housekeeping

"[A] dazzling debut….Yeah, this one will keep you up at night, muttering 'one last page."
—E! News

"A deliciously haunting novel that slithers into your mind and keeps you dreaming of it."
—Buzzfeed

"After you read and enjoy Mexican Gothic, pick up this beautifully unsettling tale. Set in post-Independence War Mexico, this chilling suspense novel will leave you with chills as you follow the terrifying haunting at Hacienda San Isidro."
—Glamour

"Pretty much the perfect Gothic novel… meaning it reads like a brilliant piece of historical fiction and a, 'Okay, I'm gonna need to sleep with the lights on now,' horror novel."
—Jezebel

"The scary, atmospheric, gorgeous Gothic of my dreams."
—Rachel Hawkins, New York Times bestselling author of The Wife Upstairs

"Gothic terror at its best, layered with tension: class, religious, and sexual. You will be so immersed in its skillful storytelling that the hours will vanish."
—Simone St. James, New York Times bestselling author of The Sun Down Motel

"A haunted history, a gory gothic, a forbidden romance. This book kept me up at night, and it was worth every second of lost sleep."
—Alix E. Harrow, New York Times bestselling author of The Once and Future Witches

"A hypnotic, sinister tale that is equal parts terrifying and luxurious. Cañas's debut is a nightmare lined with velvet."
—Roshani Chokshi, New York Times bestselling author of The Gilded Wolves

"The Hacienda is a perfect gothic and Cañas is not afraid to pull in the horror element. An impressive debut."
—Jayne Ann Krentz, New York Times bestselling author of Lightning in a Mirror

"A haunting gorgeous tale of doomed love, vengeful spirits, and tortured faith that I could not put down."
—S.A. Chakraborty, bestselling author of The Empire of Gold

"Lush, sinister, and darkly romantic. The Hacienda is a haunting and brilliant debut."
—Alexis Henderson, author of The Year of the Witching

"Absolutely enthralling—I read it in one sitting because its vivid prose and spectacular twists and turns made it impossible to put down."
—Genevieve Gornichec, bestselling author of The Witch's Heart

"As romantic as it is terrifying, The Hacienda is a lush, atmospheric read that never pulls any punches. Horror fans, fantasy fans, and romance fans will all find something to love here."
—Hannah Whitten, New York Times bestselling author of For the Wolf

"A stunning, spellbinding debut. The Hacienda is bone-chilling and gloriously gothic. Absolutely unmissable."
—Rachel Harrison, author of The Return

"The Hacienda is a ghost story that also earns its place as literature. Cañas is a name to watch."
—Daniel Abraham, co-author of The Expanse series

"[A] spooky Gothic story full of supernatural flourishes."
—PopSugar

"Cañas clearly knows the genre, alternately deploying and subverting haunted house tropes. The result is a brilliant contribution to the new wave of postcolonial Gothics. Readers won't want to miss this."
—Publishers Weekly (starred review)

"Lush, beautiful, and completely deserving of the comparisons to Rebecca, The Hacienda is essential reading in the gothic revival."
—CrimeReads

"[A] blend of horror and mystery with a gothic heart, complete with a heroine on the brink of madness, running into the night in fear. This chilling read exposes the rotting soul of colonialism and manages to be wildly entertaining while doing so."
—Shelf Awareness

"Debut gothic thrills appropriately billed for fans of Silvia Moreno-Garcia's Mexican Gothic and Oyinkan Braithwaite's My Sister, the Serial Killer."
—Library Journal

"If you love the Gothic Horror genre but are keen to see a heroine with more agency and a story with plenty of bite, The Hacienda just might be what you've been looking for."
—Mystery & Suspense

"If you like gothic horror (creepy manors and the like), then you'll love this highly anticipated thriller that takes place at a haunted hacienda."
—Betches

"Reminiscent of both Jane Eyre and Carol Goodman's The Widow's House (2017), this can be offered to fans of Gothic suspense."
—Booklist

"As much a historical novel with an underlying political commentary as it is a thriller with a good mystery at its core."
—Book Riot

"[A] remarkable blend of suspense, horror, romance and supernatural gothic....[A] magical combination, not only of genres and vivid character and story arcs, but of ideas - explorations of racism, oppression, power, resilience and resistance. It'll also scare the pants off you, its lush, hypnotic prose causing you to stare into the shadows."
—Booktrib

"This gothic novel will pull you in with vivid language and drop you into a sinister world. Reminiscent of Rebecca by Daphne du Maurier in its setup, this story is infused with a much darker horror....Cañas  has created engaging characters in Beatriz, Andrés, and, yes, the house, but beware of blood and supernatural violence. The pages turn quickly to a faultless, satisfying ending."
—Historical Novel Society

"[T]his haunted and haunting novel is just the terrifying gothic debut you want to read tonight."
—Ms. Magazine

"It is quietly hopeful - a satisfying tone to end on for what is otherwise a tense and electrifying story - and marks her as a serious writer to watch."
—The Harvard Crimson