Long Past Dues (The Unorthodox Chronicles #2) (Hardcover)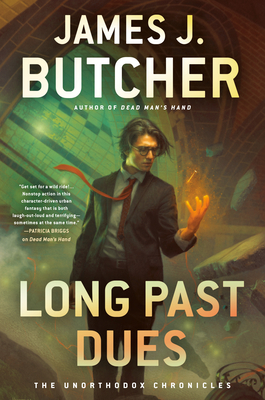 Other Books in Series
This is book number 2 in the The Unorthodox Chronicles series.
Description
---

Grimsby, the newest Auditor in the magical Department of Unorthodox Affairs, finds himself in hot water when he intercepts a friend's case in this fast-paced and thrilling urban fantasy.

Against all odds, Grimshaw Griswald Grimsby has become an Auditor, enforcing laws about magic for Boston's Department of Unorthodox Affairs. But Grimsby soon realizes the daily grind of his job is far removed from the glamour he imagined. Overlooked for every exciting case, Grimsby tires of being told to handle mundane magical troubles, and appropriates a case file intended for a friend.

Alongside Leslie Mayflower, the temporarily unretired Huntsman, Grimsby aims to crack the case and discover the origin of a strange, unfinished ritual—one that seems to imitate the handiwork of a foe Mayflower put down twenty years ago.

Together, they'll have to deal with escaped werewolves, a cursed artifact, and a perilous journey to the mysterious subterranean city below Boston, all to uncover the shocking truth. At any cost, Grimsby must stop this ritual from finally being completed. Yet the cost may be paid not by himself but by his friends. . . .
About the Author
---
James J. Butcher spends most of his time in places that don't exist, some of which he even created himself—including the world of the Unorthodox Chronicles. What little time he has left is usually spent writing or exercising. He is the son of #1 New York Times bestselling author Jim Butcher, who introduced him to books, movies, and games. James lives in Denver and is working on his next novel.
Praise For…
---
"Butcher's deft dialogue continues with tongue-in-cheek humor, wry commentary, and snark, while this magical Boston setting is both familiar and fantastical. . . . This well-paced urban fantasy is a delightful addition to the subgenre."—Library Journal

"Butcher proves that this series has legs."—Publishers Weekly

Praise for Dead Man's Hand
"Woot! Get set for a wild ride! Debut author James J. Butcher hits one out of the ballpark. Nonstop action in this character-driven urban fantasy that is both laugh-out-loud and terrifying—sometimes at the same time."—#1 New York Times bestselling author Patricia Briggs

"Clear your schedule. You won't want to put this down. . . . An entirely enjoyable read that proves once more that snark is indeed a deadly weapon. Read it. You will not be disappointed. I eagerly await the sequel."—#1 New York Times bestselling author Kim Harrison

"Dead Man's Hand is splendid, a spectacular debut novel and the best book I've read in years. James J. Butcher is an outstanding storyteller, and I can't wait to read what he comes up with next."—New York Times bestselling author Faith Hunter

"A fun twist on hard-boiled urban fantasy thrills. . . . Sure to capture genre fans."—Publishers Weekly