Redeeming Love (Movie Tie-In): A Novel (Paperback)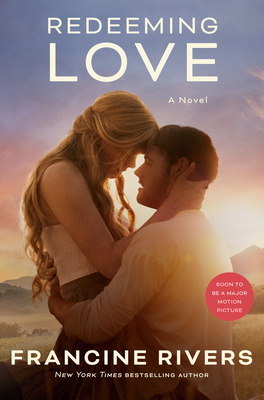 $16.00
This book is not in our store, but most are available for us to get in short order! Send us a message.
Description
---
#1 NATIONAL BESTSELLER • NOW A MAJOR MOTION PICTURE starring Abigail Cowen, Tom Lewis, Nina Dobrev, with Logan Marshall Green and Eric Dane, special appearance by Famke Janssen. Distributed by Universal Pictures with a screenplay by Francine Rivers and D.J. Caruso.

California's gold country, 1850. A time when men sold their souls for a bag of gold and women sold their bodies for a place to sleep. 

Angel expects nothing from men but betrayal. Sold into prostitution as a child, she survives by keeping her hatred alive. And what she hates most are the men who use her, leaving her empty and dead inside.

Then she meets Michael Hosea, a man who seeks his Father's heart in everything. Michael obeys God's call to marry Angel and to love her unconditionally. Slowly, day by day, he defies Angel's every bitter expectation, until despite her resistance, her frozen heart begins to thaw.

But with her unexpected softening comes overwhelming feelings of unworthiness and fear. And so Angel runs. Back to the darkness, away from her husband's pursuing love, terrified of the truth she no longer can deny: her final healing must come from the One who loves her even more than Michael does . . . the One who will never let her go. 

A powerful retelling of the story of Gomer and Hosea, Redeeming Love is a life-changing story of God's unconditional, redemptive, all-consuming love.

Includes a six-part reading group guide!
About the Author
---
New York Times bestselling author Francine Rivers continues to win both industry acclaim and reader loyalty around the globe. Her numerous bestsellers include Redeeming Love, A Voice in the Wind, and The Masterpiece, and her books have been translated into more than thirty different languages.
Praise For…
---
"Redeeming Love is a literary masterpiece, reminding us that God's love is unconditional. I read it twenty years ago, and even now the story reverberates in my mind. I knew then this book would be a classic . . . and it is."—#1 New York Times bestselling author Debbie Macomber
 
"Writers like Rivers are why people buy Christian fiction."—Publishers Weekly
 
"A splendid piece of work exploring both physical love and a love of God. There is not one false note in this wonderful novel. . . . Very highly recommended."—Library Journal
 
"I first read Redeeming Love at a time when I wasn't sure whether God was calling me to write Christian fiction. Francine's story changed my life and touched my heart. At the end of the book, I dropped to my knees and promised God I would always write for him. Redeeming Love has a special way of infusing the great and indescribable love of God straight into the heart of the reader. It's a must read for anyone longing for the love of our Father."—Karen Kingsbury, New York Times bestselling author of Unlocked, the Bailey Flanigan series, and Coming Home

"Simply put, Redeeming Love is the most powerful work of fiction you will ever read. Steeped in Scripture and filled with grace, it is a masterpiece that moves beyond allegory to touch the reader at the deepest level where faith is born. Michael Hosea is the consummate hero; Angel, in one way or another, is every woman who has ever lived without love. You cannot read this book and not be changed."—New York Times bestselling author Liz Curtis Higgs

"My heart and soul were profoundly moved when I read this story twenty years ago, and time has not diminished the effect of this book. Redeeming Love deserves to be the classic it is. Stories that demonstrate the depth and perseverance of God's love only grow more precious with time."—New York Times bestselling author Angela Hunt