Call Us What We Carry: Poems (Hardcover)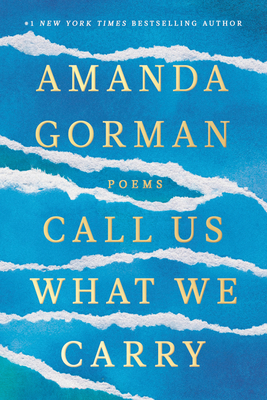 Staff Reviews
---
Jim's March 2022 pick, 1 of 3
Ever since her national debut at Joe Biden's Inauguration, Amanda Gorman's book has been one of the most anticipated of the year. I am happy to say that the wait was worth it.
Gorman covers many topics, the Black experience, in particular, and various poetic forms, free verse and concrete poems, among them. I particularly enjoyed a series of found poems that she crafted from the diary entries of a World War I soldier. When considering his prospects of returning to the states after the war, the soldier, Roy Underwood Plummer, muses, "We might stay a while/Cuz they don' kill us here bad/As they do back home." His sentiments are easily understandable considering the time.
The playfulness of her wordplay is also worth noting, whether using the homophones "raised" and "razed" in close proximity or the frequent use of alliteration, assonance, and consonance, as in the line, "To be kept to the edges of existence is the inheritance of the marginalized." The sound devices make her words flow and carry the reader along, as if on a breeze. Sometimes it's warm and caressing; others it's as alienating as an arctic blast, mirroring the experiences of everyday life. A poet for our times.
— From
Jim
Description
---
The instant #1 New York Times, Wall Street Journal, and USA Today bestseller


The breakout poetry collection by #1 New York Times bestselling author and presidential inaugural poet Amanda Gorman

Formerly titled The Hill We Climb and Other Poems, the luminous poetry collection by #1 New York Times bestselling author and presidential inaugural poet Amanda Gorman captures a shipwrecked moment in time and transforms it into a lyric of hope and healing. In Call Us What We Carry, Gorman explores history, language, identity, and erasure through an imaginative and intimate collage. Harnessing the collective grief of a global pandemic, this beautifully designed volume features poems in many inventive styles and structures and shines a light on a moment of reckoning. Call Us What We Carry reveals that Gorman has become our messenger from the past, our voice for the future.

About the Author
---
Amanda Gorman is the youngest presidential inaugural poet in US history. She is a committed advocate for the environment, racial equality, and gender justice. Amanda's activism and poetry have been featured on The Today Show, PBS Kids, and CBS This Morning, and in the New York Times, Vogue, Essence, and O, The Oprah Magazine. In 2017, Urban Word named her the first-ever National Youth Poet Laureate of the United States. After graduating cum laude from Harvard University, she now lives in her hometown of Los Angeles. The special edition of her inaugural poem, "The Hill We Climb," was published in March 2021 and debuted at #1 on the New York Times, USA Today, and Wall Street Journal bestseller lists. Her debut picture book, Change Sings, will be published in September 2021. Please visit theamandagorman.com.





Praise For…
---
Praise for Call Us What We Carry by Amanda Gorman:


★ "An inspired anthem for the next generation—a remarkable poetry debut." —Kirkus Reviews, starred review

★ "Gorman's newest poetry collection offers a stunning amalgamation of poems formatted in different styles to convey a message of sorrow, unity, and collective healing . . . Gorman's poetry operates as a perfect combination of part elegy and part call to action. This stunning collection belongs on every shelf." – Booklist, starred review

★ "At once heartbreaking and deeply healing, Gorman's collection calls readers to their best selves, even--or especially--in the face of great loss." – Shelf Awareness, starred review


"Gorman's thoughtfulness and activist spirit shine through on every page." —Publishers Weekly

"In seven sections and through poems that often experiment with form, the book sets out to tell the story of the COVID-19 pandemic from a collective point of view, with Gorman exploring the grief, hope and wisdom that come from a period of shared tragedy. —Time.com

"Gorman doesn't merely transcribe a diary of a plague year; her bold, oracular pronouncements bear witness to collective experience, with an uncanny confidence and a prescient tone that are all the poet's own." —New Yorker
 
"Amanda Gorman . . . reckons with America's present, particularly with the pandemic. Through the lens of the country's history, she shows us the path toward healing." —NPR  

"Gorman shows us what an honor it is to witness history and to survive it, even if it doesn't always feel that way. . . The liberating force of the stories these poems tell about our resilience and survival showcases a powerful griot for our times." —OprahDaily.com

"Call Us What We Carry is thought-provoking and lyrical. Her poetry places readers back in the days of quarantine, back in that loneliness, and it makes us reflect on how far we've come and how far we still need to go." —USA Today
 
"Her poetry insists that not just she but an entire country is capable of growing itself to a place of glory, like Tupac's rose in concrete. Her emergence in this very moment is the instantiation of our ability to press on. We shall overcome goes the spiritual, but 'We have survived us' is what Gorman says. As she looks ahead in these pages, she is like Washington crossing the Delaware. 'We must change/This ending in every way.'" —The Washington Post
 
"In Call Us What We Carry, Gorman has written a mnemonic symphony of hope and solidarity in the face of the 'vanishing meaning' of our time, speaking eloquently with 'the lip of tomorrow.'" —The Guardian
 
"Between breath, light, water and soil, text messages and letters, and visual formations of ships, whales and flags, Gorman's Call Us What We Carry is an inventive literary resurrection." —AP