Such Sharp Teeth (Hardcover)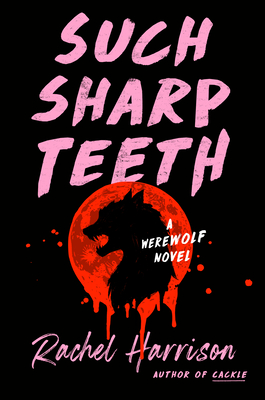 Staff Reviews
---
Ryan's October 2022 Pick (1 of 7)
It was very tempting to make my entire review simply: WEREWOLF BOOK! WEREWOLF BOOK! WEREWOLF BOOK!
Yes, there is body horror, yes there is biting and howling and fur and general wolfy goodness, but to simply describe Such Sharp Teeth as a werewolf book is to do it a great injustice.
Instead, I will tell you that not only is this a fantastically spooky werewolf book from one of my favorite writers (hang out with me long enough and the conversation will inevitably turn to my love of Rachel Harrison's The Return), this is also a gorgeous examination of trauma and forgiveness and scars (both literal and metaphorical). Such Sharp Teeth explores things like loss of control, bodily autonomy, new life, transformations, and feminine rage. This is a gruesome and cathartic novel that grasped me in its claws and had me craving the next full moon.
— From
Ryan
Description
---
A young woman in need of a transformation finds herself in touch with the animal inside in this gripping, incisive novel from the author of Cackle and The Return.

Rory Morris isn't thrilled to be moving back to her hometown, even if it is temporary. There are bad memories there. But her twin sister, Scarlett, is pregnant, estranged from the baby's father, and needs support, so Rory returns to the place she thought she'd put in her rearview. After a night out at a bar where she runs into Ian, an old almost-flame, she hits a large animal with her car. And when she gets out to investigate, she's attacked.
 
Rory survives, miraculously, but life begins to look and feel different. She's unnaturally strong, with an aversion to silver—and suddenly the moon has her in its thrall. She's changing into someone else—something else, maybe even a monster. But does that mean she's putting those close to her in danger? Or is embracing the wildness inside of her the key to acceptance?
 
This darkly comedic love story is a brilliantly layered portrait of trauma, rage, and vulnerability.
About the Author
---
Rachel Harrison is the author of Cackle and The Return, which was nominated for a Bram Stoker Award for Superior Achievement in a First Novel. Her short fiction has appeared in Guernica, Electric Literature's Recommended Reading, and as an Audible Original. She lives in Western New York with her husband and their cat/overlord.
Praise For…
---
"Wonderfully witty and wild. It's also heady and daring in how the story explores friend and family dynamics, the anger women aren't allowed to express within our culture, and the wounds that transform us against our will. The next full moon I see, I'll be rooting for Rory."–Paul Tremblay, author of The Cabin at the End of the World and The Pallbearers Club

"No one is writing horror that explores the intricacies of femininity like Rachel Harrison. This brilliant story is about accepting your identity, your past, love, friendship, and family... all wrapped up in a deeply satisfying and scary monster tale. Such Sharp Teeth is as irresistible as the pull of the full moon—I couldn't tear myself away." – Mallory O'Meara, bestselling author of The Lady From the Black Lagoon
 
"Rachel Harrison has written a witty and wholly original exploration of lycanthropy, trauma, and the monsters that reside within all of us, if we dig deep enough to find them. Such Sharp Teeth is an incredibly compelling read that's full of horror and heart. It's the werewolf book I've been waiting for and I can't recommend it enough." –Alexis Henderson, Author of The Year of the Witching and House of Hunger

"Darkly comic and modern...a story about rage, trauma and leaning into one's wild side."-USA Today
 
"At turns heart-warming, heart-rending, and a little monstrous, Harrison's latest gives anything but your typical big bad wolf story. Such Sharp Teeth runs slick with bone-crackling wit and cunning, but don't be fooled by that grin; this wolf has a bite." - Hailey Piper, Bram Stoker Award-winning author of Queen of Teeth

"Rachel Harrison's razor sharp prose cuts straight to the bone. With its quick-witted dialogue and acutely human regard for its cursed characters, Such Sharp Teeth solidifies her spot as the alpha author of heartfelt horror."–Clay McLeod Chapman, author of Ghost Eaters

"With prose as sleek as a wolf in full stride, Such Sharp Teeth feels at once like a classic werewolf story, and something delightfully new. It's a breathless, poignant, blood-and-flesh-licking tale that asks: when our distractions and coping mechanisms are shredded away, who–or what–are we? And it confirms once again that Rachel Harrison is horror's poet laureate of quarter-life dread and existential transition." - Nat Cassidy, author of Mary: An Awakening of Terror