The September House (Hardcover)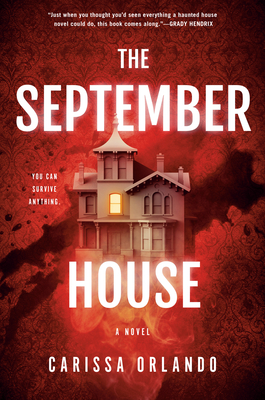 $27.00

Usually Ships in 1-5 Days
Staff Reviews
---
Ryan's September 2023 pick (1 of 4)
Humans really can normalize anything, regardless of whether or not it's healthy for them to do so. The September House is a masterpiece in Horror, and you know that I do not say that lightly.
Margaret has found her dream home, and it's absolutely perfect. Okay, sure, every September the walls start bleeding and the ghost children return, but it's her dream home, and it's not so bad, really. You see, Margaret has learned the rules, and so long as you follow the rules, everything will be fine… (Reader, everything will not be fine).
I cannot recommend this book highly enough. There were moments where I sat frozen in fear simply from the anticipation of what might happen next in the novel (and it is incredibly difficult to scare me). There were other moments where I was laughing so hard, tears were running down my face. And then there were the moments where my heart truly broke as I grappled with the horrors of humanity that haunt these pages. The September House was a blistering journey of emotion that I was wholly unprepared for, and of which I loved every second.
On the surface, The September House is a haunted house book perfect for fans of Grady Hendrix, where the main character has simply accepted the hauntings. Scratch that surface, however, and it is a deeply moving and tender novel about humanity's (and women in particular) ability/tendency to normalize things that should never be normalized.
Carissa Orlando has taken the haunted house trope, flipped it on its head and given us a brilliantly clever novel about so much more than ghosts. This is one of the best Horror books of the year.
— From
Ryan
September 2023 Indie Next List
---
"This was a ride! With a seemingly unreliable narrator and a house full of either real or imagined horrors, The September House is a story of mental illness, domestic abuse, and the resilience of women. This was an incredibly layered novel."
— Lauren Nopenz Fairley, Curious Iguana, Frederick, MD
Description
---
"Why run from a haunted house when you can stay and ignore the ghosts? Just when you thought you'd seen everything a haunted house novel could do, The September House comes along and delivers an eerie, darkly funny, and emotionally grounded book about the ghosts that haunt houses and marriages."– Grady Hendrix, New York Times bestselling author of How to Sell a Haunted House

A woman is determined to stay in her dream home even after it becomes a haunted nightmare in this compulsively readable, twisty, and layered debut novel.

When Margaret and her husband Hal bought the large Victorian house on Hawthorn Street—for sale at a surprisingly reasonable price—they couldn't believe they finally had a home of their own. Then they discovered the hauntings. Every September, the walls drip blood. The ghosts of former inhabitants appear, and all of them are terrified of something that lurks in the basement. Most people would flee. 

Margaret is not most people. 

Margaret is staying. It's her house. But after four years Hal can't take it anymore, and he leaves abruptly. Now, he's not returning calls, and their daughter Katherine—who knows nothing about the hauntings—arrives, intent on looking for her missing father. To make things worse, September has just begun, and with every attempt Margaret and Katherine make at finding Hal, the hauntings grow more harrowing, because there are some secrets the house needs to keep.
About the Author
---
Carissa Orlando has a doctorate in clinical-community psychology and specializes in work with children and adolescents. In her "day job," Carissa works to improve the quality of and access to mental health care for children and their families. Prior to her career in psychology, Carissa studied creative writing in college and has written creatively in some form since she was a child. It was only a matter of time before Carissa, an avid horror fan for much of her life, merged her understanding of the human psyche and deep love for storytelling into a piece of fiction.
Praise For…
---
"Shocking, electrifying, and absolutely original. Carissa Orlando takes us on a journey that moves from savagely funny to terrifying with the turn of a page. It's an unflinching exploration of the dark things we don't talk about, and it's a must read for horror fans."
– Simone St. James, New York Times bestselling author of The Book of Cold Cases

"Why run from a haunted house when you can stay and ignore the ghosts? Just when you thought you'd seen everything a haunted house novel could do, The September House comes along and delivers an eerie, darkly funny, and emotionally grounded book about the ghosts that haunt houses and marriages."
– Grady Hendrix, New York Times bestselling author of How to Sell a Haunted House

"This utterly original haunted house tale is a joy."
– Publishers Weekly (starred review)

"Margaret is a delightfully well drawn protagonist, sturdy, unflappable, and often dryly funny, but as the narrative unfurls, we learn that the reasons for her strictly regimented behavior are neither simple nor pleasant...The September House is a surprising, engaging debut."
- Vulture.com (Best Books of 2023)

"A rich and wholly satisfying haunted house novel about dark family secrets and patterns of destruction. It will charm you and terrify you and break your heart, often within the same sentence. An exhilarating debut."
- Rachel Harrison, National Bestselling author of Such Sharp Teeth and Cackle

"The metaphor is layered and at times heartbreaking, as secrets held by both a house and a family come to light with terrifying poignancy in this wonderfully eerie debut."
- Library Journal (starred review)

"Every once in a while, a story comes along that fully upends a genre in the most beautiful way, essentially reinventing the notion of what's possible within that genre. Now, author Carissa Orlando, a horror enthusiast, has written that very story."
- Shondaland.com

"A genre-blending masterpiece that is part horror, part complex psychological suspense, and part dark humor, all of it tied together with beautiful prose. It creeped me out in the best possible way."
– Jesse Q. Sutanto, national bestselling author of I'm Not Done with You Yet

"The September House is a riveting adventure that will grab you by the ankles and drag you down into the pitch-black basement you've been warned to avoid."
- Bookpage

"Simply outstanding. What starts as a slyly funny story about a mild-mannered woman and her very haunted house turns into a chilling examination of abuse and resilience. Somehow, Orlando has crafted a tale that is both macabre and triumphant.
– Mallory O'Meara, National bestselling author of The Lady from the Black Lagoon

"Orlando's debut is a ghostly psychological tale of victims of unrestrained violence and murder…Offer this to fans of spooky haunted-house tales like Grady Hendrix's How to Sell a Haunted House (2023)."
- Booklist

"Peel back The Yellow Wallpaper, check out of The Overlook, and say farewell to Hill House... There's a new haunted house on the market and Carissa Orlando is the realtor of our nightmares. You'll never want to leave once you start reading."
– Clay McLeod Chapman, Author of Ghost Eaters