Therapy on Platform 93/4: Journeys through Dissociative Identity Disorder (Paperback)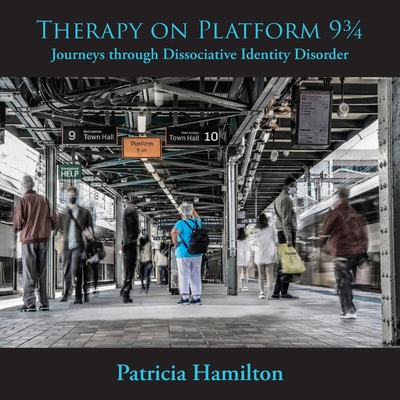 $20.00

Usually Ships in 1-5 Days
Description
---
In the first book of JK Rowling's Harry Potter series, named The Philosopher's Stone (1997), Harry is on his way to Hogwart's School of Wizardry. He has to first go to Platform 93/4 to catch the Hogwart's Express., Harry meets up with the Weazleys and watches as the children, with their trolleys, head straight for the big brick pillar that stands between platforms 9 and 10. Just as they reach the wall and disaster appears imminent, the children disappear. Mrs Weazley advises Harry that if he is a bit scared, 'then it is best to get a bit of a run-up'. Harry follows her advice, and finds himself looking at the Hogwart's Express as it builds up a head of stream, ready for the journey.
I don't know how often, when working with a client, I have felt just like Harry. I have to trust the process, get a bit of a 'run-up', breathe into the feeling ... and just keep going..
In the chapters of this book, you will meet the very first person I recognized as dealing with dissociation and her alter-egos (aspects) who introduced themselves to me. This case taught me a lot about what to do - and, at the time, what not to do. My views have changed over time and some of my 'rules' at the time have since been modified, because the basic premise I come back to is that I can't take a person anywhere unless I meet them where they are: forming a solid basis of trust which in turn allows alter-egos to reveal themselves to me and my client, who is often not even aware of their existence.
I invite you to join me on this - and other - journeys through Dissociative Identity Disorder.
* * * * *
"Pat tells a powerful story of how she learned to hold space for a vulnerable client. She describes the deep effort required to hold that space: to not lead, nor risk distorting the story, nor cloud it with her own curious wonderings. Throughout this image-laden documentation of a client's journey, Pat weaves a candid account of her struggle with self-ownership, boundary setting, and a respectful wrestling to stay silent, together with sufficient explanation of her stance for others to seek to emulate it. Those were the biggest and best takeaways from a book that makes a unique contribution to the search for healing."
- David Jones, Trauma Survivor, Cognition Researcher
* * * * *
"This book succinctly outlines the nature of dissociation in its milder forms stressing that it is a normal reaction to an abnormal situation. Patricia Hamilton has provided understanding and guidance to readers, whether they are clients, potential clients or therapists. The inclusion of examples of dialogues with a number of her clients, highlights the delicacy and sensitivity of this vitally important work, where '... working with whoever is in the room' becomes an essential, guiding principle. The author manages to both encourage skilled therapists to engage with clients experiencing dissociation, and also strongly advises them of the critical need to work, themselves, with a competent and experienced supervisor.
- Diana Scott, Psychologist, Music and Imagery Psychotherapist