Fancy Pants (Mass Market)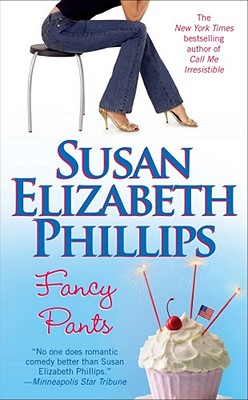 $9.99
This book is not in our store, but most are available for us to get in short order! Send us a message.
Description
---
THEY'RE CAVIAR AND BEER. KEROSENE ON FIRE. AND THEY'RE FALLING HEAD-OVER-HEELS IN LOVE....
She was the most beautiful British bauble in Europe's jet-set playgrounds. Now she's broke, furious, and limping down a backwoods road in an ugly pink Southern Belle gown....
He was tall, lean, and all-American gorgeous. He liked his brews cold and women loved to keep him warm. Why in hell is he stopping his car for this woebegone, surly Scarlett?
Meet Francesca Day and Dallie Beaudine, two incredible characters whose tangled love affair is at the heart of this ravishing New York Times bestseller from award-winning author Susan Elizabeth Phillips. Come enjoy the adventure of a lifetime -- an irresistible story that's touching, hilarious, and hellcat-passionate. You'll never forget Dallie and the sassy lady who needs a good swift kick in her...
About the Author
---
Susan Elizabeth Phillips is an international bestseller whose books have been published in over thirty languages. She's the only four-time recipient of the Romance Writers of America's prestigious Favorite Book of the Year Award, and a recipient of its Lifetime Achievement Award. Among her other accomplishments, Susan created the sports romance.
Praise For…
---
LaVyrle Spencer Refreshingly original, witty and touching.

Elizabeth Lowell What the world needs is more books by Susan Elizabeth Phillips.

Publishers Weekly This delectable confection offers unadulterated entertainment. Sleek romantic comedy.