A Town Called Solace (Hardcover)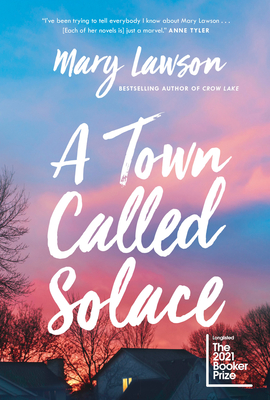 $24.00
This book is not in our store, but most are available for us to get in short order! Send us a message.
Description
---
NATIONAL BESTSELLER
LONGLISTED FOR THE 2021 BOOKER PRIZE
NAMED A BEST BOOK OF THE YEAR BY THE GLOBE AND MAIL, CBC BOOKS AND THE DAILY TELEGRAPH

"I've been telling everyone I know about Mary Lawson . . . Each of her novels is just a marvel" —Anne Tyler

New York Times bestselling author Mary Lawson, acclaimed for digging into the "wilderness of the human heart", is back after almost a decade with a fresh and timely novel that is different in subject but just as emotional and atmospheric as her beloved earlier work.

A Town Called Solace, the brilliant and emotionally radiant new novel from Mary Lawson, her first in nearly a decade, opens on a family in crisis. Sixteen-year-old Rose is missing. Angry and rebellious, she had a row with her mother, stormed out of the house and simply disappeared. Left behind is seven-year-old Clara, Rose's adoring little sister. Isolated by her parents' efforts to protect her from the truth, Clara is bewildered and distraught. Her sole comfort is Moses, the cat next door, whom she is looking after for his elderly owner, Mrs. Orchard, who went into hospital weeks ago and has still not returned.

Enter Liam Kane, mid-thirties, newly divorced, newly unemployed, newly arrived in this small northern town, who moves into Mrs. Orchard's house—where, in Clara's view, he emphatically does not belong. Within a matter of hours he receives a visit from the police. It seems he is suspected of a crime.

At the end of her life, Elizabeth Orchard is also thinking about a crime, one committed thirty years previously that had tragic consequences for two families, and in particular for one small child. She desperately wants to make amends before she dies.

Told through three distinct, compelling points of view, the novel cuts back and forth among these unforgettable characters to uncover the layers of grief, remorse, and love that connect them. A Town Called Solace is a masterful, suspenseful, darkly funny and deeply humane novel by one of our great storytellers.
About the Author
---
Mary Lawson was born and brought up in a small farming community in Ontario. She is the author of three previous nationally and internationally bestselling novels, Crow Lake, The Other Side of the Bridge, and Road Ends. Crow Lake was a New York Times bestseller and was chosen as a Book of the Year by The New York Times and The Washington Post, among others. The Other Side of the Bridge was longlisted for the Man Booker Prize. Lawson lives in England but returns to Canada frequently.
Praise For…
---
NATIONAL BESTSELLER
LONGLISTED FOR THE 2021 BOOKER PRIZE
A GLOBE AND MAIL BEST BOOK
A DAILY TELEGRAPH BOOK OF THE YEAR

"This deftly-structured novel draws together the stories of three people at three different stages in life, each of whom is grappling with loss. We were captivated by A Town Called Solace's beautifully paced, compassionate, sometimes wry examination of small-town lives." —2021 Booker Prize Judges

"Completely absorbing... A Town Called Solace pleases at every level. It's a captivating tale suffused with wisdom and compassion." ―Toronto Star

"A lovely, gentle novel with edge." —Saga (UK)

"That clear-eyed humanism—the sort that is rooted firmly in the reality of life, but holds out a glimmer of potential for a measured, minor-key redemption—is classic Mary Lawson." —The Globe and Mail

"Lawson's writing is clear and emotive. . . . [A] poignant novel, rightfully recognised by the Booker judges." —The Telegraph (UK)

"Lawson is a graceful writer whose un-showy style always hides surprising depths." —Toronto Public Library 
 "This is Mary Lawson's fourth novel and I'd recommend a binge immersion. She has carved out a world in northern Ontario that's vividly, absorbingly real; she captures tones and voices with exactitude in writing that's idiomatic but never flashy and carries you along from midnight to dawn, oblivious of the time." —Literary Review (UK)

"Lawson's books are a pleasure to read—they conjure a space where quiet reflection and owning your past mistakes bring gentle rewards; they feel kind and wise and brimful of empathy." —The Times (UK)

"Lawson's writing is such that it appears effortless but, as all the strands come together to create a rich and satisfying tapestry, her genius for storytelling becomes apparent." ―Irish Independent

"Exquisitely poignant." ―Good Housekeeping

You can't get much farther north than the Ontario of Mary Lawson's icy, compelling stories of calamity and redemption. A Town Called Solace keeps you breathless with anxiety, then relief and finally even joy." ―Observer (UK)

"A Town Called Solace keeps you breathless with anxiety, then relief and finally even joy." —Ferdinand Mount, author of Kiss Myself Goodbye: The Many Lives of Aunt Munca
"I've been trying to tell everybody I know about [Mary Lawson]. . . . [Each of her novels is] just a marvel." —
Anne Tyler
, author of
Redhead by the Side of the Road
"Poised, elegant prose, paired with quiet drama that will break your heart. The sort of book that seems as if it has always existed because of its timeless perfection." —
Graham Norton
, bestselling author of
Holding
and
A Keeper
"An assured and engaging look at one of my favourite subjects: what we owe to other people. How long must we keep their secrets, and how long do we wait for those we love? Darkened by pain,
A Town Called Solace
is even so a kindly book; Clara's lost sister flashes through it like a red-winged blackbird. Warm, clear, and beautifully grounded in the bedrock of the Canadian Shield." —
Marina Endicott
, author of
Good to a Fault
"I loved reading
A Town Called Solace. . . .
It's beautifully written and so finely crafted; told in the kind of prose I most admire because it takes what appears to be complicated and makes it clear. . . . These interwoven stories of three people at different stages of life, and yet each struggling with their own form of loss and grief, will stay with me the way good friendships stay with you. It's already one of my favourite books of the year." —
Rachel Joyce
, author of
The Unlikely Pilgrimage of Harold Fry